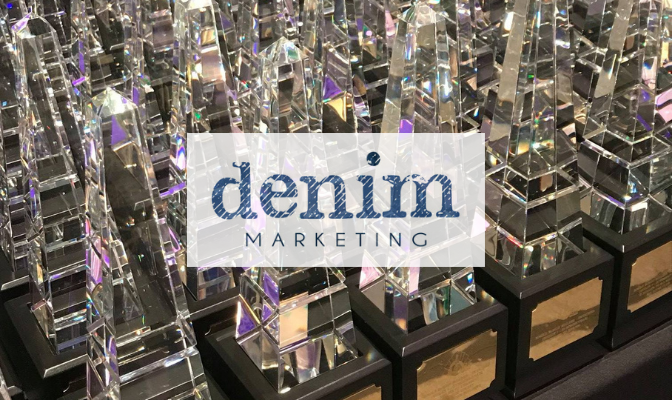 Denim Marketing was recognized at the 40th Annual OBIE awards with four Golds and two Silvers for work on a variety of public relations, social media and marketing campaigns. In addition to Best Associate Marketing Campaign, awards were also won for work done on behalf of agency clients including City of Powder Springs, SR Homes, NterNow, McKinley Homes and The Providence Group.
The agency swept the social media awards winning Gold for Best Associate Social Media Campaign, Best Builder Social Media Application and Best Associate Social Media Application, as well as Silver for Best Builder Social Media Campaign and Best Community Service Project. The OBIE Awards, presented by the Atlanta Sales and Marketing Council (SMC) on behalf of the Greater Atlanta Home Builders Association (HBA), recognize outstanding achievements within the homebuilding industry and serve as the premier awards given in the Atlanta new home construction industry.
"Denim Marketing is proud to once again be recognized for our exceptional work on behalf of clients in public relations, social media and marketing," Denim Marketing Founder and President Carol Morgan said. "This year it is also quite an honor to receive a Gold for the webinar series we offered at the onset of the COVID-19 (coronavirus) pandemic."
Gold OBIE Awards include:
Best Social Media Campaign – Associate: #ThisIsPowderSprings
The #ThisIsPowderSprings social media campaign was designed for the City of Powder Springs to continue the momentum gained during the 'P.S. Did you know?' campaign. This new promotion urged people to share things about the City using the newly designated City hashtag, #ThisIsPowderSprings, on Facebook, Twitter and Instagram. During the six-month campaign, all the city's social media assets grew in terms of followers, reach and interaction.
Best Social Media Application – Builder: SR Homes Instagram
Atlanta home builder SR Homes finds success on Instagram by focusing on the Instagram grid, happy homeowner stories and more. By developing a #TogetherAtHome strategy to respond to the coronavirus, the builder remained relevant while people sheltered in place. From June 15, 2019 to June 15, 2020, the SR Homes Instagram page had a 57.12% increase in followers, and an average Reach of 241,217 with 143,223 Impressions and 2,464 Profile Views.
Best Social Media Application – Associate: NterNow Facebook
In March 2020, Denim Marketing took over daily social media management for NterNow with a goal to more effectively and consistently connect with the company's target market – home builders. Within days, coronavirus broke out and it became clear NterNow had a unique solution to selling homes during social distancing. Between March and June, the NterNow Facebook page increased by 275% fans, post reach increased by 1,757% and engagement increased by 787%.
Best Marketing Campaign Promotion – Associate budget under $10K: COVID Webinars
Denim Marketing Founder and President Carol Morgan, along with other industry experts, created and presented "Sales & Marketing in a Time of Uncertainty," a series of eight FREE webinars to help the homebuilding industry work through the coronavirus crisis. The presenters offered these seminars to give back to the industry that gives them so much. In total, more than 2,000 individuals registered for the webinar series with an average of 260 people per webinar, and more than 1,125 attended the webinars for an average of 141 people per individual webinar.
Silver OBIE Awards include:
Best Community Service Project: McKinley Homes
Denim Marketing recently had the opportunity to work with a client on its effort to embrace corporate social responsibility and give back to the local community. McKinley Homes donated 10,500 medical masks to two Atlanta hospitals in need during the coronavirus crisis in March 2020; Northside Hospital Gwinnett received 5,000 surgical masks and Emory University Hospital received 5,000 surgical and 500 N95 masks to assist frontline medical professionals against the spread coronavirus. The story received great coverage from five TV news stations, as well as a plethora of local Atlanta and industry media.
Best Social Media Campaign – Builder/Developer: The Providence Group Vlog
Now more than ever, video serves a vital role in online marketing and selling homes. The Providence Group recognized the growing homebuyer demand for video before it became a necessity due to the coronavirus, launching a video blog (vlog) series as well as segments on Atlanta's Best New Homes (ABNH) Show. In an effort to keep the traction going from the vlog's initial launch and continue to increase total video views and followers on The Providence Group YouTube, Denim Marketing implemented a combination of strategies and tactics across social media and the website to include organic posts on social media sites, Facebook ads and blogging, all driving traffic to the YouTube channel.
Beginning in 1980 and named after the obelisk shape of the actual award given, the Greater Atlanta HBA and Atlanta SMC OBIE Awards have grown throughout the years to include more than 100 homebuilding, remodeling, marketing and personal achievement categories.
Call 770-383-3360 or contact us for information on packages and finding the perfect fit with Denim Marketing. Morgan encourages you to, "Try us on for size, you will find Denim to be comfortable, reliable and personal. Our agency isn't one size fits all – neither are jeans!"