Carol Morgan
Founder & President
Favorite Denim Item:
Jeans of course!
Carol Morgan, founder and president of Denim Marketing, has built a career on listening to clients and personalizing plans to fit each client's needs. Known for being reliable, creative and authentic, she creates big picture marketing strategy that utilizes public relations, advertising, social media, content, reputation management and creative to send traffic to the client's website and garner measurable results.  . . .
Carol has been attuned to trends in marketing and social media throughout her career, and she is a sought-after speaker. Carol is the author of four books on social media including her latest, "Social Media Marketing for Your Business." She is the creator of the nationally-ranked and award-winning www.AtlantaRealEstateForum.com, Atlanta's most popular real estate blog. Launched in 2006, let's just say Carol saw the benefits of blogging before most people knew what blogging was. She is the founder and host of Atlanta Real Estate Forum Radio, a podcast that airs twice a week.
She has previously chaired NAHB's Professional Women in Building council and Membership committee, and served as one of NAHB Chairman Greg Ugalde's 2019 advisors. Morgan currently serves as the Vice Chair of the NAHB Associates committee, a committee she will chair in 2022. She also serves on the newly formed Hammack Business School Board at Oglethorpe University. A graduate of Oglethorpe University, she is the recipient of the 2008 Spirit of Oglethorpe Award, PRSA Georgia Chapter's prestigious George Goodwin Award, the 2009 Greater Atlanta Home Builders Association's Associate of the Year and 2012 Council Chair of the Year. Carol holds the MIRM (Masters in Residential Marketing), CAPS (Certified Aging in Place Specialist) and CSP (Certified Sales Professional) designations from NAHB.
When she isn't in the office, she can be found in the barn with the horses. Carol rides and competes in dressage with her Trakehner mare Johanna. She volunteers with Canine Pet Rescue. Carol also enjoys cooking and gardening.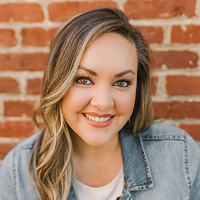 Courtney Stewart
Vice President of Client Services
Favorite Denim Item:
Cropped skinny jeans
Vice President of Client Services Courtney Stewart manages a variety of clients, including some of the agency's largest home builder and developer accounts. Courtney's expertise includes budgeting, creating and managing advertising plans, and writing quality content to increase client exposure while also improving search engine rankings for client websites. In addition, Courtney is experienced at delivering client-focused solutions tailored to customer needs, and works to influence ROI for clients in all that she does.  . . .
Courtney demonstrates her "can do" attitude and comfortable personality daily. Her ability to communicate, present and influence credibly and effectively at all levels of the agency is irreplaceable.
A native of Dallas, Georgia, Courtney holds a bachelor's degree in public relations from the University of Georgia, as well as a minor in speech communications.
Courtney is currently serving as the Chair of the Professional Women in Building – Atlanta Chapter. She is the past chair of the Young Professionals Group.
In her spare time, she enjoys cheering on the Dawgs between the hedges on Saturdays in the fall, spending summer weekends on Lake Hartwell or Allatoona and visiting her friends that have scattered throughout metro Atlanta since graduating. Currently, Courtney resides in North Cobb with her husband and yellow lab, Frisco.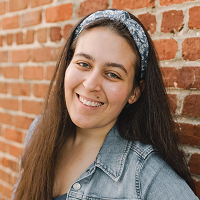 Melissa Walcott
Senior Content Creator
Favorite Denim Item:
Oversized denim jacket
Senior Content Creator Melissa Walcott manages multiple clients, including writing blog and social media content. Her experience with social media management and SEO ensures our content reaches the target audiences while remaining relevant and up to date. …
Melissa has experience managing and circulating content and enjoys ensuring that content reaches its target audience. She understands the need for attention to detail and loves when a client's expectations are surpassed.
Melissa is a recent graduate of Kennesaw State University, where she received a bachelor's in English with a minor in Professional Writing.
When she is not at work, you can usually find her working on her novel, nose-deep in her latest read or giving belly rubs to her dog Lobo. A native of Acworth, Melissa is excited to work so close to her community, learn new skills and continue to do what she loves most – creating engaging content.
Charlie Gamble
Social Media Manager
Favorite Denim Item:
Classic denim jacket
Social Media Manager Charlie Gamble manages social media accounts for our clients. Using proactive and creative strategies, he is able to meet objectives that ensure client satisfaction. His digital marketing experience enables him to provide these strategies that exceed client's expectations. …
Charlie has experience designing and drafting social media marketing campaigns with the target audience in mind. He recognizes that connecting with the right audience is vital for success.
Charlie is a graduate of Jacksonville State University, where he received his Bachelor of Fine Arts with a graphic design concentration. Charlie has continued his education and will be receiving a bachelor's in Digital Marketing.
During his time away from work, Charlie enjoys evening walks with his fiancée Leigha and their dog, Gypsy. Charlie also enjoys playing guitar, creating art, fishkeeping, and most importantly, creating new memories with his family.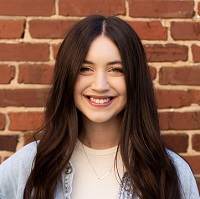 Annslie Fossett
Account Coordinator
Favorite Denim Item:
Distressed denim jacket
Account Coordinator Annslie Fossett joined the Denim Marketing team as a summer intern before being promoted to her new title. She currently manages Atlanta Real Estate Forum and assists with social media calendars, blogs and growing engagement for social media clients. …
After a year of working in the beauty industry, Annslie decided to continue her education and pursue a degree in a field she is passionate about. She is currently a student at the University of West Georgia, where she is working on her Bachelor of Business Administration majoring in Marketing.
When she is not at work, you can find Annslie cuddled up with a good cup of coffee watching a rom-com film or binge-pinning fashion and home inspiration on Pinterest. Annslie also enjoys spending time with her husband Dillon and their French Bulldog, Nash.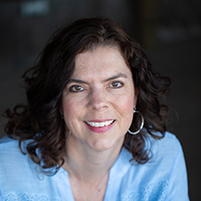 Dina Gundersen
Creative Director
Favorite Denim Item:
Draper James denim dress
Creative Director Dina Gundersen brings clients visions to life through branding, graphics, promotions and more. Her expertise keeps branding crisp and on point while delighting target audiences and helping both B2B and B2C companies capture more leads and make more sales.  . . .
Dina has worked as a graphic designer since graduating with a BFA from Rochester Institute of Technology in upstate NY. She worked as an art director and web designer and then Creative Director for an agency in Atlanta for over 10 years. She then chose to explore the client side of life as Marketing Director for a custom home builder. She founded her company Creative Thunder Design in 2008.
Dina has been actively involved with HomeAid Atlanta for over 15 years and also sits on the Board of Directors for a local brewery. In her spare time, she enjoys spending time with her husband, watching every Atlanta United match and attending her daughter's high school soccer games. (Being a goalie mom is not for the weak!) She is also proud to be a native Atlantan.
With decades of experience creating visual stories that motivate buyers to take action, Dina serves as Denim's Creative Director.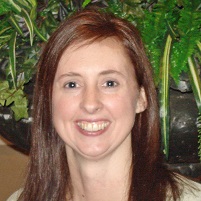 Renita Davis
Content Writer
Favorite Denim Item:
Worn, well-loved blue jeans
Content writer Renita Rocker Davis is a seasoned PR and content creation pro who has vast experience through a career in managing public relations, as well as producing both printed and online content. Her expertise is in the homebuilding, affordable housing, real estate, mortgage lending, financial planning and environmental industries, and her work has been published in numerous print and online trade publications. …
Renita is a versatile writer able to change her writing style from news-oriented press releases to creative and captivating advertising copy. Renita is a freelance creator that enjoys writing pieces for Denim's clients to make their homes and communities shine.
Throughout her career, she has participated in many types of communications activities ranging from simple message production to more strategic big-picture planning. She handles everything from social media content and blog posts to annual reports and feature articles. Her experience in message development helps clients reach their target audiences.
Renita is a creative thinker and writer, but her foundation of success stems from her lifetime of grammar fandom and love of diagramming sentences. Her favorite part of her job is the opportunity for growing and learning something new every time she sits down to write a piece.