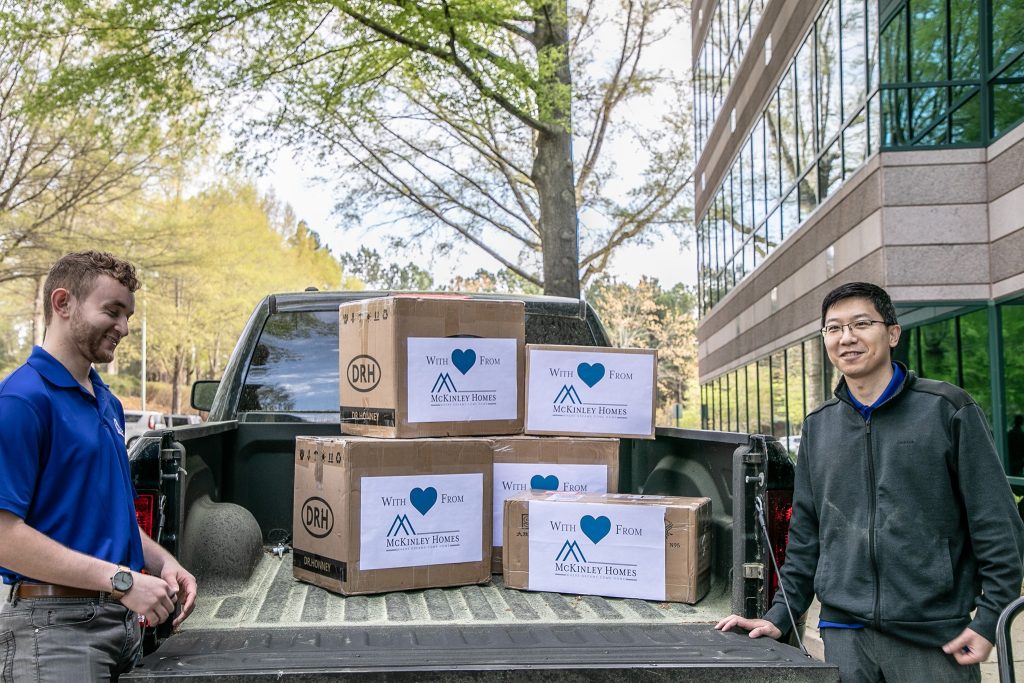 Corporate Social Responsibility (CSR) is a hot topic, and for good reason. Consumers and companies alike make decisions on where to purchase goods and services based on whether companies are doing their part. And, for companies willing to promote their corporate social responsibility, the public relations payoff can be huge. Denim Marketing recently had the opportunity to work with a client on its effort to embrace corporate social responsibility and give back to the local community. McKinley Homes donated 10,500 medical masks to two Atlanta hospitals in need at the outbreak of the COVID-19 crisis in March 2020. Northside Hospital Gwinnett received 5,000 surgical masks and Emory University Hospital received 5,000 surgical and 500 N95 masks to assist their frontline medical professionals against the spread of COVID-19.
McKinley Homes saw this as a great opportunity to step away from homebuilding and instead focus on meeting the needs of the hospitals to show their appreciation for those frontline workers risking their lives to help others. In other words, they saw the need to be a responsible corporate citizen and do their part.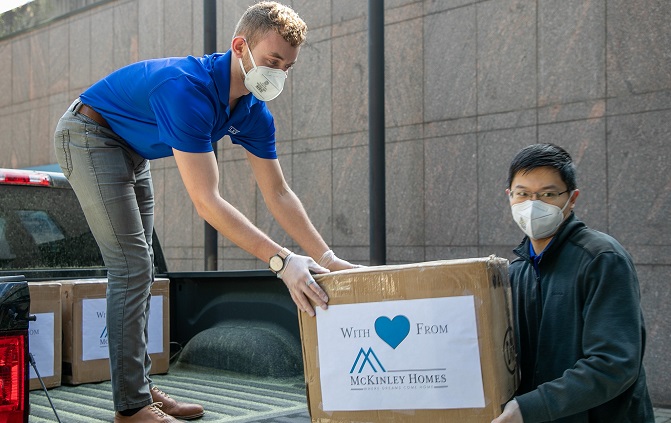 Often referred to as CSR, you may be asking yourself how important it really is. Don't businesses have bigger fish to fry with the ways COVID-19 has forced them to rework their business plans? The answer is yes, they do have big fish to fry. However, the way your business responds when there is a threat to the community will show customers your true colors, and that's where corporate social responsibility comes in.
As with everything COVID-19 related, this donation came together quickly and was a moving target related to hospitals and timing. Exact details were determined late in the day on Friday, March 27 for a Mask Donation scheduled to happen on Monday, March 30 at 10 a.m. Denim Marketing worked quickly on Friday to get a media advisory out, and followed up with emails and phone calls to news rooms on Saturday, March 28. Once the donations were made on Monday, March 30, Denim distributed a press release and photos to recap the donation.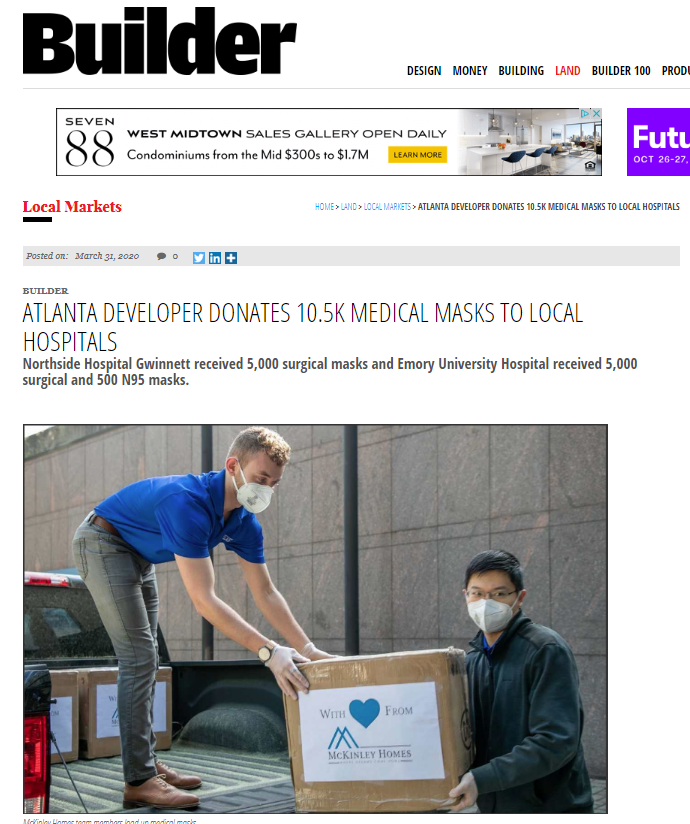 The story was picked up and received great coverage from five TV news stations including Fox 5 Atlanta, WATL, WPCH, WGCL and 11 Alive, as well as numerous news sources including Northside Neighbor, Builder Online, Atlanta Real Estate Forum, Gwinnett Daily Post, Gwinnett Forum, Metro Atlanta CEO, News Break, Atlanta New Homes Directory and Atlanta Communities Magazine.
With all the publications and media coverage McKinley Homes earned from Denim's PR push, there is no doubt that they earned respect and some new customers. COVID-19 was an unexpected and unpreventable crisis for every business, but all the crisis PR and marketing campaigns in the world can only get your company so far if you are not showing consumers that you genuinely care about them and are doing your duty to be socially responsible. CSR is what will ultimately make your company stand out and will help you in the future!
Providing frontline healthcare workers battling COVID-19 at Atlanta-area hospitals (Emory University Hospital and Northside Hospital Gwinnett) with masks allowed McKinley Homes to showcase their focus on corporate social responsibility.
When COVID-19 first surfaced in Atlanta, hospitals were scrambling for PPE for doctors and staff. Because of their connections to China, McKinley Homes was able to obtain medical grade masks and give back to the community. McKinley Homes received high praise and recognition for its efforts to give back to the community and show appreciation to the frontline healthcare workers during a global pandemic unlike anything we've ever seen. The donation was much appreciated by both hospitals at a time when they were literally scrambling for protective gear while also trying to figure out how to treat patients.
If you own a business, it's important to ask yourself – do you really care about your customers? Because we promise that your customers will be asking themselves if you really care about them! Practicing CSR, even when it is not convenient or doesn't improve your bottom line, is an important way to show you truly care. Plus, it will likely earn you positive feedback and support. You are more likely to earn and keep customers or clients for longer when you prove that making money is not always the most important thing to you. One of our clients is a perfect model of how practicing CSR during difficult times can pay you back in ways that are more beneficial than a profit is.
Have you seen companies practicing corporate social responsibility during COVID-19? Did it make a loyal customer out of you?
Let us know if we can help your company practice corporate social responsibility or promote your business through public relations!