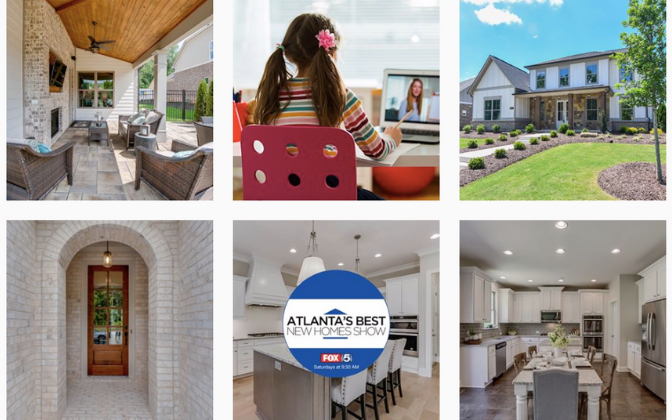 Instagram is a prevalent social media tool for businesses. Between the hashtag, live video, advertising and story features, the platform offers many useful tools for businesses to expand reach, build brand awareness and promote products and services.
Working with Denim Marketing on its social media strategy, SR Homes finds great success using Instagram. Part of this strategy includes a specific focus on the Instagram grid's aesthetic and purpose.
A variety of effective strategies work to promote the Atlanta home builder's Instagram channel. Posts focus on humanizing the brand, fostering a sense of community and creating an appealing visual aesthetic. On Instagram, three of the home builder's most notable campaigns include #HappySRHomeowner, #TogetherAtHome and virtual home tours.
#HappySRHomeowner – Photos showing the newest happy SR Homes homeowners and are shared each week across the builder's top social media channels. To keep up with the evolution of the Instagram Grid, Denim puts a lot of attention and focus on the grid aesthetic. For instance, Denim and SR Homes determined these happy homeowner posts could be shared effectively as Instagram Stories and saved as Story Highlights rather than actual Instagram posts. This strategy allows SR Homes to have a more cohesive Instagram grid with more home specific content. And it makes it easy for potential buyers to click through the "Homeowners" highlight and view smiling homeowners standing in front of their beautiful new homes.
#TogetherAtHome – In response to the COVID-19 (coronavirus) pandemic, Denim Marketing and SR Homes launched the Together at Home blog series highlighting a combination of topics centered around spending time at home. Topics include ways to keep education fun for the whole family, ways to keep active while quarantining and ways to stay creative while sheltering in place. To promote the blog campaign on Instagram, custom graphics were developed and used along with the hashtag to create visual appeal and campaign consistency.
Virtual Tours – Another new strategy executed as the coronavirus pandemic unfolded involved highlighting virtual home tours and online shopping options. With sales centers closed and in-person tours temporarily unavailable, showcasing virtual tools allowed potential homebuyers to move forward in their homebuying journey with SR Homes despite sheltering in place. Virtual tour images were optimized to fit the Instagram grid and used to highlight new home designs, inventory homes and model homes for #ModelHomeMonday, #TakeATourTuesday and #FloorPlanFriday.
In addition to these strategies, Denim Marketing uses other best practice tactics including #LinkInBio on Instagram posts. Starting August 2019, each Instagram post is now added to a custom SR Homes Instagram landing page, www.srhomes.com/instagram, allowing visitors to access post-specific links from one convenient location. This change also solved the challenge of visitors seeing posts out of order due to Instagram's algorithm and gives visitors easier access to the specific link from that story to the website.
Other best practices
Use a call to action on each Instagram post to encourage website visits,
Post three times a week, and
Cover a wide variety of content.
The combination of these strategies, along with frequent interaction by the page manager, results in social media being a major component in the SR Homes marketing strategy. Social media and Instagram assist with growing the brand, driving traffic to the website and promoting new developments and inventory homes. From June 15, 2019 to June 15, 2020, the SR Homes Instagram page had a 57.12% increase in followers, and an average Reach of 241,217 with 143,223 Impressions and 2,464 Profile Views. As a result of this Instagram success, social media is consistently one of the top traffic drivers to the builder's website.
Take advantage of Instagram in your business' social media strategy! Don't know where to start? Well, Denim Marketing is here to help! Our team of marketing experts know the ins and outs of social media strategy and is looking forward to helping your business find Instagram success. Contact us today at 770-383-3360 or click here.