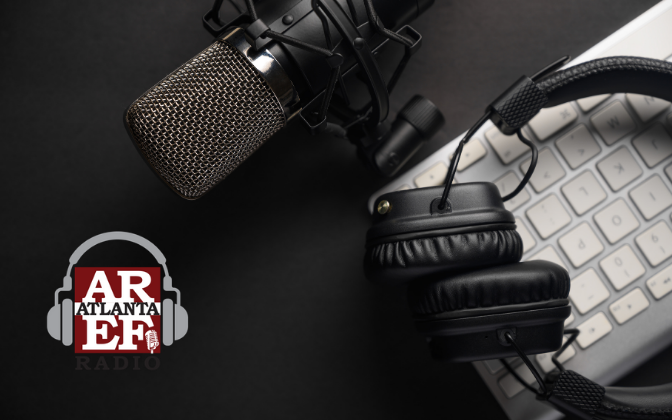 Atlanta Real Estate Forum Radio, Atlanta's favorite real estate podcast celebrates a big year with its 10th anniversary! Launched October 7, 2011, Atlanta Real Estate Forum Radio highlights the movers and shakers, ground-breaking companies and hottest innovators within Atlanta's homebuilding industry. The radio show has reached a major milestone in terms of episodes and years as the longest-running new home building focused radio show.
"It's exciting to have a podcast that has been successful for a decade! I'd like to give a special shout out to our show producer Todd Schnick for making us sound good and for his podcast guidance" said Carol Morgan, show host and founder of Atlanta Real Estate Forum Radio.  She added, "And, a special thanks goes to this year's sponsor New American Funding for making the podcast possible."
Hosted by Carol Morgan and show producer Todd Schnick, Atlanta Real Estate Forum Radio is approaching its 1,000th episode. The show has an exceptional following on social media through Atlanta Real Estate Forum with 12,000 Facebook followers. Sponsored by New American Funding, the podcast airs twice a week, featuring two segments: All About Real Estate and Around Atlanta. All About Real Estate focuses on the latest news within the homebuilding industry in terms of exiting projects, new communities and innovative businesses, while Around Atlanta highlights all the things that make Atlanta a great place to live in. These include topics related to local events, popular attractions, things to do around town and organizations that are making a difference within the Atlanta community.
To celebrate 10 years of podcasts, Atlanta Real Estate is hosting its most dynamic and entertaining month yet with 10 radio segments focused solely on Atlanta real estate. With a guest list that includes interviews with Jim Jacobi of Parkland Communities, Jeremy Crawford of FMLS, Jennifer Pino with the Atlanta REALTORS Association, Chris D'Amico with Kolter Homes, Kim Arrington with New American Funding, Tucker Donnelly of James Hardie, Ming and Alan Richardson of Maximum One Realty and more, listeners are sure to learn a thing or two about the current housing market, available new home communities and what is in store for the real estate industry in the near future.
Atlanta Real Estate Forum Radio has remained an award-winning podcast since its start. The show has received the following awards:
2013 AVA Digital Gold Award for Audio Production/Radio/Podcast
2013 Gold Hermes Messenger for Radio/Podcast
Silver OBIE from the Greater Atlanta Home Builders Association for Best Audio/Video 2013
Phoenix Award from the Public Relations Society of America, Georgia Chapter for Best Podcast 2014
Gold OBIE from the Greater Atlanta Home Builders Association for Best Audio Spot 2015
Denim Marketing is proud to produce this podcast and showcase the individuals making an impact within Atlanta's thriving homebuilding industry, as well as in the communities we live in. Listen to Atlanta Real Estate Forum Radio via your favorite podcast app or visit Atlanta Real Estate Forum Radio to listen to full episodes and read the podcast recap.
Read more about how you can Increase Your Digital Presence with Podcasting and Using Podcasts for Business.