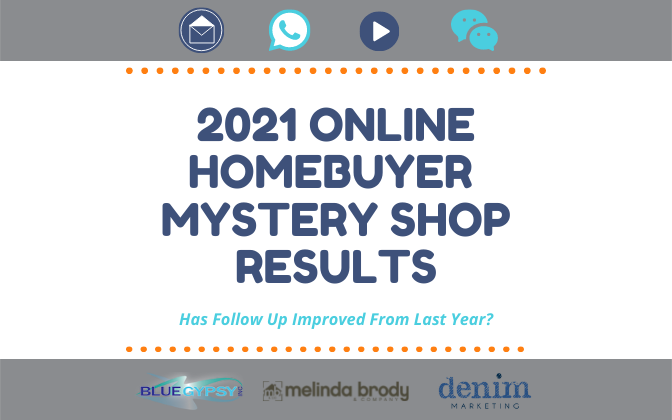 The 2021 Online Homebuyer Mystery Shop Report results are out! This report  provides insight on home builder communication methods. This marks the second year that  Denim Marketing, Melinda Brody & Company and Blue Gypsy Inc. have assessed and compared the follow-up efforts of 50 national, regional and local home builders across the country.
Due to the ongoing COVID-19 pandemic, many home builders faced unprecedented circumstances including supply chain issues, extended build time estimates and high homebuyer demand. In response, builders adapted by throttling sales, developing lottery systems and holding bidding wars over available inventory. This survey reveals how builders made efforts to communicate with their prospects amid constant changes in the new home builder industry.
Denim Marketing President Carol Morgan said, "We are operating as an industry in absolutely unprecedented times. Year two of the pandemic has continued to put pressure on builders while homebuyers desire to buy has not ebbed. It seems as an industry, follow up is a little lax. We need to button this up as we look to the future and work to build the customer experience."
The Mystery Shop results are gathered from a diverse sampling of 50 builders, with almost 30 selected from Builder's Top 200 list and others chosen at random throughout the country. The results offer in-depth findings and statistics that indicate the quality of builder follow-up efforts with prospective homebuyers based on factors such as speed, frequency, diversity of touchpoints and personalization.
Strong follow-up methods are incredibly valuable during the homebuying process. Home builder marketing efforts initiate the lead development process by driving traffic to builder websites, but effective follow-up is instrumental for increasing lead conversions. It's important to understand the value of follow-up procedures in keeping buyers engaged, providing transparency, increasing confidence and creating clear expectations to drive sales.
"We are very excited to be involved in this important study of home builder communication with prospects," said Melinda Brody & Company President Ben Marks. "This year's mystery shop results reveal that there's room for improvement and steps builders can take immediately to significantly boost their follow up efforts."
The 2021 Online Homebuyer Mystery Shop Report evaluates the current follow-up methods of various nationwide builders with and without dedicated Online Sales Counselors (OSCs) to present opportunities to improve the homebuyer customer experience. The study compares the efforts of builders with OSCs with those without to offer insight into how this factor affects the lead development and conversion process. Also included in the report are best practices for homebuyer follow-up, takeaway points based on discovered data and comparisons to the previous year's report.
"The 2021 Mystery Shop may surprise you. It did for me," said Blue Gypsy Inc. Owner Leah Kaiz Fellows. "While there are more OSCs out there for builders this year, their follow up performance isn't as strong. This tells me that burn out, lack of training, or lack of a definitive direction are at play. Or all three. While it's important to implement this program, doing it with intention and an eye toward success is important as well."
The online shopping protocol for this survey was developed by Melinda Brody & Company, experienced in delivering constructive video mystery shops. Mystery shoppers visited individual builder websites during normal business hours and completed a contact form with their name, phone number and email address. Within the comments section of the form, shoppers also included a relevant question about the builder or community. For 30 days, responses were tracked, and the resulting data was compiled and examined for three distinct groups – all builders, builders with OSCs (60%) and those without (40%).
The 2021 Online Homebuyer Mystery Shop Report is available for download at www.denimmarketing.com/onlinemysteryshop/.
Call 770-383-3360 for information on packages and tailored marketing strategies to find the perfect fit for your company's marketing program. Morgan encourages you to, "Try us on for size, you will find Denim to be comfortable, reliable and personal. Our agency isn't one size fits all – neither are jeans!"