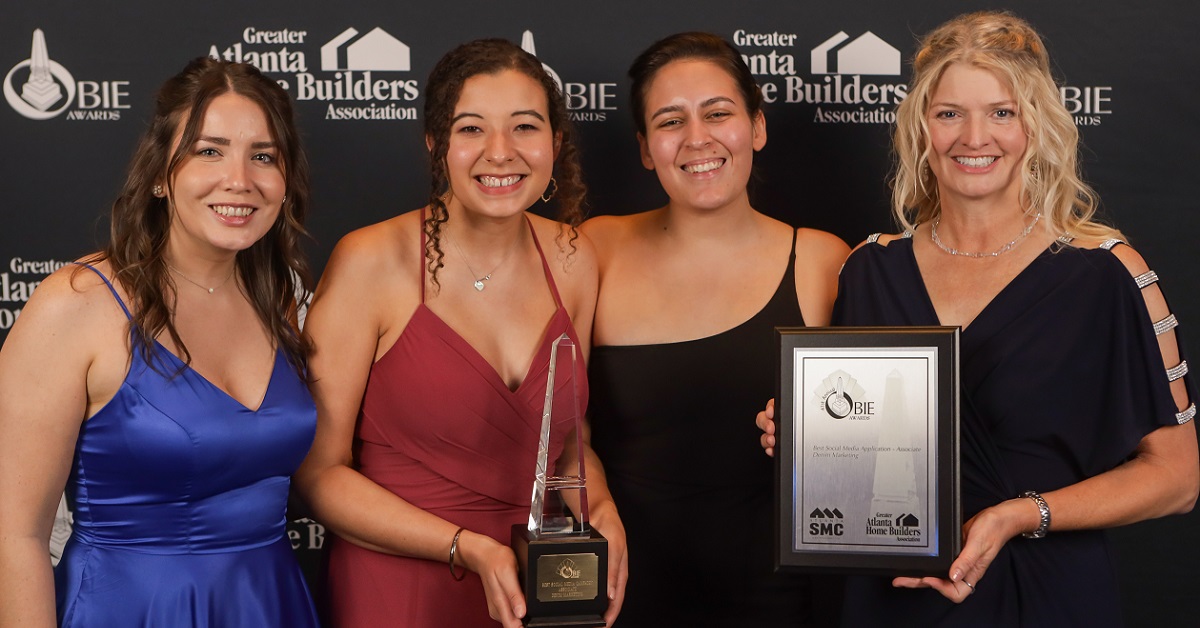 Denim Marketing was recently recognized at the 41st Annual OBIE Awards with a Gold and a Silver OBIE. The agency received Best Social Media Campaign – Gold and Best Social Media Application – Silver for work done on behalf of agency clients.
The OBIE Awards, presented by the Atlanta Sales and Marketing Council (SMC) on behalf of the Greater Atlanta Home Builders Association (HBA), recognize outstanding achievements within the homebuilding industry and serve as the premier awards given in the Atlanta new home construction industry.
"Denim Marketing is overjoyed to be honored for our social media work," Denim Marketing Founder and President Carol Morgan said. "Despite ongoing challenges in the homebuilding market, our team has continued to excel and produce content that produces results."
Best Social Media Campaign – Gold for Atlanta Real Estate Forum Radio
Atlanta Real Estate Forum Radio has been recording podcasts for 11 years – a huge milestone in the podcasting industry. As of June 30, 2021, the show had recorded 1,026 episodes. Much of the show's success is thanks to the continued support of the real estate industry and its sponsor and partner, New American Funding.
To celebrate the show's ongoing success, the show graphics were revised to include a show episode count and a huge emphasis on the show's partnership with New American Funding. Show interviews showcased New American Funding leadership, the company's emphasis on serving the underserved and diversity and inclusion, as well as its focus on fantastic customer service.
The outbreak of the COVID-19 (coronavirus) pandemic changed the way the show has operated. Starting in March 2020, Atlanta Real Estate Forum Radio pivoted to record all interviews via Zoom versus live in the studio. However, this was strategically utilized as an opportunity for greater flexibility to interview guests outside of the metro Atlanta area. Currently, the podcast is thriving and continues to showcase new homebuilding professionals in and around Atlanta.
Atlanta Real Estate Forum Radio is proud to be sponsored by New American Funding. The lender's incredible team of professionals are frequent guests on the show, always providing informative and helpful interviews to educate listeners on the most straightforward ways to achieve homeownership.
Best Social Media Application – Silver for Jim Jacobi's LinkedIn
In August 2020, Denim Marketing started working with Jim Jacobi to build awareness for him via the social media site LinkedIn. The overall goal was to create a robust presence for him to inspire immediate confidence with landowners, as well as to promote his lot availability to production builders, his build-to-rent communities to consumers and relevant news related to his surveying company.
For LinkedIn success, Jacobi needed topics to reach relevant audiences. Denim Marketing set out to create content that could be shared on Jacobi's personal LinkedIn. Content included press releases and the subsequent media coverage, posts from Atlanta Real Estate Forum and the various company Google My Business pages. All content was then shared to the various company LinkedIn pages including Parkland Communities and Alliance Engineering + Planning, and then shared from those pages to Jacobi's personal page.
Notable media scores created during this time include Atlanta Agent Magazine, Metro Atlanta CEO, Builders Club Rewards, Atlanta Business Chronicle, Atlanta Journal-Constitution, New Home Guide, Atlanta Real Estate Forum, Gwinnett Forum, Appen Media Online, Multi-Family Executive, Atlanta Communities Magazine, KNOWAtlanta, Alpharetta Patch, Dacula Patch, City Lifestyle Atlanta, Urbanize Atlanta and REBusiness Online.
From August 2020 through June 2021, Jacobi's personal LinkedIn presence grew from 50 followers to 1,500, a 2,900% increase.  During this same time, the Parkland Communities LinkedIn page was created and has grown to 1,005 followers. The Alliance Engineering LinkedIn page was revamped and has grown from 30 to 793 followers – a 2,543% increase.
Click here to sign up for the Denim newsletter or visit www.DenimMarketing.com to view the full portfolio and more. Call 770-383-3360 for information on packages and finding the perfect fit with Denim Marketing. Morgan encourages you to, "Try us on for size, you will find Denim to be comfortable, reliable and personal. Our agency isn't one size fits all – neither are jeans!"