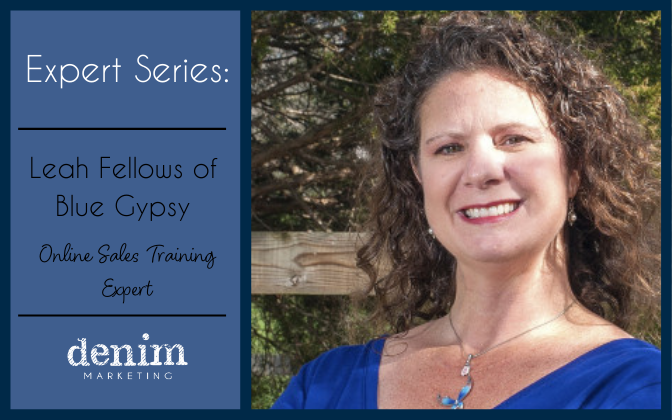 Founded in 2010 by Owner Leah Kaiz Fellows, Blue Gypsy Inc. provides Online Sales Counselor (OSC) training for new home builders, developers and real estate professionals. Known as the "blue gypsy" within the industry, Fellows is an online sales training expert, adventurer and homebuilding trade professional.
In 2010, Fellows was faced with a decision: find an existing OSC position or start her own company in an industry where having an OSC was still very uncommon. After being a sailboat captain and dive instructor and working aboard educational vessels in the Caribbean for 13 years, she stumbled into the building industry by accident.
Fellows experienced an injury and began working at a model home as a sales assistant. From there she became an OSC for a major developer in Virginia Beach, and three years later she took her experience to launch her own company. Fellows saw a need in the industry for online sales counseling and based her sales training program on her years of experience. Now she helps builders across the country recruit and train OSCs.
Blue Gypsy Inc. takes a customized approach to each client and makes sure to understand the unique needs of each one. Its distinctive approach toward management sets Blue Gypsy apart from other OSC training companies in the industry. Fellows has a "true mindset of abundance" and believes that there are plenty of clients to go around and that each one brings its unique talents and strengths to the industry. Blue Gypsy is a small boutique training company that takes on eight to 12 home builders per year.
"I think I work hand-in-hand with my competitors and see us more as allies all helping to change the way we see sales for the better," Fellows said. "There truly aren't enough trainers out there, but I think my clients would say I bring a huge treasure trove of knowledge and heart to what I do. It's a lot of very personalized one-on-one service that is not a cookie cutter approach to online sales."
Blue Gypsy offers a vast range of OSC training services as building blocks that should be done in succession.
Services Offered
Online Sales Counselor recruiting.
Comprehensive website and system analysis.
Analyze current marketing and lead generation.
Review CRM program and sales process.
Online sales training and coaching, as well as hiring for new dedicated counselors.
Provide mentoring for current online sales counselors.
Blue Gypsy also offers clients with existing OSCs a secret shop. Here, the Blue Gypsy team evaluates web traffic and provides a Mystery Shop to assess and evaluate a client's current team. Not only does the secret shop test the skills of the existing team, but it also examines the turnover process between the online and onsite salespeople.
Creating Relationships Between Online and On-Site Salespeople
"Building a strong relationship between the online and on-site salespeople is the make or break of the OSC industry," Fellows said.
It is important that OSC compensation does not come out of the pockets of the onsite agents. Agents must understand that OSCs have the same comprehensive knowledge of the company, the communities and the homes. Communication and the ability to be transparent with the whole team is key and needs to be a two-way street between agents and OSCs even long after the appointment happens.
Leadership needs to support the process and make sure the agents know these programs are set up because they have proven results. It takes time in the beginning of a new program for a new hire to see results, so it is important to give that OSC time to ramp up, and that time can be greatly reduced with a strong training program.
Improving Builder Satisfaction
When working with a builder, the OSC program is seen as a part of the entire sales and marketing system. As a part of the cohesive evaluation, Blue Gypsy looks at metrics and determines where leads have been lost. The group's benchmarks and successes have been higher than industry standard when the program is properly adopted and incorporated from leadership down. This method is so well adopted because of the one-on-one approach clients receive through executive coaching and consulting.
"As my clients see the OSC numbers go up and the number of sales the OSCs help create, they are very happy with the program and the results," Fellows said. "Every one of my clients becomes a friend and a member of my professional family long after they are no longer engaging with my services."
Fellows also realizes the role of the OSC industry is changing rapidly and is completely different from her start over a decade ago. Each aspect of the industry runs side-by-side, from marketing and online counselors to sales, all to achieve the same goal. It is now up to builders to embrace the role of OSCs and see their importance to enhance customer experience.
"I just love to see other people succeed," Fellows said. "We are all on this journey together and it's not a competition. I love seeing the 'aha's' in people's eyes when I teach them something they don't know.

"From the most seasoned salesperson to the strongest leaders, it's a wonderful thing to collaborate and make the entire company stronger."
To learn more about Leah Fellows and Blue Gypsy Inc., visit www.BlueGypsyInc.com.
Stay up to date with the latest in the homebuilding industry through our Expert Series collection of blogs at www.denimmarketing.com/blog.