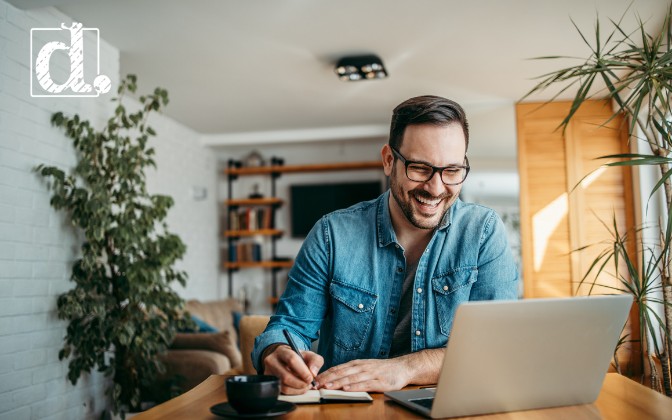 Due to the emergence of the COVID-19 pandemic, many companies have transitioned to remote or hybrid work styles to accommodate social distancing mandates. Although this work model offers greater flexibility, the transition can be challenging and requires intentional practices to fully adapt. From preserving company culture to maintaining a work/life balance, several factors contribute to making remote work truly successful.
If you weren't able to attend the Sales & Marketing Power Hour webinar live, this recap is for you! Find all the details you missed, including noteworthy highlights from the discussion.
In this dynamic power hour, Carol Morgan of Denim Marketing and Kimberly Mackey with New Homes Solutions Consulting were joined by Greg Bray of Blue Tangerine, Kevin Weitzel of Outhouse, LLC and Jimmy Diffee of The Bokka Group. Each company represented in this timely webinar successfully navigated fully remote work models years before the events of the past year – and they have plenty of tips to share!
Common Challenges and Obstacles
A common challenge faced by companies working remotely is maintaining strong team communication. Staff members may hesitate to ask questions and reach out to avoid interrupting the work of others. Remote teams must develop open communication habits to prevent miscommunication and encourage cohesive teamwork. To ensure the team works toward unified goals, it's essential to promote mindful, conscious work strategies.
When working remotely, casual conversations are often absent among coworkers as all communication sent over chat is typically purposeful and work-related. It's important to ensure the team feels connected to build and maintain a strong company culture despite the team's distance from each other.
Another concern that business owners encounter is trusting their team to provide the same work quality despite being absent from the office setting. Although there isn't a way to fully monitor employee work, employers should maintain trust with their team, promote consistent communication and check in with team members to stay connected.
Important Keys to Success
Set Ground Rules
To make remote working effective, it's crucial to create rules and boundaries to ensure every team member understands the company's expectations. As working from home is a more flexible work style, many employees may see this as an opportunity to work on their own schedule. Although employees can work from a comfortable location, they still need to adhere to the company's policies on work hours to sustain open communication and strong teamwork. Employers need to make this distinction clear to avoid misunderstanding and maintain a consistent work schedule for all employees.
Intentional Day Planning
Every workday should have an intentional structure to offer employees ample time to meet virtually with clients and team members and also complete work tasks individually. Although it's important to create opportunities for collaboration through virtual meetings, employees also need time to be productive without interruptions. To solve this issue, some businesses block out certain parts of the day for regular meetings and collaboration, leaving employees the rest of the day to be productive.
Keep Culture Alive
Having a sense of belonging within the work environment is a feeling that many employees crave. Studies show that workers who possess a shared purpose with like-minded coworkers display higher levels of productivity. It's crucial to assess different approaches to determine how to unify a team through social interactions and effective teamwork. Despite the distance, it's important for the team to feel connected through shared purpose and overarching goals.
Separate Work from Home
Despite conducting work at home, boundaries between time spent working and time used for personal activities are important for employees. It is difficult to separate the two when working from home, but this is another reason for employers to maintain set office hours. By setting time boundaries on when employees should be working, employers ensure that employees still preserve time for themselves while at home.
Find the Right Programs
From Microsoft Teams to Google Meet and Slack, there are several business workspace platforms that teams utilize to manage workflow, cultivate collaboration and provide channels for team interaction. Employers can determine which program works best for their team and promotes efficient work efforts. Finding an effective CRM system is also an important factor for employers to improve productivity and facilitate consistent team communication.
Virtual Meeting
It is up to the discretion of each business to determine the importance of holding video calls that require each person's camera to be turned on during calls. Some businesses attest that requiring the use of cameras during calls holds each employee accountable for maintaining a presentable home workspace and dressing for work interactions. Many business owners also view this practice as a method to strengthen company culture with more personable interactions. However, other businesses prioritize employee preferences to leave their camera off during informal routine team meetings. Determine which method works best for your team members and ensure that every employee is aware of virtual meeting etiquette.
Let us know if you have any additional tips for making remote work effective for individuals transitioning to this growing work style!
Upcoming Webinars:
Nov 12, 2021 at noon E.T. – HOW RUDE! Responding to Negative Social Media Comments with Courtney Stewart of Denim Marketing
Dec 10, 2021 at noon E.T. –  TBD
Join industry experts and head coaches Kimberly Mackey, New Homes Solutions Consulting founder and sales & marketing management consultant, and Carol Morgan, founder and president of Denim Marketing, for this free webinar series focused on your success.
Join the Sales & Marketing Hour Facebook group by clicking here. Look for updates on guest speakers and topics. This group is dedicated to sharing real-world wisdom and expertise on hot topics for growing your business in today's market.
Whether you are a sales or marketing professional or a homebuilding President or CEO, this webinar series is for you. Register for the Sales & Marketing Power Hour webinar series by clicking here.