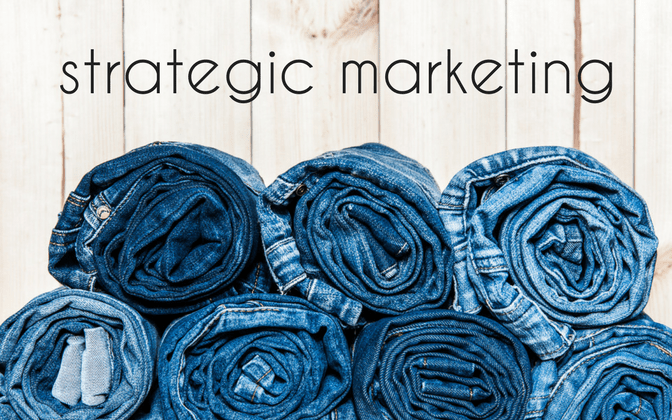 Strategic marketing is the pattern Denim Marketing uses to cut the cloth for all of your marketing initiatives. It is a process that moves us from a nebulous set of wishes to a solid set of measurable and attainable goals, and then to an actionable plan that produces results. After all, a goal without a plan is just a wish. Every company needs a strategic marketing plan if they want to be successful, and Denim Marketing builds these plans. From a full outfit of services to individual items, we tailor strategic marketing plans to fit the needs of companies large and small. Our goal is to help you market with intent versus performing random acts of marketing.
Strategic Marketing – Getting Started
We begin by understanding a client's product, market, target audience and marketing goals. Every company has different needs, goals, budgets and ideas. Like jeans, marketing isn't one size fits all, our goal is to tailor a custom fit plan for each client. Understanding who our clients are helps us define goals, metrics and components we can implement. During this part of the process, we also outline time frames. Some projects can be accomplished in the first 30 to 90 days and others have much longer time frames for return on investment.
Marketing Goals
Denim Marketing President, Carol Morgan comments, "Once we have this big picture assessment of our clients, we suggest ways to efficiently and effectively use the marketing budget. We work with our clients to determine how to best implement social media, promotions, advertising, SEO and other marketing tactics to build brand awareness, grow traffic, increase sales and meet other identified goals." She continues, "Have existing marketing partners and vendors? No problem! We are flexible and willing to work them into the plan too. You'll love our transparency and authenticity."
Monitoring and Reporting on the Strategic Process
Part of the strategic marketing process also includes monitoring the progress of all marketing efforts to ensure they're effective at reaching the client's goals. As we try new tactics, we monitor them for success and make suggestions based on how well they do, or don't, work. Budget can be reallocated for tactics that work well by moving budget away from methods that are underperforming. This constant monitoring of our client's marketing program ensures that their marketing strategy is performing as efficiently as possible, while producing desired results along the way.
Tactics to Include in Your Strategic Marketing Plan
Branding, Rebranding or a Brand Refresh
Website Development and Updates
Search Engine Optimization
Social Media

Facebook
Instagram
LinkedIn
Pinterest
Twitter
TikTok

Campaigns and Promotions
Digital Advertising

Instagram ads
Google pay per click
Ad networks
Geofencing
Retargeting
OTT

Traditional Advertising

Magazines
Newspapers
Billboards

Email Marketing
Photography
Graphics
Infographics
Videos
Online Chat
Autobots
3D tours
Renderings
With honest conversations and goal setting, Denim Marketing can draft a marketing strategy for your company. Unlike trying on a dressing room full of jeans, we make the process painless and easy. To learn more about how Denim Marketing can be your strategic marketing partner, call 770-383-3360 or Contact Us online.