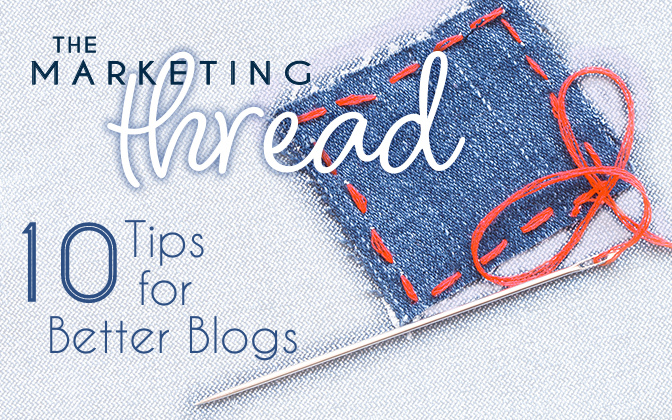 Are you fully taking advantage of blogging as an opportunity to boost your brand? Even if your company already has a blog, it's critical to assess its ongoing performance to ensure the best marketing results. Denim Marketing's new video series The Marketing Thread continues with 10 tips for better blogs. Creating a blog is one of the easiest tactics businesses can implement to improve search engine optimization (SEO), gain a loyal audience and keep them informed about your business.
Hosted by Denim Marketing's Digital Content Producer Todd Schnick and various Denim Marketing team members, The Marketing Thread is a series of short snackable videos released monthly discussing current marketing trends.
In this feature, Denim Marketing Founder and President Carol Morgan and Todd Schnick discuss the following tips for blog improvement:
FAQ
Use blog posts to answer the questions your business receives on a consistent basis. If multiple buyers often ask the same question that requires a lengthy response, a good way to address it is by transforming the topic into a blog post that these curious buyers can reference. After producing this blog, drive consistent traffic back to it whenever someone poses the same question.
Write Content that is Valuable
Make sure that blog content resonates with your target audience. Review Google Analytics monthly to see which blog posts are most popular with followers. Take advantage of this information to update previous blog posts that rank highly but might not be up to date. And by looking at these topics, a pattern of what the blog's readers want to consume will become clearer. With this knowledge, more blogs can be written on those topics.
More Words are Better
For ideal SEO, blogs should be a minimum of 400 to 450 words long. However, blogging is an investment in time, which means it's important that the blog actually reaches its intended audience. In order to gain maximum SEO value, some blogs should be much longer than this minimum. Think 1,200 to even 1,500 words of thorough copy on a subject. This helps Google (and other search engines) rank the site as an expert on that subject matter. In addition, more serious buyers are likely to want richer information from blogs which can only be accomplished by providing in-depth information.
Promote Your Content
Once blog content is written, it is time to promote it through different platforms. Tactics to accomplish this include creating an email list or sharing posts through social media to guarantee that followers are aware of the content when it's published. Remember to always share content more than once, especially if that content is evergreen and holds value over a long-term period. A great way to ensure that content is shared repeatedly is to use a social scheduling service (like Social Jukebox) where content is automatically posted on a recurring basis according to selected parameters.
Focus on Amazing Headlines
Headlines need to be attention-grabbing. If they aren't, it's likely no one will give it the time of day and keep scrolling. That's why it's important to catch and reel in readers from the second they see the headline. The headline should tell readers instantly why they'll want to take a look at the blog.
Show Your Personality
It's essential to for blogs to be fun and show personality to spark interest in the content. If blogs are boring and lack personality, viewers won't want to continue reading. When blogs have personality, there's a greater chance that readers will connect and keep returning for more.
An important tip from Carol: "It doesn't have to be personal, but it does need to have personality."
Break it up!
For longer blogs, it's important to break up long paragraphs so viewers won't get tired of reading or feel weighed down by the seemingly endless text. Do this with bullet points, numbers, quotes, subheadings, photos or videos to distinguish between different topics addressed within the content. Breaking content into bite-sized pieces makes it more digestible and ensures that readers can find the content within the blog that is most important to them.
Review & Edit
Always check for spelling and grammar mistakes. Little things can easily slip through the cracks and it's important to catch them before they're published. Take a second look at the blog post and ask someone else to proofread as well.
Include a Visual
A picture is worth a thousand words. Make blogs visually interesting by incorporating visual elements such as photos, videos or other graphics. People engage more with blogs that have visual elements, so it's important to include this to truly capture reader attention.
Be Consistent
Make sure to post on a regular basis to consistently connect with both loyal followers and search engines. It's important to pace yourself when producing blog content to avoid potential burnout. Create a schedule and stick to it.  It's better to blog consistently twice a month rather than publish eight or more blogs in a month and then lose focus and become stagnant in future months.
The Marketing Thread video also included a bonus tip no. 11 that you should be sure to take a look at by watching the episode.
Join Carol Morgan, Todd Schnick, Courtney Stewart, Lexie Delmonico and Mandy Holm for this free video series as they delve into topics guiding home builders and related companies toward marketing success. The Marketing Thread is a can't-miss new series that promises to boost any marketing strategy with effective tips.
View all videos from The Marketing Thread on the Denim YouTube Channel.
For more information on how to work with Denim Marketing, call 770-383-3360 x20 or contact us.