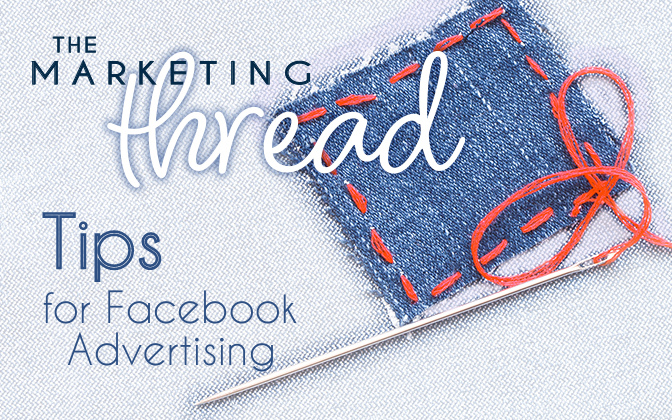 Facebook advertising is an important way to connect with target audiences on one of the biggest social media sites in the world. The platform is designed to put messages and content in front of exactly the right segment of people that are most likely to invest in your business. To get the best results, it is important to understand the different types of Facebook ads, targeting options and budgeting before diving right in.
Hosted by Digital Content Producer Todd Schnick and various Denim Marketing team members, The Marketing Thread is a series of short snackable videos released monthly discussing current marketing trends.
In this segment, Denim Marketing Senior Account Manager Courtney Stewart joins Todd Schnick to discuss effective Facebook ads strategy.
It is tough to learn every aspect of Facebook ad strategy, but you don't need to understand every facet to still have effective advertisements. Understanding the basics ensures you get the best bang for your buck. Don't be tempted to press the blue Boost button on Facebook! This is not the best use of your marketing budget! There are many other options provided through Facebook's Business and Ad Manager that are simple yet effective in maximizing results from an ad budget.
Advertising Strategies
Facebook provides a number of campaign objectives from boosting awareness and reach, to driving traffic and engagement to the website. Facebook tracks audience consideration through app installations, video views, messages, catalog sales and store traffic. The first step to choosing what kind of ad is most effective in reaching your target audience is to identify business goals.
Ad Types
Awareness
Brand awareness and reach ads are designed to make people aware of your brand, current offers or incentives. The goal of this ad type is to find the maximum number of people that are most likely to interact with and be interested in your business.
Consideration
The goal of this ad type is to get people off Facebook and on to the linked website or external page. The engagement feature provides content's statistics like the number of reactions, shares and comments. The higher the number, the more Facebook sees the page drives traffic and promotes the ad. Keeping organic reach high is achieved through engagements such as page likes and event responses. Lead generation ads collect leads and put them straight into a CRM. Message ads are designed to start dialogue with potential customers through Facebook messenger, Instagram DMs and even WhatsApp.
Conversion
These ads are designed with retail in mind to reach the people most likely to buy a particular product or service. Catalog sales show people actual items they can buy. Store traffic ads display ads to people in geographical proximity of a location when they are most likely to drive to the store.
Ad Costs and Budgets
The most important thing to think about with ad budgets is the more you are asking from the ad, the more expensive it is going to be. Engagement ads are the most basic and generally inexpensive in terms of cost per result because they ask for a simple action like a reaction, comment or share. These ads typically cost $0.10 to $0.15 per engagement.
On the other hand, ads that require more effort on the consumer's part cost more. For instance, lead ads ask someone to share their personal information like name or email with the knowledge that you will probably follow up with them or they will be added to an email list. The consumer has to be more invested to take action so this type of ad will generally cost more and can run up to several dollars per lead. Another factor that affects ad costs is how narrow or wide the audience parameters are. It is important to think about overall budget, then decide the most effective ad type to get the greatest return on investment.
Special Ad Categories
Facebook created a new category of ads for industries that involve home building, real estate, mortgages, development, credit, job opportunities and politics. They were designed to enforce Facebook's policies and comply with Equal Housing laws so when a key word is flagged in one of these areas, Facebook removes the ad for further review. For example, the requirements of the category help the homebuilding industry because the business is complying with Facebook's rules and those of Fair Housing. To help combat this, we recommend using the Facebook Pixel, which is a piece of code that collects information on customers and tracks their website movements so that you can retarget them or create a lookalike audience.
Audiences
Perhaps the most important aspect of Facebook ads is creating the audiences. Facebook allows audiences to be created and saved in Business Manager. It is important to set these up first, making the ad creation process much faster and more efficient. It typically takes between 24 and 48 hours to collect audience data, but moving forward, every ad can use the data you have already created and saved. There are three different types of audiences that can be created.
Saved
This is the most general type that allows audiences to be created based on geographic location and interest. If your business does not have to use the special ad category, you can also target based on age, gender, language, behaviors, interests and more demographic information.
Custom
This audience category is made up of people your business has already connected or engaged with in some way, also known as retargeting. This information can come from your website, Facebook Pixel, Instagram accounts and CRM lists. Being able to get content in front of the right target audience is crucial in making the most of your advertisements.
Lookalike/ Special Ad
This type of ad creates audiences that look like customers that already exist in terms of their online behavior. The special ad audience feature automatically removes interest and demographics to comply with Facebook's guidelines for those specific industries mentioned in the special ad category. To create this audience type, select the country, which seems broad, but paired with the general audiences created first, it narrows down the parameters and location. Then select the size of the audience. For example, 1% will include only potential customers that most closely align with the interests of the business versus 10% which would be a larger group. 3% to 4% is recommended. This is a different group of people than a custom audience, but they match the online behavior and interests of your important customers.
A/B Test
This test determines what type of content performs the best and places online that customers are most likely to engage with the ad. Run two different ads with different variables to compare them and determine which is the most effective in terms of cost per result.
Design Creative
When creating a generic ad, Facebook's AI allows many different videos, images, copy and creative content to be uploaded and it generates different ad variations. As ads run, it also determines what type of ads are most effective to target audiences and removes the ones that are not as effective.
Budget and Audience
There are two options for choosing an ad budget. Give the ad a lifetime budget, which is the maximum amount it is going to spend for the duration that the ad runs. A daily ad budget will spend that amount per day for the duration that the ad is up.
Join Carol Morgan, Todd Schnick, Courtney Stewart and Mandy Holm for this free video series as they delve into topics guiding home builders and related companies toward marketing success. The Marketing Thread is a can't-miss new series that promises to boost any marketing strategy with effective tips.
View all videos from The Marketing Thread on the Denim YouTube Channel.
For more information on how to work with Denim Marketing, call 770-383-3360, ext. 20 or contact us.