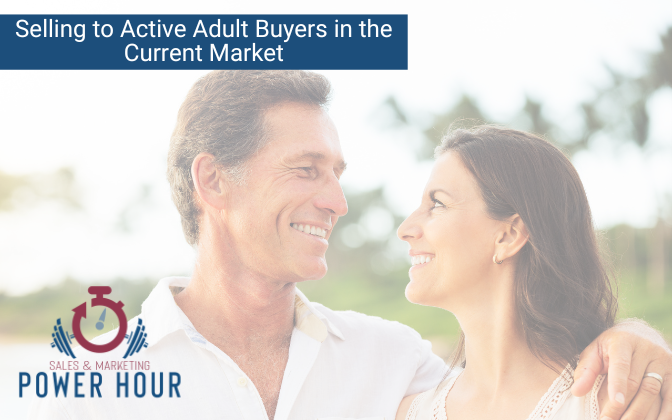 Want to refine your new home selling strategy for active adult buyers? The current market has recently seen several shifts, and it's important to note how this affects how we sell and market homes to different target audiences.
Our recent Sales & Marketing Power Hour webinar focused on "Selling to Active Adult Buyers in the Current Market." The conversation explored the best practices for engaging 55+ buyers and the current market challenges and trends you need to know to successfully close out active adult communities! We looked at the key strategies and tactics needed to reach and engage 55+ buyers. So, tune in on YouTube or read the synopsis below to find out what we covered.
Active adult housing industry experts Rob Krohn with Epcon Communities, Todd Warshauer with 55places.com and Ben Keal with PCR join hosts Kimberly Mackey and Carol Morgan. These experienced 55+ sales and marketing leaders share what's been happening in the active adult housing market and how it differs from the overall market.
Web Traffic Trends
If you are in the new home business, have you worried that your everchanging web traffic trends are abnormal? Most real estate companies are on the same rollercoaster ride, with the pandemic significantly affecting web traffic trends. Many builders noticed a decline in web traffic in the first six months of 2022, with a significant low in June and an increase in July and August, showing pre-pandemic levels.
Active adult buyers enter the marketing funnel earlier than other demographics, meaning they cast a wide net in terms of area or location. Helping them narrow down and focus is crucial. For Epcon Communities, it's about hyper-local marketing. Buyers know all about Epcon before even putting them into the consideration set. "Hyper-local marketing ensures the people that need to know about us do," states Krohn. "Our median average sale takes 35 days from first contact to contract."
Pre Covid, most active adults buyers, had an 18-month buying cycle, especially considering relocation. However, post-Covid, "FOMO" and "YOLO" pushed many off the fence and created huge demand and low inventory.
Technology and the Active Adult Buyer
Often sales and marketing teams think they should treat active adults differently regarding technology. Once they inquire, what should the online sales counselor (OSC) say or do differently when they discover they are chatting with a 55+ buyer? First, remember that the oldest Gen Xers are now in their mid-50s. Gen X and the Boomers can handle technology but hate auto-attendants and want a personal connection. OSCs that personalize emails and make phone calls are much more successful when leads come in. 
The Initial Search
When searching for a new home, potential buyers want to envision their new life through the screen. Therefore, the first impression during their initial research is crucial. Offer compelling reasons to move away from their current home and community. Painting a picture of what life is like in a community creates an important vision for new home shoppers. Help them to see the lifestyle and to understand how moving will enrich their life and make it easier.
Providing strong visuals and interactive elements supports their lifestyle choice. Home builders showcase properties by including tactics such as:
Professional photography and videography
Virtual tours of available homes
Interactive home floorplans
As a Top of Funnel contributor, PCR users search for lifestyle and amenities. Once they find a community that matches their goals, inventory becomes more critical.
In addition to the interactive tactics above, new home builders should educate potential buyers about the community and the surrounding environment. Providing information about local businesses, medical centers, parks and other recreational amenities and how they benefit the lifestyle your community promotes helps potential buyers to envision what life might be like in the community. Also, describing your active adult community's climate could help find the perfect potential buyer. For example, inform buyers if your community is near a beautiful mountain region or just five minutes away from a relaxing beach.
Family and Friends
It is essential to consider family members and close friends' roles in searching for a new home for active adult buyers. With this demographic, the children, grandchildren and relatives have input and can sway the buyer's decision. Kids and grandkids often live in that market, and their parents will be moving there, so they're highly active in the process. Many buyers use their family members as a second set of eyes to tour the homes and research the communities.
Like family, friends also significantly impact active adult buyers when deciding on a new community. Many active adult community inquiries come from referrals from friends of the buyer who are current residents within the community. Having several friends move into an active adult community simultaneously isn't unusual.
Some communities host monthly events where potential buyers can join residents, which can help spark additional buyer interest. PCR promotes Discovery Tours, and many requests include mention of friends that have relocated to said communities.
Promoting a Lifestyle
Most active adult buyers are searching for a specific lifestyle. Whether your community offers easy-going activities like golf and pickleball or healthy living, promoting the community helps bring the right audience to the table.
These new home buyers are searching for a primary retirement destination. PCR users are about lifestyle, golf, pickleball, lakefront, health and wellness. Don't forget the importance of social engagement and community gathering areas.
REGISTER HERE FOR THE NEXT WEBINAR
Sales & Marketing Power Hour is a webinar series for new home sales and marketing professionals. Hosted by the dynamic duo Kimberly Mackey of New Homes Solutions Consulting and Carol Morgan of Denim Marketing, Sales & Marketing Power Hour received accolades at The Nationals as a Silver Award winner for Best Professional Development Series.
Focused on providing solutions, tips and ideas to both sales and marketing teams in the new home industry, Sales & Marketing Power Hour offers best practices and practical advice on what is working in today's real estate market. This program is appropriate for company visionaries, sales and marketing leadership, on-site sales professionals, and anyone who wants to remain relevant as our industry grows its technological footprint.
Upcoming Webinars:
Oct 19 – TBD
Dec 14 – 2023 Lasso Style Round-Up