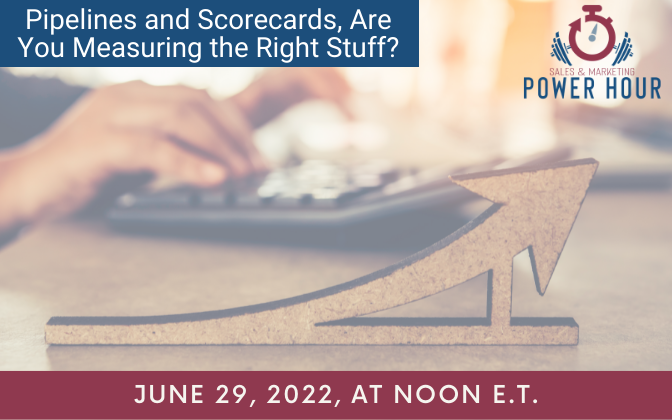 Do you have all the essential marketing metrics your business needs to thrive today and predict the future for tomorrow? If not, there's no better time to learn more about this high performance-driving strategy! Key metrics or key performance indicators (KPI) are critical to your company's growth because they help to track growth, indicate progress, outline areas of improvement and inspire action. Of course, it is important to know what to track and how to look at it.
The next Sales and Marketing Power Hour focuses on "Pipeline and Scorecards, Are You Measuring the Right Metrics?" This lively conversation explores the essential sales and marketing metrics to assess for your business, as well as how to predict profitability. See how you measure up by joining this enlightening webinar on June 29 at noon!
Hosts Kimberly Mackey and Carol Morgan will be joined by marketing metrics expert Kevin Oakley from Do You Convert. With over 18 years of experience running marketing and sales operations for home builders of all shapes and sizes, Oakley is a highly trusted name in new home marketing to builders and developers across North America. During this discussion, Oakley will share how choosing and measuring the right metrics significantly impacts your company's trajectory.
REGISTER HERE FOR THE NEXT WEBINAR
Sales & Marketing Power Hour is a webinar series for new home sales and marketing professionals. Hosted by the dynamic duo Kimberly Mackey of New Homes Solutions Consulting and Carol Morgan of Denim Marketing, Sales & Marketing Power Hour was accoladed by The Nationals as a Silver Award winner for Best Professional Development Series.
Focused on providing solutions, tips and ideas to both sales and marketing teams in the new home industry, Sales & Marketing Power Hour offers best practices and practical advice on what is working in today's real estate market. This program is appropriate for company visionaries, sales and marketing leadership, on-site sales professionals, and anyone who wants to remain relevant as our industry grows its technological footprint.
Upcoming Webinars:
August 17 – TBD
Oct 19 – TBD
Dec 14 – 2023 Lasso Style Round Up