Streamlining Change: From Faber Homes to Faber Builders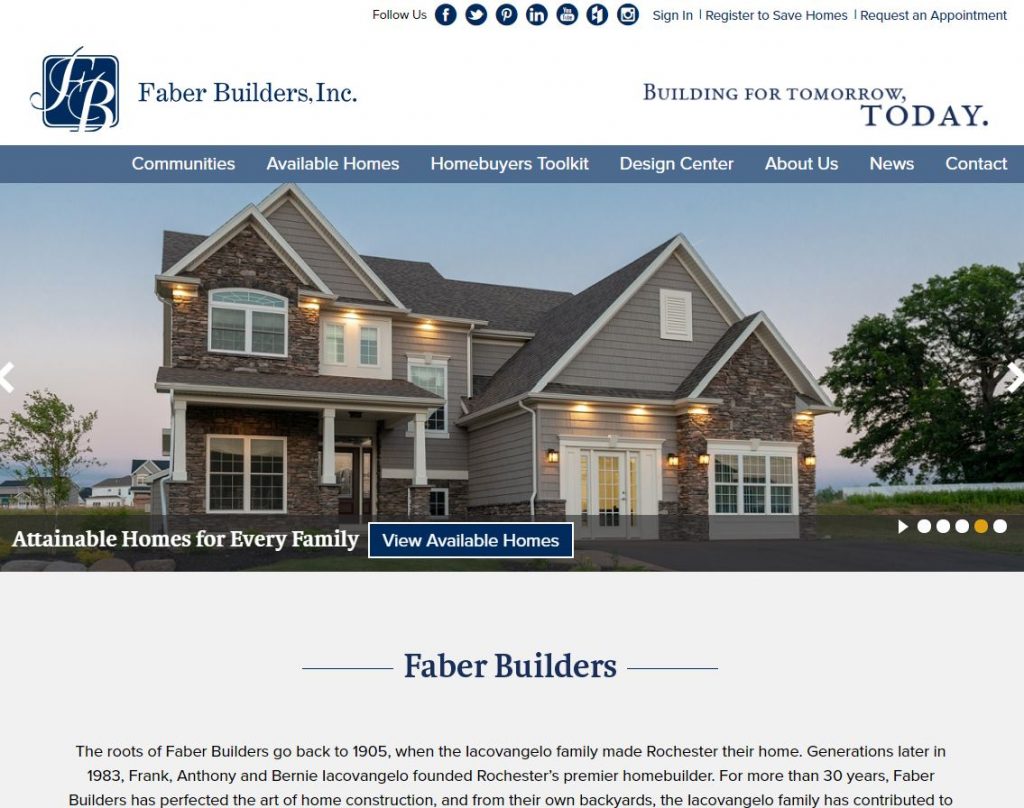 Client Faber Builders, a home builder located in the Rochester, New York area, partnered with Denim Marketing to improve its overall marketing strategy. From planning to implementation and daily management to reporting, Faber was searching for a trusted partner to manage the majority of its digital marketing strategy. After meeting with the Denim team, CEO Bernie Iacovangelo felt that we were the right fit to do just that!
At the time, the 35-year-old company was known as Faber Homes, but the management team had big plans and changes in place for the homebuilding company. Bernie and team have a desire to grow Faber over the next several years from a small home builder to a building company that handles new home construction, community development, light commercial construction and more. To illustrate this broadening of services, the team decided to change the company name from Faber Homes to Faber Builders. Along with the name change came new branding and a revamp of every single piece of collateral the builder uses, from business cards all the way to the website.
"We enjoy working with Denim Marketing and are thankful we brought them on board to assist with our rebrand and website build, as well as provide us with marketing strategy to increase our leads," said Bernie Iacovangelo, CEO and President of Faber Builders. "We knew the rebrand and website build was a huge undertaking for our small team, but Denim streamlined the process by managing the project and e taking a lot of the decision making off our team. This allowed us to continue focusing on our goal of providing even more new homes to Rochester buyers."
The new Faber Builders branding had already been created by a graphic designer and was ready for implementation when Denim began working with Faber Builders. Since this step was already complete, our first step working with Faber Builders was to help them select a website provider to build a new and improved website. The FaberHomes.com website featured the old branding and was outdated by current website standards. The site wasn't mobile or user-friendly, and it didn't do a great job at capturing leads. After discussing the Faber team's wishes and budget for the new website, and meeting with multiple website vendors, Builders Digital Experience (BDX) was chosen to build FaberBuilders.com.
The Denim Marketing team managed the project from start to finish by interacting with the BDX team, coordinating calls and meetings, managing communications, ensuring the project stayed on time and making suggestions and recommendations based on our extensive knowledge of home builders and their needs, as well as how home buyers shop online. Acting as the website development consultant with the experienced BDX team was easy and enjoyable thanks to their wealth of knowledge about all things digital and homebuilding and their streamlined process, as well as their ability to function quickly and make great suggestions.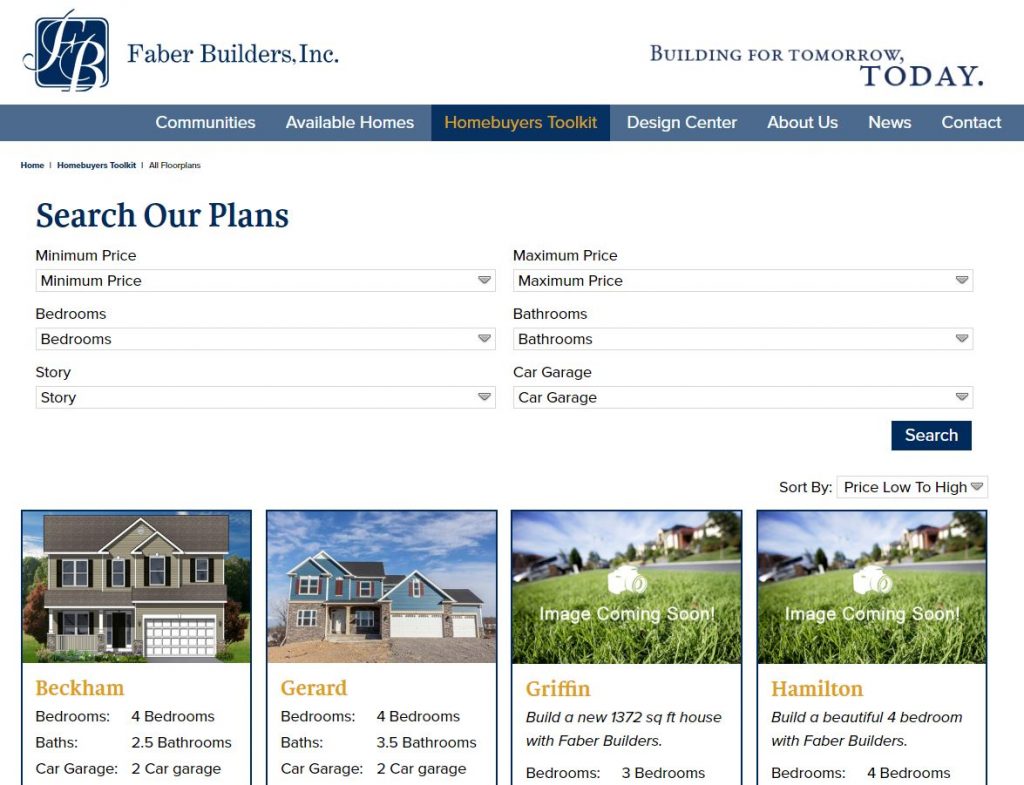 The new website showcases Faber's updated branding, complemented by a simple color scheme and modern design. The website is mobile-first, ensuring it operates seamlessly on all types of devices, and it is incredibly user-friendly. Simple navigation through basic menus and home page callouts allows buyers to find what they're searching for quickly, whether it's a community in a specific area of town, a move-in ready home within a certain price point, or a floor plan that has enough living space for the whole family. The website also provides plenty of additional information about Faber Builders, from an introduction of all the team members to a detailed look at the homeowner's warranty. And most importantly, the new website has multiple calls to action and lead forms, allowing buyers to connect with a Faber representative quickly and efficiently in whatever manner they choose.  One of the favorite things the Denim team likes about the site is how easy landing pages can be created for promotions.
While the new Faber website was in development, we began the process of updating all of the builder's collateral with the new branding. We compiled a large list of everything that needed updating, prioritized the list, determined which items Denim was responsible for and which items the Faber team would handle internally, and then began working through the list. While the Faber team handled the majority of the physical collateral items, like business cards, letterhead and signage, our team quickly got to work updating all of Faber's online assets.
Each social media site required a name and URL or handle change, which can be a tedious process as some sites require approvals or a waiting period before changes take effect. In addition to the name changes, all the logos or profile photos and cover images were updated to showcase the new branding, while all descriptions or 'About' pages were reviewed to ensure all mentions of Faber Homes were changed to Faber Builders and the new website URL was implemented.
Denim also worked with all of Faber's advertising connections, like the local paper, PPC management team and various listing services, to ensure that all mentions of 'Homes' got changed to 'Builders' and that logos and URLs were updated as needed. This same strategy was applied to any additional online links or mentions that were found throughout the web.
Today, Faber Builders boasts a cohesive brand both online and offline, as well as a high-performing website. When creating a strong, recognizable brand, it's key to ensure consistency across every platform where the logo or name may be used, and the Denim Marketing team coordinated that consistency throughout the rebrand process. The new branding and modern website puts Faber's best foot forward, while positioning the builder for continued growth and change.
For more information on how Denim Marketing can assist your company with its marketing efforts, from branding to website development consulting and beyond, contact us today by calling 770-383-3360 or filling out our online contact form.