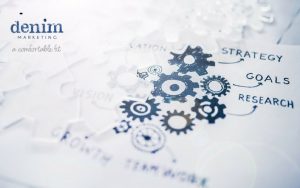 How stable is the foundation of your marketing program? Is it built on shifting sand or bedrock? A strong digital foundation centers on a business' website, branding and content. These assets work together to form the core of your marketing foundation and your marketing program. All other tactics should refer customers back to these core assets.
This approach to marketing creates an effective and flexible marketing program that includes a wide array of tactics from content development and syndication, search engine optimization (SEO), social media, public relations, creative, reputation management, email marketing, and media/advertising management. Each tactic is utilized to drive traffic to your core assets. This focus builds an interconnected strategy that drives traffic to the website and provides return on investment (ROI). Interactive elements are intertwined with traditional media for a more effective reach. This increases website traffic and referrals, as well as conversations and engagement. The goal for social media within this strategy is to create a framework for interactions and engagement such that your raving fans start to post applicable positive content to your social media pages.
Your Website
Website design is trendy. Your site must be current. It can't look like it was built in 1980. It should include current design, video or 3D tours or virtual reality and be responsive. Consumers want to work with and buy from companies that are up-to-date. If your website is archaic, your customers are going to assume your products and services are too.
Providing prospects with video and interactivity allows them to thoroughly research all plans before they walk into your sales center, and the best way to do this is via video, 3D or virtual reality. This is a trend that is going to grow in popularity the next several years. Presently, 75 to 80 percent of buyers expect to be able to see these types of tours. With Generation Next—today's teens who use Snapchat and Instagram to communicate—we expect this trend to continue.
A responsive or adaptive website will return a result that looks appropriate whether it is viewed on a PC, tablet, or smartphone. With approximately 60 percent of all searches starting on a smartphone, this isn't an audience to be ignored. There is nothing worse than wanting information and finding a result that can't be viewed from a phone. Not to mention, Google now penalizes websites that aren't responsive. These website results no longer show up during search from mobile.
In addition to being trendy, your website must also be a lead capturing machine. This means that whether traffic gets to your site from organic search, social media, referral traffic or paid search, the traffic should stay on site and act on a call to action. The consumer should be able to find what they are looking for within a few clicks and ultimately make it to the Contact Us form and complete it. Being a lead capture machine also means that each page of the website needs to have a Call to Action (CTA), whether that is a contact form, a phone call, or another action such as downloading driving directions.
Your Brand
Create a brand that resonates with buyers and is easily recognizable online, in print, and in person. Think about the brands that you recognize at a glance — the iconic Apple symbol for apple or the red bullseye for Target. No matter where they are displayed, they are easy to identify. Utilize colors and fonts that your target audience can relate to, and make sure your brand attributes or USP (unique selling proposition) is something that can be easily conveyed.
Brand is supported by social media, reputation management, public relations, email marketing, advertising, campaigns, blogging, video, 3D, etc. Take a few minutes to review your corporate brand across all sites and all digital assets, as well as print. Make sure that your company's logo on your website matches across all other sites where it appears.
Your Content
Content plays an important role on your website for browsers and buyers, and for Google and the other search engines. Having content that clearly explains the company's products, services, areas served and differentiations gives the search engines content to index. Websites also need to be built with proper SEO. Yes, title tags and metadata matter, and so does the content on each page.
Since Google's release of the Panda and Penguin algorithms, original quality content is more important than ever. To get more traffic than your competition, include a well-built, optimized blog or news section and add fresh, original, quality content on an ongoing basis. This content should directly relate back to the 4Ps (product, place, price and promotion) and be truly unique. There are certainly other tactics that comprise a strong search engine optimization program, but unique, original content is the cornerstone of SEO.
Once you have a strong digital foundation for marketing that centers on your website, branding and content, it will be easy to build a network of tactics and sites around this core to refer back to it. It is important to build the marketing strategy within this integrated network and not as silos. For those who have followed me for a while, you know that I think silos are for cows! A successful marketing program will include tactics that work in tandem, not create a silo.
Contact us at Denim Marketing for an audit of your foundation, or to get started with a full strategic marketing plan.
For more information on Strategic Marketing, click here.