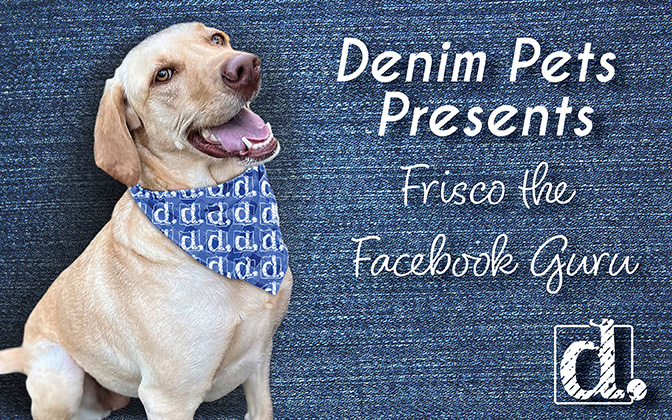 Hello humans, my name is Frisco, and I'm Courtney Stewart's yellow Dudley Labrador! I may be covered in fur and have a tail that wags, but after a full year working side-by-side with my human, I've learned a thing or two (or four) about how to use Facebook. Today, I'm paws-ing my busy schedule of naps, ball fetching and more naps to give you some valuable tips. If you need help ensuring your content gets people to stop, sit and stay during their mindless scroll, check out these four tips I've fetched that will make your home building or development company's Facebook marketing strategy something worth barking about:
1. Create Content that Stops the Scroll
Humans are visual creatures (unlike us pups, who are all about smell), and eye-catching images or videos work wonders for stopping the mindless scroll. Striking visuals that are vibrant, intriguing or emotionally appealing (think videos of cute puppies – who can resist us?!) pique curiosity and encourage users to take a closer look. Use these tips from my furry friend Gypsy the Graphic Genius to get your creative juices flowing!
While photo posts are still the most engaged-with content type on Facebook, the emphasis on using video content in your Facebook strategy can't be understated. Making content that moves catches the viewers' eye and increases the likelihood it'll be shared – in fact, according to Dash app, viewers are 52% more likely to share video content than static content.
Other types of content (besides dog videos) that easily catch the attention of my humans include:
Educational content: Humans love to learn, so share knowledge, insights or practical tips that provide value to your audience.
Photos of real people: Let's face it – we're all likely to stop and look at or engage with a photo that has people or pets in it we recognize. Share photos of your homebuilding team, homeowners, happy customers or other industry connections!
Timely or trendy topics: Stay tuned into what is trending in your industry and share content that relates to get people's attention. For example, tennis balls are always trending in the dog world, and photos or videos of tennis balls get my attention every time!
Interactive Content: Find ways to encourage engagement by giving viewers an opportunity to engage with your content! Polls, quizzes, contests, or asking thought-provoking questions encourages users to pause, think and participate.
2. Pay to Play: Facebook Advertising is a Must
Facebook is still the top dog when it comes to social advertising platforms, with nearly 3 billion active monthly users across the world, including over 243 million in the US. This pawsome audience provides businesses, including home builders and developers, with an unparalleled opportunity to fetch the attention of potential customers across different demographics, interests and geographical locations.
Depending on the industry, Facebook's ad targeting capabilities are robust, allowing companies to sniff out their target audience when delivering ads. From basic demographics like age, location and gender to specific interests, behaviors and even connections, businesses tailor ads to reach the most relevant audience, increasing the chances of conversion and maximizing return on investment (ROI). However, it's important to note that select ad subjects, like political ads or housing opportunities, have strict limits on ad targeting options. However, no matter the industry, they're still a fantastic, affordable means of advertising.
Perhaps one of the most exciting options available to businesses running Facebook ads is the remarketing capabilities. Facebook offers powerful remarketing opportunities, enabling businesses to retrieve users who have already shown interest in their products or visited their website. By retargeting these users with relevant ads, businesses can increase brand recall, re-engage potential customers and drive conversions. This is a fantastic way for home builders to reach back out to prospects who've opened an email, visited a new home community or submitted a contact us form on the website.
So, don't be a lazy dog; seize the opportunity and let Facebook advertising be your trusted companion on the journey to success!
3. Use Insights to Drive Your Strategy
Having a strong social media content strategy takes more than just a good guess. The time for throwing content at a wall to see what sticks has passed. Native social media sites provide robust insights and analytics for business accounts, making it easy to determine what type of content gets your audience's attention, what results in clicks and what you should share more.
Paying attention to the provided metrics can drive your content plan. What type of organic posts receive the most engagement? Are they photos of people, or maybe testimonials? Which type of content reaches the most people – a single photo, blog post link or video? Reviewing the analytics to answer these questions, and others like them, shows what content your audience responds best to, illustrating what content you should use more of moving forward. Regularly monitoring analytics and sniffing out trends over time is key to having a strong content plan on Facebook!
4. Use Facebook's Unconnected Distribution System to Increase Awareness
For most of Facebook's existence, the platform only used a connected distribution system, meaning you only saw content from humans, pages or pets you were directly connected to. Now, we're all bombarded with content from outside sources through Facebook's 'Suggested for You' posts. And the possibility of a discover tab similar to TikTok's For You page coming soon to Facebook makes content shared via unconnected distribution even more important. Currently, about 15% of Facebook feed content is recommended for non-followed accounts, and Mark Zuckerberg has said he expects that percentage to more than double by the end of the year.
So, how do you ensure your content is viewed as worthy of sharing by Facebook to people that don't follow you? Glad you asked!
First, post only original content. Ensure you're not reposting your own content without significant enhancements, and that you're not using only stock images or posting a lot of generic content (like too many dog memes – even though I LOVE dog memes). When you post content across multiple platforms, ensure the original content is uploaded to each platform – for example, don't share a video from TikTok or YouTube to the page. Instead, reupload the video directly to Facebook.
Consider posting Facebook Reels created using Facebook's native Reels tools. These videos are created directly on the Facebook platform in much the same way Instagram Reels are created.
And finally, don't bait people into performing an action. Facebook penalizes content that outright asks followers to complete a specific action, like sharing a post (but you can ask engaging questions, like do you prefer cats or dogs – and c'mon, we know what everyone is going to say then. Woof!). Instead, focus on creating quality, original content that resonates with your audience to find more people like them.
I hope these four tips I've fetched offer valuable insights into making your company's Facebook marketing strategy something worth barking about. By creating captivating content that stops the scroll, utilizing Facebook advertising to reach a wider audience, using insights to drive your strategy and taking advantage of Facebook's unconnected distribution system, you can unleash the full potential of this social media platform. Remember, just like a loyal and energetic pup, consistency and engagement are key. So go out there, wag your tail and make your presence on Facebook truly pawsome! And if you ever need more guidance, you know where to find me – chasing my tail in the backyard! Woof!
If your company – homebuilding, development, mortgage, commercial real estate, etc.- needs help with Facebook marketing, public relations and creative promotions, call Denim Marketing at 770-383-3360.
Read all our Denim Pets posts:
Sir Donkey Discusses How to Make Your Brand Stand Out
Charming Casey Shares Tips on Generating Creative Content
Gypsy the Graphic Genius Shares 5 Graphic Design Tips