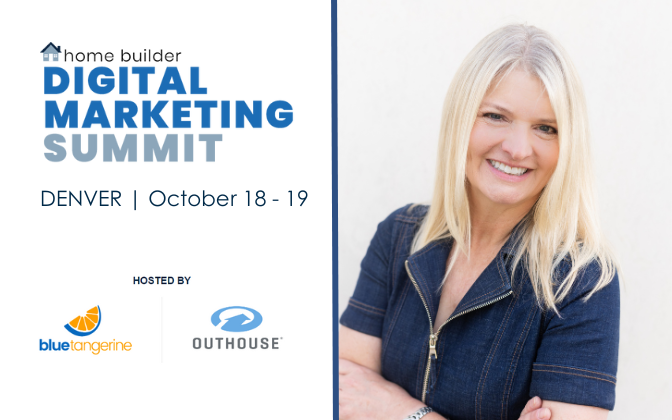 Denim Marketing is proud to sponsor the Home Builder Digital Marketing Summit once again. As a Silver Sponsor, Denim Marketing is committed to supporting the growth and success of home builders through innovative digital marketing strategies. In addition to this sponsorship, Founder and President of Denim Marketing Carol Morgan will share her expertise in blogging and the Google Helpful Content Update during the conference.
The Home Builder Digital Marketing Summit is a two-day event that takes place in beautiful Denver, Colorado October 18 and 19, 2023. Offering interactive sessions, small group roundtables and expert presenters, the Summit aims to equip attendees with actionable insights to immediately implement into their businesses. Presented by Blue Tangerine and Outhouse, the conference features two learning tracks: Marketing and OSC Training in partnership with Blue Gypsy, Inc. This year's agenda covers various topics including marketing strategy development, website optimization, lead generation and staying ahead of the competition.
Registration is open for The Home Builder Digital Marketing Summit now! And early birds save $100. The event takes place at The Thompson Denver, a downtown boutique hotel located in the vibrant LoDo – the city's historic Lower Downtown neighborhood.
Carol Morgan will be a featured speaker at the summit! Drawing on her extensive experience and expertise, Carol will delve into the importance of revitalizing old blog posts and provide valuable insights on Google's latest content update. Her session guides attendees on leveraging existing blog content to maximize engagement and enhances their digital marketing efforts. By focusing on the Google Helpful Content Update, attendees will be equipped with the knowledge to create relevant and useful content that aligns with the latest search engine trends, thereby boosting organic traffic and improving search rankings.
Denim Marketing has earned a strong reputation for its reliable, creative and authentic approach to marketing. The agency employs personalized strategies for each client, utilizing various marketing tools such as public relations, advertising, social media, content creation, reputation management and creative solutions. The Atlanta agency aims to drive traffic to clients' websites and generate measurable results.
Will Denim Marketing see you at this year's summit? Let us help you kickstart your digital marketing strategy by calling us at 770-383-3360 or contacting us online today!