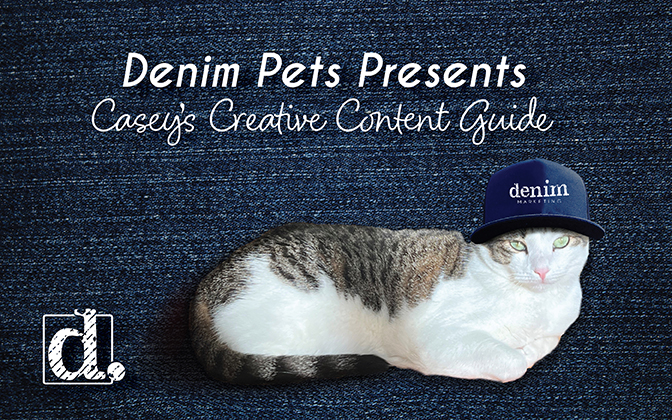 Howdy humans! My name is Casey, and I'm our Senior Content Creator Melissa's charming cat with a talent for writing creative copy. Today, I want to share some tips on writing engaging and informative content, using Denim Marketing as an example of excellent blog writing and branding.
Know Your Target Audience
First and foremost, it's essential to understand your target audience. As a content creator, you must know whom you are writing for and what they want to read. Denim Marketing provides informative and relevant content that appeals to builders, real estate agents and other professionals in the industry on both the local and national levels.
Check out this guide for the Google Helpful Content update that is just the cat's paw-jamas!
Be Friendly & Informational
Denim Marketing also does an excellent job of catering to its audience. The company's informative and educational blog posts cover marketing strategies, industry news and social media trends. Using a conversational tone makes the content easy to read and understand, which is crucial when communicating complex ideas.
Another critical aspect of creative content writing is using the right tone and voice. Your style and voice should align with your brand's identity and the message you want to convey. By implementing a casual and friendly tone, Denim Marketing presents itself as an approachable and relatable expert on topics relative to its target audience. Now, that's a paw-some way to reach your target audience!
Vary Your Content
Creating content in various formats is essential to appeal to a broader audience. When creating your content, thinking about the form is necessary—different types of content appeal to different people. For example, some people prefer to read blog posts, while others prefer to watch videos or listen to podcasts.
My favorite personal example is the Denim Marketing blog! The online platform incorporates various content formats, including videos, infographics and written blog posts. This approach allows the company to cater to different learning styles and preferences. Whether the agency is blogging about custom homebuilder Harcrest Homes, sharing the Kiper Homes holiday-inspired campaign success or partnering with the Crosby Design Group to shine the light on a fabulous Atlanta project, the award-winning agency is ready to tell your story!
Next, it's essential to keep your content fresh and relevant. Your audience wants to read or watch something new and exciting! Meow is the time to create informative and entertaining content. Get started today by using these Casey-approved tips to create your first content calendar!
The Denim Marketing blog is an excellent example of fresh and relevant content. By covering various topics, from industry news to social media trends, the audience remains engaged and interested.
Prioritize SEO
Another critical aspect of creating creative content is understanding the importance of keywords and search engine optimization (SEO). Keywords are words or phrases people use to search for information on search engines. If your company's content includes relevant keywords, it will be easier for your target audience to find your content on all major search platforms.
The award-winning agency's blog is an excellent example of incorporating keywords into content without sounding forced or unnatural. Denim Marketing also uses proper SEO techniques, such as meta descriptions and tags, to improve its website's visibility on search engines.
Always Proofread
If you're not reviewing your content, meow are you doing? As a creative cat expert, there's one rule I always follow – proofread your content before publishing it! Nothing is more unprofessional than posting content with grammatical errors or typos. Take the time to read through your content carefully and ensure that it is error-free and Casey-approved.
The Denim Marketing blog is well-written and error-free, making it more enjoyable to read! The agency also uses proper formatting and visual aids, such as images and videos, to break up the text and make it more visually appealing. Click here to discover claw-tastic graphics tips!
Need help writing creative content? Contact our team today!