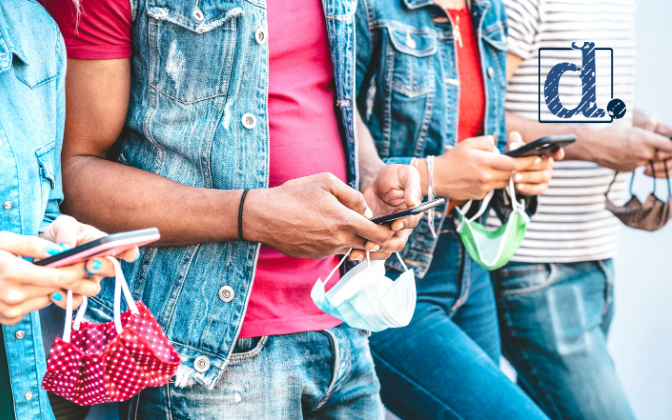 Social media sites come and go. And, figuring out which social media sites to watch or create accounts on can be complicated. Successful marketing requires always staying ahead of the curve. This year, as always, there new social media sites on the scene and it's important to be aware of them. Early adopters of the platforms could stand to benefit from being involved in the social sites that might create more opportunities for audience engagement. Some of these social media sites to watch make more sense to join personally than as a business, and many of them provide unique ways to connect via technology.
Here's our list and rundown of the social sites to keep an eye on this year:
TikTok
Originally named Musical.ly, this app was rebranded in 2018 to its current name and has since seen explosive growth. TikTok is a social app dominated by looping video content that users create.  Videos have a limit of 60 seconds, but the company is now considering extending to three minutes.
With largely diverse content posted on the app (tutorials, social media challenges, motivation advice, cooking, comedy, education, travel tips, among many others), TikTok offers entertainment for a wide variety of audiences. Plus, TikTok utilizes AI with the ability to analyze user preferences based on engagement to develop personalized feeds for each user that create a more unique experience.
Large audiences on TikTok make it a perfect app for reaching new audiences. Joining this app requires a passion, dedicated TikTok advocate from within your company.
Triller
Launched in 2015, this site took off as a knee jerk reaction to the potential ban of TikTok. Triller is a social video app, similar to TikTok, where users watch and share content. Triller differentiates itself with the addition of AI-powered video editing capabilities that automatically edit user-made videos to provide a more professional look.
Triller's appeal arises from its music-based content creation where users can make clips that can be synced with music to create their own music video. Although this app has risen in popularity, its monthly users on average are less than 1/10 of TikTok's monthly users, suggesting that it is not yet viewed as a legitimate competitor with TikTok.
Twitch
Started as a video game streaming service, Twitch is an online service available to watch or stream live video broadcasts on a variety of topics. Although seen largely as an app for gamers, Twitch has expanded to include live streams for Q&A with popular streamers, cooking videos, talk shows, music and sports with live gaming videos driving most of its traffic.
Twitch is widely recognized as a social networking site where users connect with others through direct message, comments and sharing content of others.
Nextdoor
Nextdoor is an up-and-coming social platform for neighbors to communicate with others who live as close as next door. With social sites directing the way we communicate, this app provides a new way to communicate with your neighbors without ever having face-to-face conversations.
Users are encouraged to utilize Nextdoor to discuss important ongoing issues or concerns within their community that may be relevant to neighbors. Nextdoor can also help neighbors buy and sell items, recommend local businesses or ask for help from others in the area.
Houseparty
Convenient during the pandemic era, Houseparty is a casual video-chatting app where users can easily join group video meetings with up to eight other people. Differentiating Houseparty from traditional video-chatting apps like Skype or Zoom is the users' ability to play games with friends during calls.
Although initially popular primarily with younger generations, a wider variety of age groups joined the app due to stay-at-home orders that prevent in-person social gatherings. Houseparty is popular for its ability to create spontaneous meetings by notifying users when friends are online and allowing them to quickly start video chats.
Clubhouse
An exclusive social app based on of audio-only chat, Clubhouse is an app launched in March 2020 that is quickly rising in popularity this year. However, to join this app, you must be invited by a current user.
Once invited, you can select topics that interest you and join conversation rooms (like conference calls) where users discuss certain subjects and topics while others listen in. These conference rooms have a room capacity of 5,000. From social activities such as panel discussions to networking, collaboration, or creating niche communities, Clubhouse offers diverse options for new interactions.
Goodreads
Geared toward those who love to read, Goodreads is a social platform where users rate books, discuss books with other users, find new recommended books to add to their 'to read' list and even talk with authors about the works they've written.
This site is also popular for readers seeking to track their reads and find motivation to increase their reading speed. Although not a new site, this site has seen notable user growth during the past year.
Vero
Advertised as a "true social" platform, Vero is a social site that attempts to combat the ad-centered, algorithm-based style of Instagram and Facebook to establish a more authentic social media platform for users.
On Vero, users can separate those they interact with into different categories of friends, acquaintances and followers and share individualized content to each different category. This platform is sought-after for more natural social interaction without ads. Although currently free, Vero has made comments on future plans to create a subscription fee for users to sustain its ad-free space.
Caffeine
Also used for live streaming video game play, Caffeine is a platform becoming more well-known among the gaming community. Backed by high-profile celebrities, Caffeine plans to continue to expand its content from online gaming to live broadcasts of concerts, sporting events and other entertainment events.
Based on its premise of social discovery, Caffeine makes it easy and convenient for users to find streams popular with friends and live shows currently trending. There aren't clear opportunities for marketing on Caffeine yet.
Steemit
Steemit is a social blogging platform where users can receive cryptocurrency earnings based on their blog posts' visibility and interaction gained from other users.
Within the platform, users can earn STEEM, a unit of exchange (valued at 19 cents) given for reading, commenting and interacting with posts as well as creating content for the site. Promoted as a broadly open community, users can browse a wide array of discussion on Steemit including news, commentary and uniquely written blogs.
Parler
Shortly after the 2020 presidential election, this Twitter-esque social media site rose in popularity as a platform allowing unrestricted speech for its users. Many early users are right-wing conservative influencers unsatisfied with the limits placed on content within sites like Twitter and Facebook.
However, early January brought bans of the Parler app by Amazon, Google and Apple, each concerned by the Parler's lack of response to calls for violence posted on the platform. Currently, the platform is offline and its ability to return is dependent on the company's ability to find a new web hosting service.
Me We
Similar to Parler, this app has been named by Forbes as one of the most innovative social media companies. Me We gained popularity around the recent election with its focus on safeguarding the ability for users to exercise free speech. Unlike Parler, however, Me We does not have user content heavily focused on politics but has a larger variety of group interests.
Me We's content policies intend to limit inappropriate uses of the platform while providing rules that are overall more relaxed than mainstream social sites. Me We aims to be an alternative platform to Facebook with less algorithm-based practices, greater protection of user privacy and ad-free content.
Let us know which of these social media sites to watch that you are most excited about.  Also, let us know if you discover other sites that we should keep an eye on. And, as always, contact us if we can help with your PR, Social Media or Marketing.