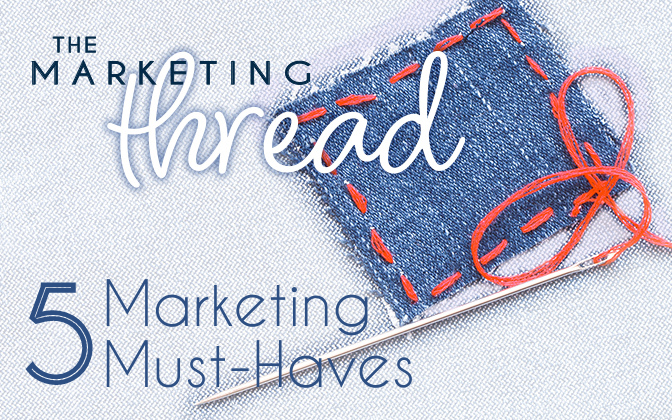 In the world of digital marketing, it's highly important to stay up to date on the latest trends to create a marketing strategy that is consistently successful. To address this need, Denim Marketing launches The Marketing Thread, a new video series featuring marketing tips and the newest marketing trends.
Hosted by Denim Marketing's Digital Content Producer Todd Schnick and various Denim Marketing team members, The Marketing Thread is a series of short snackable videos released monthly discussing current marketing trends. The goal is to provide ideas that can easily be added into marketing plans to increase effectiveness. This collection of easily digestible marketing videos addresses subjects such as social media best practices, generation-based marketing, media relations and blogging, among other helpful marketing tips designed to promote successful marketing strategies.
"Digital marketing moves so fast it can often be hard to keep up. These thought-provoking segments are designed to help our audience stay on top of trends without having to do all the research themselves," Denim Marketing Founder and President Carol Morgan said.
The first video of the series is about the 5 Marketing Must Haves. Join Carol Morgan and Todd Schnick as they discuss platforms and tools to utilize for a comprehensive marketing strategy. These include:
Video and Virtual. Discover what the "Netflix effect" and how it relates to today's home buyers. Hint: This means content needs to be accessible to stream 24/7 when buyers are browsing social content or on a website.
Social Media. More time is spent on social media than ever with consumers sheltering in place and looking for ways to remain connected online. During the pandemic, time spent on social media increased substantially and with folks continuing to stay close to home, this will continue.
Content for Public Relations and Blogs. Content creation is important for brand awareness, to share product news and to attract search engines. Quality, original content is a differentiating factor. Consumers want to read well written, engaging articles.
Search Engine Optimization (SEO). SEO is often where the rubber meets the road online. Can buyers find the products and services they seek? And how does your business show up in local search?
Technology. Consumers are more comfortable than ever with 3D tours, video conferencing and the internet in general. Look for ways to embrace chat on websites, tracking systems such as CallRail and on-demand access through technology like NterNow.
Future topics in The Marketing Thread series include:
Tips for Great Graphics (Canva and other hacks)
Marketing to the Generations
Don't Click Boost: Best Practices for Facebook Ads
#Reply Post – Responding on Social Media
Tips for Great Media Relations
What goes where? Content for PR, Blogs & SM
Planning for the New Year
Best Practices for Instagram Grids
Resolutions for the New Year – like Inbox zero
User Generated Content (video, photos, testimonials, promotions)
Denim Marketing team members offer expertise during The Marketing Thread based on the invaluable hands-on knowledge they've gained while delivering client-focused solutions tailored to customer needs.
Join Carol Morgan, Todd Schnick, Courtney Stewart, Lexie Delmonico and Mandy Holm for this free video series as they delve into topics guiding home builders and related companies toward marketing success. The Marketing Thread is a can't-miss new series that promises to boost any marketing strategy with effective tips.
View all videos from The Marketing Thread on the Denim YouTube Channel.
For more information on how to work with Denim Marketing, call 770-383-3360 x20 or contact us.