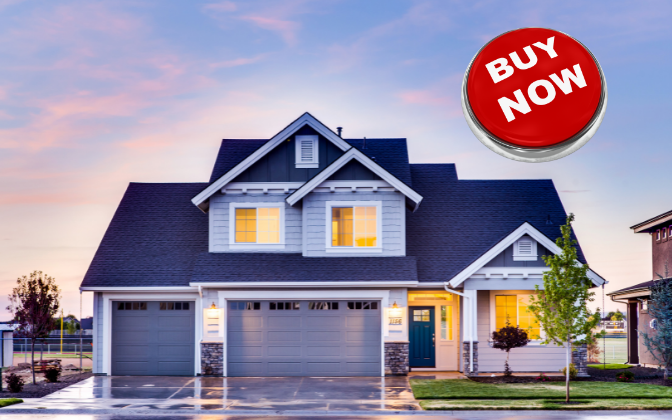 Is your website an e-commerce engine where homebuyers can click a Buy Now button and purchase a new home online? Is this something homebuyers expect?
Car dealers have perfected selling cars online with a variety of options and upgrades. Why haven't homebuilders figured it out? This session at the International Builders' Show (IBS) delved into the many different facets of this complicated process.
Presented by Carol Morgan with Denim Marketing, Greg Bray of Blue Tangerine and Paul Gortzig with Bokka Group, this lively discussion focused on what home builders need to add to their websites to make "Buy Now" possible. Integrating technology with marketing messaging and learning how the sales team supports the customer experience for early adaptors is key.
Three views of Buy Now online
There is lots of discussion of what homebuyers expect from Buy Now on a home builder website. Here are three different opinions:
Buy now means the entire homebuying process is online – you can literally add a home to an online shopping car and pay for it online.
Buy now is simply the ability to reserve a homesite or select a home plan.
Buy now is more of a hybrid and means something in between.
The audience was polled during this session, and most people chose the ability to reserve a homesite and select a home plan as their Buy Now choice. The hybrid was a close second.
As home builders start to think about where e-commerce is going related to homebuilding, they can start to integrate it into their process.
Why is Buy Now important?
Immediacy and the strong move to e-commerce is fueling Buy Now. Carol calls it the Netflix Effect, that 'want it now, expect it now' mentality. Netflix provides online access 24/7. It is the ability to take an action and get a response when you want it. In other words, Netflix puts the customer in control. Homebuyers want more control and more access from the beginning of their new home search.
Carvana has been selling cars online for years. Greg mentioned how Carvana has perfected the process and car buyers know exactly what to expect when they go online and buy a car. Of course, cars come with set packages of options and upgrades, and this makes the buyer's journey easier than the process of buying a home online.
The real question is, will home builders choose to focus on the Amazon model or the Shopify model? Amazon provides sellers a single site where lots of sellers are displayed together to sell goods and services. Shopify offers the ability to create your own stand-alone store. With the Shopify model, home builders will need to drive traffic to the site individually via marketing.
Do statistics support a strong move to Buy Now online?
Maybe or maybe not. Here is what recent research shows:
Zonda Homebuying Preferences
Zonda presented research in October 2021 from a homebuyer preferences survey, and two questions stood out: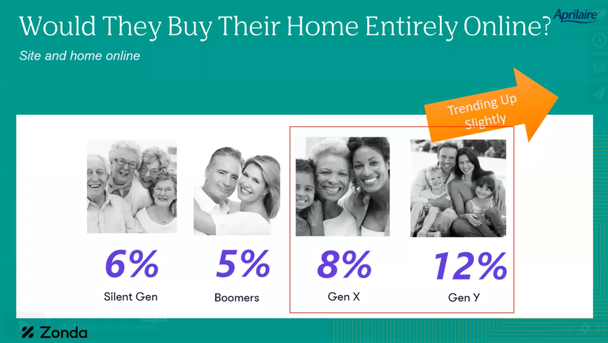 "Would you buy your home entirely online?" The yes answers were broken down by generation with Gen X and Gen Y showing the most interest in buying online, albeit low.
Silent Gen 6%
Boomers 5%
Gen X 8%
Gen Y 12%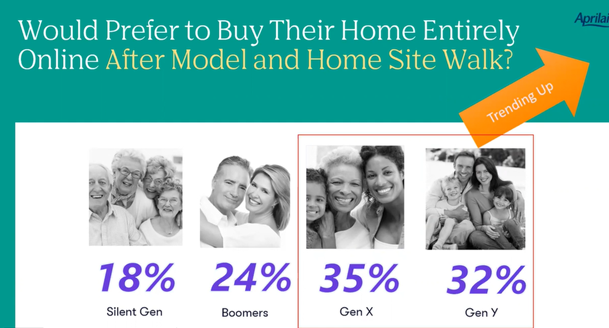 "Would you prefer to buy your home entirely online after visiting the model and home?" The yes answers increased considerably in this scenario giving credence to a hybrid model for Buy Now. There are huge increases for all generations for this question. Gen X and Gen Y once again show the most interest in buying online.
Silent Gen 18%
Boomers 24%
Gen X 35%
Gen Y 32%
US Census Bureau Store Shopping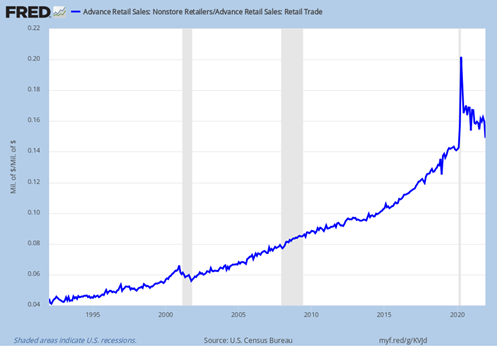 These statistics are from the U.S. Census Bureau with analysis by Elliot Eisenberg, Ph.D. Before the pandemic, online sales accounted for about 14.25% of all retail sales. During the lockdown of March/April 2020, the percentage unsurprisingly jumped to 20.2%. Since, it has steadily fallen to 16.5% by June 2020, 15.9% by March 2021, and 14.9% through December 2021.
"The current online sales level is now below what the pre-COVID growth trend would have suggested, Eisenberg said. "This implies that writing obituaries for brick-and-mortar stores is quite premature."
The Builder's Daily: Industry Standard
In January 14, 2022, John McManus with The Builder's Daily wrote, "Certainly, we'd assert that Century [Communities'] current industry-first advantage in deploying a technology capability that is long overdue in homebuilding will be short-lived. By the end of 2022, we'd expect it to be industry standard, at least for larger organizations."
Kevin Oakley with Do You Convert was in the audience during the presentation and chimed in to say Buy Now will not become industry standard anytime soon. Adding that for many companies it is a huge business decision and could even cause Buy Now divisions to spin off from traditional builder sales models.
Read his recent Builder Online article on What Homebuyers Want and Don't Want from the Buy Online Process.
Who is offering a Buy Now button?
Lots of builders are working on Buy Now. Century Communities is the gold standard for Buy Now. It first pioneered the process 3 years ago with its acquisition of Wade Journey Homes, which is now Century Complete. As of January 2022, Century expanded its online homebuying experience to include all homes throughout its national footprint, which encompasses operations in 17 states and over 40 markets.
Other home builders with various aspects of Buy Now include Taylor Morrison, CBH Homes, PulteGroup and Hubble Homes. Other builders including Wayne Homes are researching Buy Now with plans to launch it in the future. Most sites require a $100 deposit to reserve a homesite, but without completing all homebuyer information it is hard to explore the customer journey and the buy-online process.
Have you sold a home to a buyer sight unseen?
Many audience members polled have sold homes sight unseen to homebuyers even before the pandemic. Most of these buyers are covered in two groups – military buyers relocating from overseas or buyers relocating from states with higher home prices to states that are less expensive (think New Jersey, New York or California to the Carolinas, Georgia or Florida).
Selling new homes sight unseen to buyers helps pave the way for buying new homes online, but it is only part of the story.
Can't I just add a Buy Now button to my website?
It just isn't that easy to add a Buy Now button to a home builder website. There is a lot of technology and business processes that goes into adding an online homebuying process. This is the technology's first moment for companies. Home builders first need to have an enterprise resource planning (ERP) system in place to manage the data that will communicate with the marketing side of the homebuilding company. Most Customer Relationship Management (CRM) systems are not robust enough to handle this data, and a simple excel spreadsheet won't work.
ERP systems in our industry include MarkSystems, Buildertrend, Hyphen Solutions, to name a few. These back-end operation and accounting systems allow for streamlined purchasing, pricing, etc.
CRMs, such as Lasso Data Systems and Top Builder, manage outward-facing relationships with customers and manage communications and relationship with buyers during their journey.
One thing everyone agrees on is that home builders need to map out the full customer journey from the moment they get to the website, step-by-step through the homebuying process. This roadmap will serve as the model for the Buy Now process.
It isn't just adding a button to your website. What goes into it?
Whether the "Buy Now" button allows buyers to reserve a homesite, submit a mortgage application or upload all necessary paperwork to a builder for approval, there is a lot that goes into it. Some things to consider:
Data management
Back office
How money is handled with deposits
How refunds are handled
What other fundamentals need to be in place before launching a Buy Now e-commerce site?
What is the First Step?
There are several first steps home builders can take to start to implement a buy online program for new homes. In addition to putting the roadmap in place and adding an EPS system, home builders must have robust marketing collateral. The reality is that home builder marketing visuals are a must with or without buy now. Homebuyers expect to see videos, 3D tours, photos, planning tools, floor plans, decorating tools, customization packages and more. For buy now, drone footage or photos of individual lots is going to be necessary to show topography.
How can marketing support the shift to Buy Now?
Home builder marketing plays a huge role in the shift to online homebuying. From the basics of setting expectations for how the process works to making sure no matter what landing page a buyer enters the website, the Buy Now process is seamless. Because Buy Now will differ from builder to builder, there won't be a true industry standard. Marketers have lots of educating to do!  Keep in mind that having robust visuals is the first step in making it all work from a marketing perspective.
With the shift to Buy Now, home builders will need to look at the buyer's experience and journey via the online store, as well as the model or sales center. Marketing has a big job ahead to work with sales and streamline marketing for both online homebuying and visits to model homes with lots of opportunities for hybrid interactions.
What role does the sales team play in a Buy Now online world?
Recent National Association of Realtor stats show more homebuyers than ever are engaging the services of a Realtor when purchasing a home. When making the biggest purchase of their lifetime, consumers want a trusted advisor by their side.
As the website becomes central to the sales process rather than a tool for lead generation, it's essential to ensure that the website and sales center operate with the exact same information. As the website becomes a key sales agent for the sales process, data management and consistency are crucial to guarantee all online buyers have access to updated information that is identical to the material buyers receive from an associate at the sales center. Integrating these two presences successfully means buyers can easily start, stop or restart the buying process on the website or in the sales office.
Many assume buying a home online means self-service without any assistance from a sales associate throughout the process, but this is typically not the case and shouldn't be in an ideal online transaction. Although the shift to a "Buy Now" button promotes the idea of leaning more heavily on technology, this doesn't mean that the buyer loses the opportunity to receive guidance from a sales associate or find resolutions to their queries.
Instead, there should be several options available for buyers to consult sales associates whether digitally or in-person at a sales center. The online model simply offers buyers the ability to conveniently research homes they're interested in on their own terms while also being able to communicate with sales associates when necessary for more information, in other words, the Netflix Effect.
How can I get started with Buy Now?
The pandemic served as a force magnifier for trends. More home builders than ever have gotten on board with the new tactics and started to close the gap as it relates to marketing new homes with technology. Homebuyers expect technology and are looking to shop online, even if they don't buy online.
If you need marketing help and a strategy for adding Buy Now or other marketing tactics and tools to your home builder marketing mix, contact the team at Denim Marketing.
Other articles for reference:
Buy it Now, The Home Buying Experience of the Future
How to Become the Amazon of Homebuilding
Should Home Builders Add a Website Buy Now Button for Success?