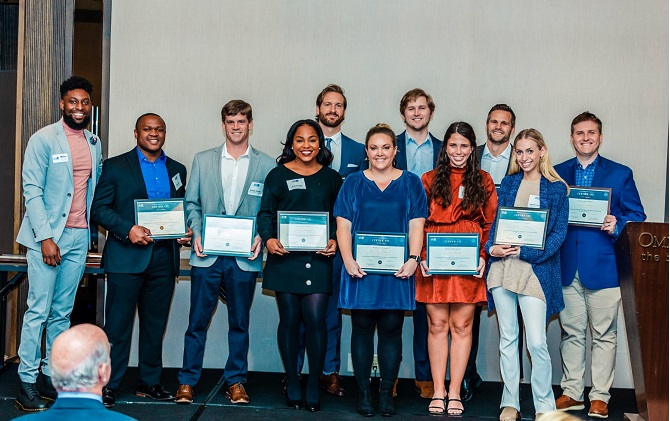 Denim Marketing is proud to congratulate Senior Account Manager Courtney Stewart for completing the Young Professionals Emerging Leaders Program. Created by the Greater Atlanta Home Builders Association, the YP Emerging Leaders Program engages and builds the next generation of rising leaders within the homebuilding industry.
Stewart was a member of the inaugural class of 2021. The 11-member graduating class gained knowledge in the four pillars of the association: Advocacy, Networking, Education and Community Service. By attending HBA events and Emerging Leaders sessions, the 2021 class networked and learned about the building industry from leaders in the field.
"Courtney exhibits exemplary leadership skills daily within our organization and as an industry leader. This program is an extension of her growth as a leader of the Professional Women in Building chapter and within the home builders association," said Carol Morgan, president of Denim Marketing. "Courtney is a huge asset to Denim Marketing and its clients. I'm proud to have her as a key member of our team."
Gabriela Lumpkin, Social Media Coordinator with Denim Marketing, has been accepted into the class of 2022. A rising star at Denim Marketing, YP Emerging Leaders will serve to fast-track her growing knowledge of the industry.
The YP Emerging Leaders program is a great example of an innovative ways to support young employees including millennials and Gen Z as they make their foray into leadership positions and become leaders.
Click for more information on Denim Marketing's rising stars, Courtney Stewart and Gabriela Lumpkin.
About the Greater Atlanta Home Builders Association
Founded in 1945, the Greater Atlanta Home Builders Association (HBA) is a not-for-profit professional trade association dedicated to promoting, protecting and preserving the home building industry as a viable economic force in the Atlanta area. The GAHBA is one of more than 800 local home builder associations through the U.S. and is affiliated with the Home Builders Association of Georgia and the National Association of Home Builders. Members include builders, remodelers and developers of all sizes, as well as trade contractors, manufacturers, suppliers, financial institutions, real estate companies, professional service providers and more. Visit www.AtlantaHomeBuilders.com for more information.