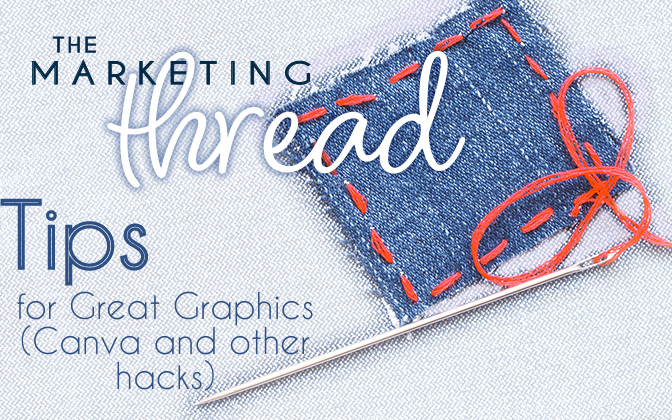 When creating social media graphics or marketing collateral for an upcoming promotion, the application of graphic design is vast and versatile. For anyone who wants to create great graphics but does not know where to start, Canva is one of the best resources available.
Canva is a free online platform that enables users to conveniently create eye-catching content even with little to no graphic design experience. This program offers creators a variety of photos and templates ideal for any project including social media posts, flyers, logos, infographics, newsletters and more.
Hosted by Digital Content Producer Todd Schnick and various Denim Marketing team members, The Marketing Thread is a series of short snackable videos released monthly discussing current marketing trends.
In this feature, Todd is joined by Denim Marketing Account Manager Mandy Holm to discuss the top 10 graphic design tips and Canva hacks for beginners:
Limit Typefaces
When selecting a typeface for headings, subtitles and body text, use fonts that are easy to read to create designs that are simple and cohesive. It is challenging for viewers to scan multiple typefaces, so stick to a minimal collection of fonts. Whether looking for inspiration or unsure which fonts work well together, Canva provides a variety of font combinations to simplify the process.
Keep it in the Family
To produce visual consistency, it is best to use just one typeface or font family when inserting text into the design. Keep possibilities open by utilizing a typeface or font family that has an array of variations, such as italic, bold and condensed. Using different variations of the same text can create a dramatic visual effect while also maintaining an overall unified look.
Don't Be Scared of Scale
When creating equal emphasis in a design, apply a range of sizing to text, shapes or other compositional features. Ensure that the chosen typeface is presentable when increased in size while also using suitable colors to enhance this technique. Utilizing scale is a great way to maintain a cohesive look while also implementing a strong visual order.
Respect the Space of Other Elements
Letter spacing is a great way to fill dead space, condense words or align text that use too much space. Nevertheless, it is important to ensure when letter space is reduced that words are still decipherable or when letter space is increased that the letters don't appear detached from one another. As a helpful tool, Canva can easily adjust letter spacing and line height to create the best impact with copy.
White Space is Not Your Enemy
Don't be afraid to leave pockets of blank space in a design. This brings balance to the structure and strongly distinguishes areas with content. Too much content or too many elements can appear cluttered and overwhelming for viewers. The use of empty space around text, images and other graphics makes a design easier to read and more likely to attract interest than a busy composition.
Inspiration is Everywhere
Creating a design and unsure where to start? Use Canva or inspiration websites such as Pinterest to find interesting designs. Canva also provides templates for every design option from Instagram posts to flyers, stories, header images and more. Use the Canva templates or an eye-catching design found online as a starting point by replicating the type, photo filters or general layout. Then, add unique elements to truly personalize the graphic.
Contrast is Key
Contrast is an imperative part of design for establishing mood, readability and an attention-grabbing aesthetic. Use a contrasting color palette in backgrounds, fonts and graphics. To enhance the positive or negative space in an image, be sure to use photo filters and add transparency. Apply black or white to copy to create optimal contrast against a background image. A good rule to follow is to always use a dark typeface against a light-colored background and vice versa.
Be Clever with Your Colors
Colors are essential to create visual harmony within a graphic. By choosing a warm, cool or monochromatic color combination, this creates a solid tonal foundation for a design. When forming a color scheme, according to Canva, choose one to three primary colors and an additional one to three secondary colors that effectively contrast and complement each other. To create consistency, use different tones of the same color by adjusting brightness for contrast.
Alignment + Balance
A well-composed graphic design with good alignment and balance is visually pleasing. Lines, shapes and objects are lined up to create flush margins and baselines, forming a stylistic and well-thought-out design. Use horizontal and vertical lines to match with other design elements. For balance and proportion, ensure the thickness of the elements match the weight of the copy.
No Naked Images
When adding images, ensure that there is a surrounding layout or frame it fits within to make the picture appear more grounded and well-placed in the design. Aligning images with frames or grids creates a more professional look than a collage or other image combinations. Canva offers grid options to effortlessly generate balanced images by selecting a grid outline and adding images.
For examples of these design guidelines and an additional bonus tip, be sure to watch the episode above. Explore additional tips from Canva here.
Join Carol Morgan, Todd Schnick, Courtney Stewart and Mandy Holm for this free video series as they delve into topics guiding home builders and related companies toward marketing success. The Marketing Thread is a can't-miss new series that promises to boost any marketing strategy with effective tips.
View all videos from The Marketing Thread on the Denim YouTube Channel.
For more information on how to work with Denim Marketing, call 770-383-3360, ext. 20 or contact us.