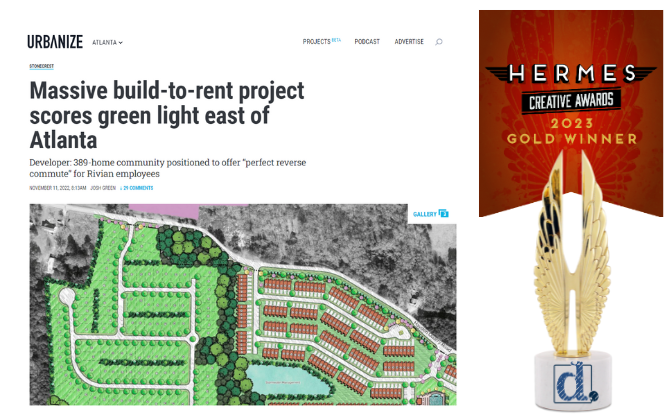 Home builder marketing agency, Denim Marketing is thrilled to announce that it won a gold Hermes award and two honorable mentions in the 2023 Hermes Creative Awards. The awards honor the best in publications, public relations, branding collateral, websites, videos, advertising, marketing and communication programs.
"We are thrilled to be recognized by the Hermes Creative Awards for our work," said Carol Morgan, President of Denim Marketing. "Our team works hard to create innovative and effective marketing strategies for home builders and land developers, and it is an honor to be recognized for our efforts."
Denim Marketing won a Gold Hermes award in the media relations category for scoring a newspaper article in Urbanize Atlanta for Parkland Communities' Stonecrest build-to-rent development. The press release announced that Parkland Communities was developing a 389-home community in the City of Stonecrest. The community includes 260 townhomes for rent and 129 single-family homes for sale – offering something for everyone in the market. Additionally, the community is located in an area that is in transition and redeveloping, and this community will provide much-needed housing. The Urbanize Atlanta placement, Massive build-to-rent project scores greenlight east of Atlanta, resulted from the press release pitched on behalf of this land developer.
In addition to the gold award, Denim Marketing received two honorable mentions. The first was in the Radio/Podcast category for Atlanta Real Estate Forum Radio's Legends of Real Estate series featuring real estate legend John Wieland and the JW Collection. This popular podcast series showcases people who have contributed to the homebuilding industry and now has multiple episodes.
The second honorable mention is in the website category for a Single Blog Post. This winning entry introduces mascot Dogwood to the Ranch Cottages for Rent website via a blog, Introducing Dogwood, Your Friendly Ranch Cottages for Rent Pal. The blog launches a creative campaign from a dog's point of view on what it is like to live in a Ranch Cottages for Rent community. Ranch Cottages for Rent is a build-to-rent developer with six Atlanta communities and more on deck.
The Hermes Creative Awards are administered by the Association of Marketing and Communication Professionals (AMCP). This organization fosters and supports the efforts of marketing and communication professionals who contribute their unique talents to public service and charitable organizations.
Denim Marketing is frequently recognized for its award-winning work for home builders and developers. See more of our awards here.
Interested in working with us? Contact us to find out more about home builder marketing and public relations.