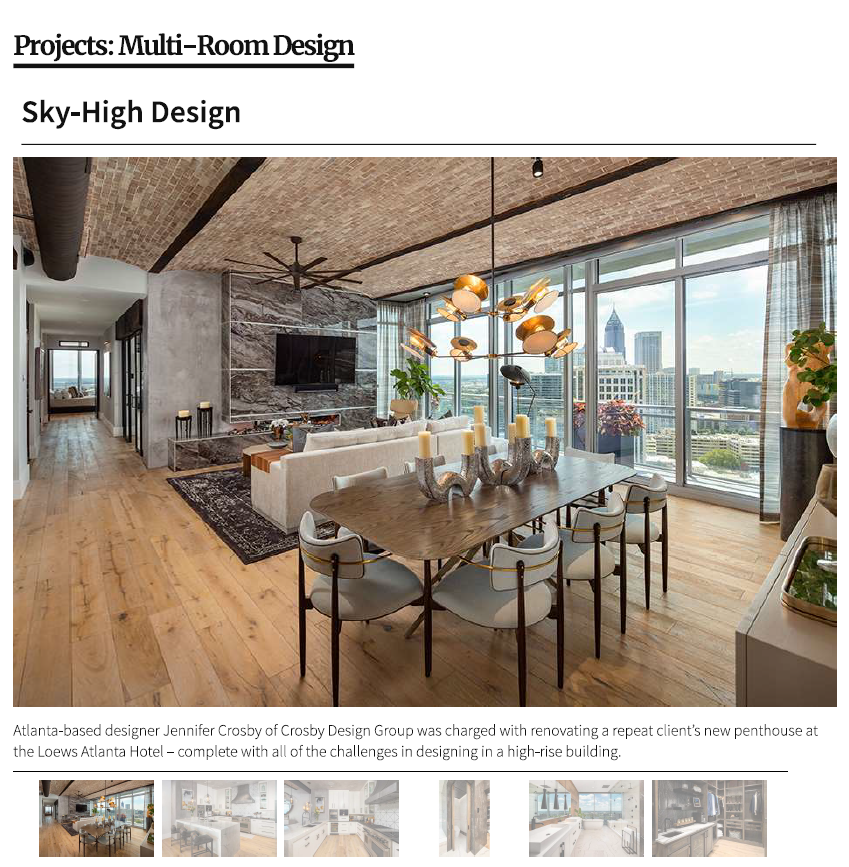 Full-service interior design firm Crosby Design Group was looking to increase exposure for one of its most stunning projects: the penthouse at the Loews Atlanta Hotel. This high-rise penthouse was designed for a prominent Atlanta bachelor and features sky-high design that landed a photo spread in Kitchen and Bath Business (KBB) both online and in print.
Once the Denim Marketing public relations team saw the stunning photos, we knew this was the perfect project to pitch as an exclusive to a major industry publication. Public relations is all about forging good relationships with the media – locally and nationally. Our team orchestrated an interview for Jennifer Crosby, president and CEO of Crosby Design Group, with KBB reporter Carrie Whitney.
Located on the 37th floor of Loews Atlanta Hotel, the 2,800-square-foot penthouse suite features three bedrooms, three-and-a-half baths all with custom vanities. The living room and private office share a two-sided, see-through water vapor fireplace, the owner's suite boasts a custom, reclaimed wood wall and concrete and brick ceilings with reclaimed beams add to the Manhattan Soho vibe throughout.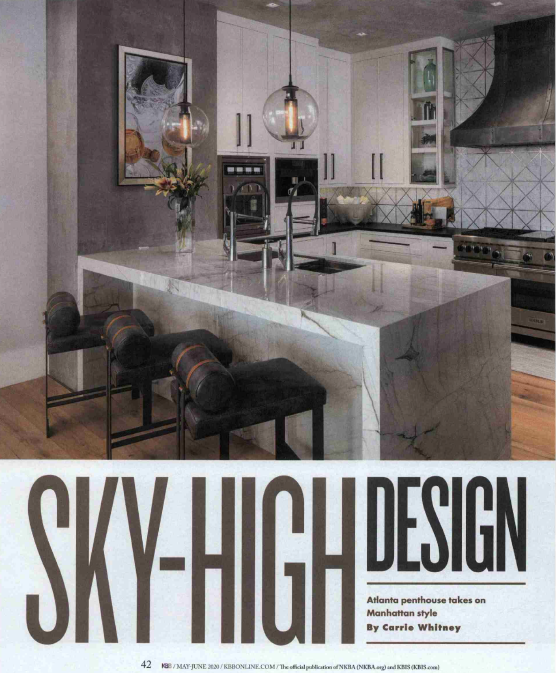 Major structural changes to the penthouse created a more open-concept layout, while notable appointments of the penthouse include 12-foot scalloped brick ceilings and a concrete and stone water vapor fireplace. Other features in this penthouse include a custom kitchen with a waterfall island, restaurant-level wine dispenser, a built-in coffee service station and custom cabinetry, and a spa-like owner's bath with morning bar, walk-in steam shower with dual benches, two showerheads and glass enclosure, soaker tub, quartz countertops and trough sinks with a backlit mirror and matte-black pendants. The exposed brick, reclaimed wood and concrete throughout the penthouse create a rustic, yet sleek, aesthetic.
To further complement the combination of textures and materials, all structural columns, the kitchen ceiling and the fireplace are topped with skim-coat concrete to look like part of the original structure masking the sheetrock. For finishing touches, the firm shopped for the client to curate all furniture and the art collection well over $1 million. The Crosby Design Group team also added client family photos, favorite foods and magazines to truly complete the home.
A strong public relations campaign can help companies gain notoriety as experts within their respective field. Because of our team's expertise in this area, reporters and journalists regularly reach out to Denim Marketing for sources for their next story – and our expert clients make for the perfect interviews! Learn more about our services here.