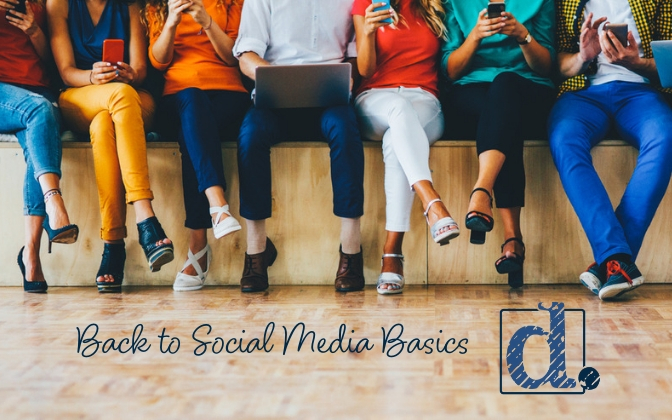 Over the past six months, I've conducted a lot of social media and strategic marketing audits, and the one thing that stands out is a need for companies to concentrate on the fundamentals. So in this article, which is part two of a series, we will go back the basics of social media marketing. This series of articles originate from my presentation Narrow Lots and Micro Product: Demographics and Psychographics of Today's Buyers which I presented at the 2019 International Builders' Show in Las Vegas with John Hunt of MarketNsight.
A clear understanding of what is going on with today's buyers as it relates to shopping on social media helps businesses better target their products and services, but if the basics are missing you could just be throwing money away.
This is social marketing – Create a plan for great content that supports the company's branding and incorporates videos, photos and graphics. The biggest thing I see is a need to go back to the basics.
So, what's missing?
Branding – The way the brand is conveyed to prospective buyers is critical. Are the logo and brand colors the same from site to site? Do they match what is on printed materials and the website? Does the logo look good whether it is round, square, horizontal or depicted some other way? If not, fix it!
Site Set Up – Have you taken a good hard look at all of the company's social media sites? Are they fully set up? Do they all include a header image? Are all of the tabs on the left side of the Facebook page relevant? Is the website URL easy to find? Is content posted on the corporate LinkedIn page? Take some time and click through all of the social media pages to make sure they are fully set up. Things do change from time to time!
Website Traffic – Social traffic can have a HUGE influence on website traffic. In many cases, traffic from social media is outperforming paid traffic and organic traffic. Whether a company is running paid ads on social or simply organic posts on Twitter and Facebook, one basic rings true – they won't get to the company's website, if there isn't a link in the post. More and more of the Facebook and Twitter profiles that I look at have no links back to the website. Trust me, that prospective buyer isn't going to take the time to find the website and look for that cool event or promotion that they just tried to click on.
Follow Others – It is social media, right? Try to be social. If the corporate Instagram page has 400 followers and the page follows no one, how is that social? Be courteous, follow the people who followed the corporate page back, especially on Instagram and Twitter.
Engage & Interact – Again, it is social media. To get other pages or people to interact with your page, it's time to get the ball rolling. Make a list of all the places near your place of business and start interacting with them. Like their page as your page on Facebook, then like their posts and share some of them. Follow them on Twitter and retweet their tweets and add comments. Set aside 20 to 30 minutes several days a week to do this.
Blogging – A blog provides an authentic approachable voice to a company, and this is still one of the absolute best ways to attract the search engines and get your website indexed. It is also a syndication machine because all the content posted on the blog can also be posted on social media. This is a super easy way to send traffic to a corporate website. Regardless of the proven results of blogging, there are still a ton of companies not blogging at all. (More traffic for my clients who do blog, I say!) And, of those companies blogging, not all of them do it well.  If the content posted on the company blog could be posted on another company's blog without making any changes, it probably is not quality, unique content. Create a content plan that includes content unique to your company because that is what people want to read!
Movement – Make it move. Add all of those videos to YouTube, Facebook, Instagram, Pinterest and Twitter. Or create a "video short" from stills and add content and music to it. We all have the attention of a gnat as we are bombarded with content from all directions – things that move attract more attention.
Variety – Spice it up with a variety of different types of posts. Include collages, video, single images, multiple images, graphics, graphics with photos, graphics of type only – you get the picture. Find a way to break free of the clutter.
Advertise – I'm sure some of you are cringing and others are nodding their heads. I stated in 2008 that Facebook was going to find a way to get business to pay to be on the site. Having a monetization model just makes sense, right? My home builder clients don't build homes for free, and the utility we work for doesn't give away power. So, it is time to pay to play. Use Facebook ads to magnify organic posts and take a deeper dive into individual ads for communities, events and even floor plans.
With these basics in mind, take a deeper dive into social media and review your sites. Don't overlook the little things that make your efforts more successful.
For more information on Denim Marketing or how we can help with effective social media management and campaigns, give us a call at 770-383-3360, ext. 20 or click here.