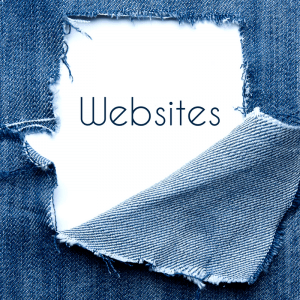 Your website is the fabric that makes your initial impression and creates a digital handshake – that first introduction and "hello" to your target audience. Working with website development partners, we help many of our clients launch new websites that are optimized for search engines, responsive on mobile devices and tablets, easily navigable by potential customers and most of all, increase traffic to the site proving return on investment (ROI).
At Denim, we oversee the entire website project from start to finish. We develop and update creative copy with SEO-friendly keywords that effectively tell your brand's story. We also assist with website functionality, branding, creative and more throughout the build process. By working with our website development partners, we are able to provide clients with websites that are up-to-date graphically and include user-friendly content management systems.
For our clients that aren't ready for a new website (perhaps their site is less than two years old), our first step is to conduct an analysis of the overall design and content. What areas of the site are performing well, and where are opportunities for improvement? How are the Calls to Actions (CTAs), does the site have a blog, and how is imagery used? In addition to design, functionality and content, we also look at site load time, mobile responsiveness and conversions to ensure your site is functioning at the highest levels across the board. Making sure your site embraces and engages your clients during that first handshake is important. It isn't enough to just attract them with bling, there has got to be some substance to keep them involved.
As part of our process, we also review the site's search engine optimization using third-party software to make sure it has been optimized properly. Our SEO team makes the necessary modifications to the site, and the Denim team creates new content. The content we write for your site will include specific keywords that are relevant search terms for your business. These keywords are vital to the content we create because they provide information both to your online shoppers and to the search engines. Our goal is to write content that adds value to your business.
Denim Marketing is a full-service agency that can help take care of all your marketing and website needs while your team continues to focus on the core of your business. Our website partners are experts and know how to create a remarkable and effective website to help your business grow. In addition, we are skilled at search engine optimization tactics that will increase referral traffic and build a strong online presence for your brand.
To learn more about how Denim Marketing can be your strategic marketing and website partner, call 770-383-3360 or Contact Us online.