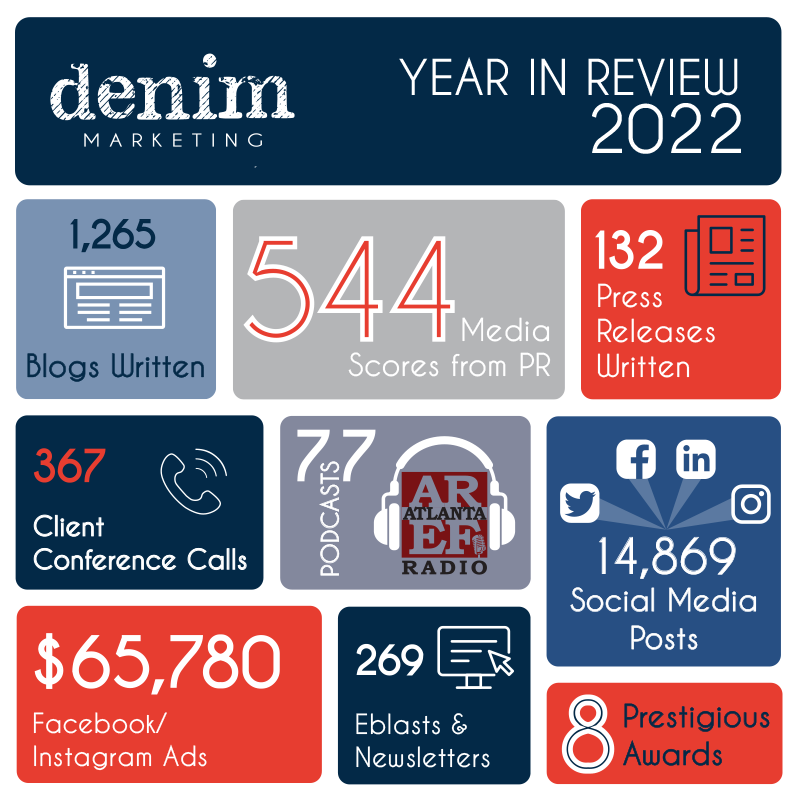 Denim Marketing had a fantastic 2022! To celebrate, we created this fun infographic detailing several fun highlights and statistics for the year in review.
1,265 blogs written – When we say we like to write, we mean it! Denim Marketing's team specializes in high-quality content for home builders, developers and others in the new home construction industry. A typical blog post ranges from 400 to 1,400 words of original content crafted with a focus on proper search engine optimization (SEO). We tell stories for a living. Stories about new home plans, new communities, amenities, happy homeowners, trends and more.
14,869 social media posts – Instagram, Facebook, Pinterest, Twitter, LinkedIn and YouTube. From Instagram Reels to Stories and photos to video shorts, we craft engaging social media content for home builders, remodelers and developers that resonates. Creating graphics that are on point and on brand helps our clients reach their target market with compelling messaging. Hashtags, tags and emojis add sprinkles and are just one part of our formula to attract additional followers.
367 client conference calls – Ongoing communication with our home builder and developer clients keeps everyone on the same page. The team at Denim Marketing meets monthly with each and every client to review plans, strategies, tactics and next steps. Detailed monthly reports show ongoing progress and build a roadmap for our next steps.
132 press releases written – Communicating home builder and developer news to the media is a skill set we have honed over decades of writing press releases and pitching media. Denim Marketing uses the who, what, when and why of media relations to share news about new developments, new communities, trends and more.
544 media scores – It is one thing to write 132 press releases, but it's another to place 544 stories about home builders and developers from those press releases. Articles ran in top publications such as the Atlanta Business Chronicle, Atlanta Journal-Constitution, Gwinnett Daily Post, GlobeSt., Private Communities, Marietta Daily Journal, Urbanize Atlanta and many, many other sources. We are proud of our relationships with reporters and editors.
77 podcasts – The award-winning Atlanta Real Estate Forum Radio show continues to showcase the movers and shakers in the Atlanta real estate industry. Our Legends of Real Estate series proved wildly popular during the year. Look for more outstanding guests in 2023!
296 eblasts and newsletters – Email marketing places news directly in the inbox of your target audience, whether that is a B2B audience on Atlanta Real Estate Forum or a B2C audience for a home builder or developer. Drip email campaigns for prospective homebuyers, Realtors and happy homeowners topped our list of content in 2022.
$65,780.42 in Facebook and Instagram ad spend – Social media advertising improves engagement and sends traffic to home builder and developer websites. If you wonder what a $200 Facebook Campaign Looks Like, we can show you!
8 awards – 2022 was an award-winning year, with Denim Marketing winning six Obie awards from the Greater Atlanta Home Builder's Associaton, a silver National award for Sales & Marketing Power Hour and a Best of Georgia award.
We are proud of not just the statistics represented in this infographic but of the outcomes for our clients. Denim Marketing is proud of the ROI we create for home builders, developers, remodelers and other clients. If you'd like to become part of our statistics for 2023, give us a shout. Contact Us today or call 770-383-3360.