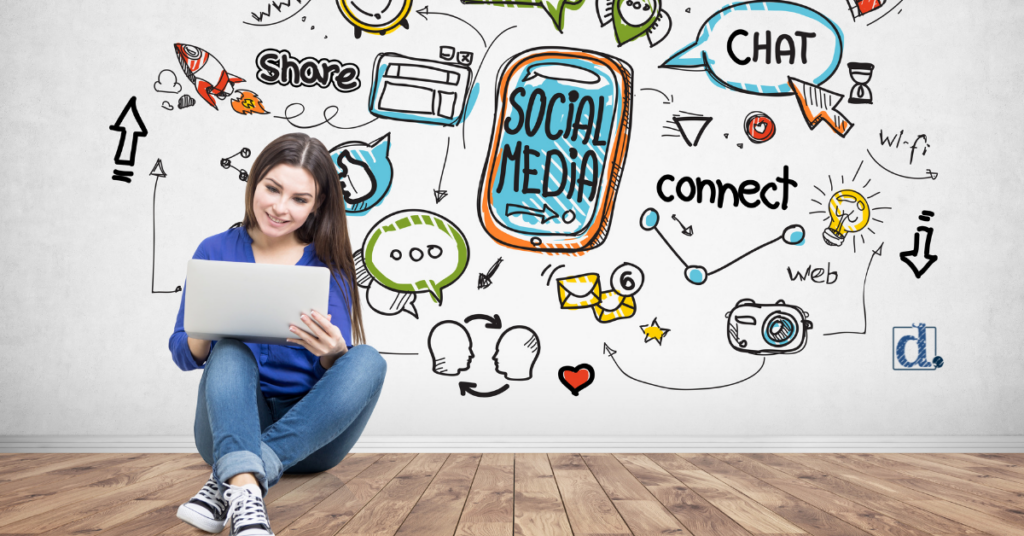 Wondering what are the hot social media trends to watch? Well, social media changes almost as frequently as we refresh our phones. As media users, our independent actions influence algorithms and "trickle up" to the businesses who actually foot the bill for our "free" social media access.
Homebuilders are among those businesses, and industry marketing professionals know well the strength that comes with staying on top of the social media trends.
So how is it looking in 2022? Here are some things to watch.
Smaller, more authentic communities are winning out over the mega influencers.
Increasingly, social media users are finding more value in communities that form around a shared interest than in following mega influencers who primarily promote their own social media brand or the products of their paying sponsors.
Atlanta Real Estate Forum is an example of a smaller community, where people come to find news on a topic important to them. These communities also form around creators who produce original content, most often in the form of videos.
Homebuilders can take advantage of this trend by supporting online communities focused on the areas where they build and by aligning with creators who produce content of interest to homeowners and homebuyers. With the professionals on their teams, homebuilders could even become creators – producing videos that walk potential buyers through the building process, show them how to care for their homes, or demonstrate the importance of energy efficient construction.
Social media advertising continues to grow.
Social media is the fastest growing ad channel, and the trend is expected to continue at an average rate of 14.8% annually through 2024. And there's a good reason – businesses and consumers find it effective. In fact, many consumers say they use social media more so they can interact with a brand.
This trend suggests builders who are currently advertising on social media should continue to do so and those who aren't may be missing online exposure that can help them build relationships with more prospects.
Social media ROI reports are becoming more accurate and more visible in organizations.
Perhaps one reason social media ad spends continue to grow is because the platforms have become better at helping businesses reach target markets and measure their ROI. Better measurement capabilities within the platforms themselves and within some of the posting tools help marketers become more confident that the ad dollars they're spending are effective.
As marketers become more confident in their ROI numbers, they're more willing to share those with company leadership – and company leadership is more willing invest in more ad dollars. See where we're going here?
Social media and customer service are interconnected – and will grow even more so.
When more customers say they use social media to interact with a brand, they more often mean they engage in customer support conversations. Consumers spend time on social media and are growing more comfortable sending messages there than through traditional methods.
For homebuilders, this social role could not come at a more important time, as the industry faces labor shortages, materials shortages, and shipment delays. The role of social media marketers in identifying complaints and managing both public and private responses is vital.
Short form vertical video is here to stay.
Thank you, Instagram Reels and TikTok – you brought us a short form video format that is not going anywhere anytime soon.
Fortunately, in-app technology makes creating these videos much easier than back in the old days of video. Plus, consumers love them and, importantly, engage with them. From 10 times the engagement on Twitter to an impressive 240 times more engagement on Pinterest, videos are drawing in viewers even on platforms where it's less expected.
Now's the time for homebuilders to get the camera – at least the phone camera – and start taping. There's no need for scripting, lights, fancy wardrobes and makeup. Natural conversations about your communities and amenities create authenticity that viewers love. Pro tip: Most Facebook videos are watched without sound. Be sure to provide closed captioning!
LinkedIn is becoming more influential.
As the pandemic has altered work life for many of us, it has also impacted our relationship with LinkedIn. Along with working from home came more of a separation of the employee from the company, and many professionals became more interested in building their personal brands on LinkedIn.
LinkedIn influencers and creators were born. Conversations now include more thought leadership, and more creators are building meaningful communities.
For homebuilders, LinkedIn offers an opportunity to showcase the leadership and innovation of individual team members. By supporting the professionals who make up the company, builders are not only demonstrating the importance they place on individual development, but they are also showcasing the level of industry knowledge on their teams.
Social eCommerce options will continue to grow.
Have you done it yet? Purchased an item directly from an ad in a social media platform, providing your credit card number and delivery info, only to go right back to scrolling, as if you'd never stopped?
It's becoming more common. For example, small and medium businesses who use Shopify can now place a "Buy Now" button on a Pinterest board, making it easy for consumers to purchase from within the app. It's a trend that will continue.
Are we going to see people buying homes from Facebook? Probably not this year, anyway, but homebuilders can start making it easier for social media browsers to converse with sales agents in real time, to make product selections, or more from their favorite social media platforms. See our article, Does Your Website Have a Buy Now Button for more information on buying homes online.
Social media will become more interactive.
From mindless scrolling with the occasional like, double tap, or quiz to immersive experiences that take advantage of new technology, social media is poised to make a transformation. Look for shifts to virtual reality, augmented reality, and computer vision applications to take us places we haven't been before.
For homebuilders who are the early technology adapters this is already happening and includes 3D model home tours, community amenities flyovers and more. Look for immersive experiences where consumers can place furniture in model homes to become more prevalent.
Businesses will bring employees from behind the curtain.
Even as employees are seeing themselves as more than just the company they work for (see number 6), people want to see businesses as more than an unformed entity that happens to sell stuff. Brands will become more relatable by introducing social media followers to the people behind the magic.
For builders, this one is easy. You have awesome team members. As they are comfortable, share their stories, expertise and smiles.
We'll continue to see posts about self-care and mental health.
We've all been through a lot together these last two years, and more people and businesses are using social media to talk about the importance of mental health. You're probably seeing more stories, memes and posts in general about self-care, seeking help and avoiding burnout. As our world continues to recover, we'll continue to have these sorts of conversations.
Homebuilders should participate in these conversations only when they can do so with authenticity. This is not a conversation to turn into a sales pitch. Rather, it's a place for you to show genuine assistance and concern when appropriate. Otherwise, this is a better conversation to skip.
Let the team at Denim Marketing know how we can help!  Contact us here on the website or by calling 770-383-3360.