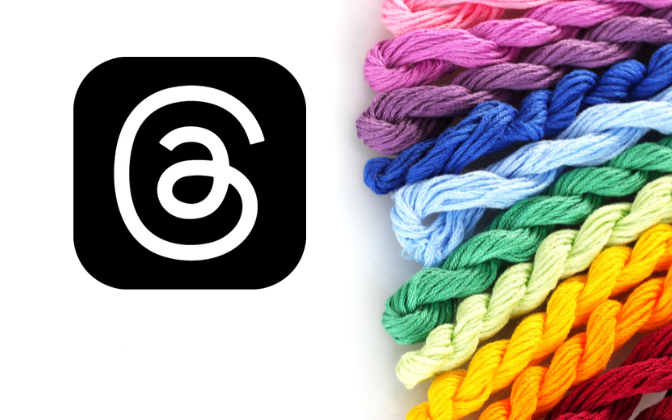 Are you on Threads? If not, you are missing out! This new social media site has taken the world by storm since its launch, and we have everything you need to know about the trending app!
What is Threads?
Threads is a new app built to encourage public conversations through sharing real-time text updates and thoughts. Developed by Meta, it's a space for embracing creativity, connectivity and diversity. While the mobile phone app focuses primarily on text, users can incorporate photos, links, GIFs and videos up to five minutes in length within posts.
"The vision for Threads is to create an open and friendly public space for conversation. We hope to take what Instagram does best and create a new experience around text, ideas and discussing what's on your mind," said Mark Zuckerberg, CEO and co-founder of Meta (Facebook and Instagram).
With 5 million sign ups in the first five hours of the app's launch, Threads is the fastest-growing app in history and now hosts over 100 million users. Several big brands have joined the app, including Netflix, Rolling Stone, HGTV, Billboard and many more (including Denim Marketing)!
How To Use Threads
Free to download, Threads is connected to Instagram – making it simple to create an account! Sign up with your Instagram log-in information. Threads users simply transfer their username and verification information from Instagram with the option to customize a Threads-specific profile. You can follow the same accounts as you do on Instagram or start from scratch to ensure you are following accounts that you resonate with the most. Your feed is made up of posts by accounts you follow, as well as posts the app's creators think you'll like.
Tap the notepad icon on the bottom menu of the app to start a conversation! Create a post up to 500 characters long with an attachment, then select who can reply to your post. Much like Twitter, users can like a post, reply to a post or comment, repost or quote other accounts. Let others know you are on the app by sharing posts on your Instagram story or another social platform!
Other exciting features include:
Mute Button: This button provides the option to mute an account without having to unfollow it.
Hidden Words: Hides all posts and replies that contain your specified 'hidden words.'
Interoperable Network Compatibility: Coming Soon – seamlessly connects with other apps that are supported by ActivityPub, including WordPress and Mastodon.
Should your homebuilding business be on Threads?
Yes, your homebuilding business should be on Threads! Leveraging the app can unlock a plethora of benefits for businesses. A recent study by Website Planet suggests that this hot new social site offers higher engagement rates compared to other platforms, presenting an opportunity for businesses to escalate reach and visibility.
By becoming part of Threads, your business weaves stronger bonds and elevates customer contentment, propelling your business forward. Threads' fast paced growth is an early indication of the platform's potential growth. Early adoption puts your business at the forefront, giving you an edge over competitors.
Where can you find Denim Marketing on Threads?
Boost our thread count and follow us on Threads for marketing tips and tricks, team thoughts and other exciting content! You can find us at @denimmarketing. We can't wait for you to join our tight 'knit' community!
Need help with social media strategy or setting up your Threads account? Contact us at Denim Marketing at 770-383-3360 or via our contact form.