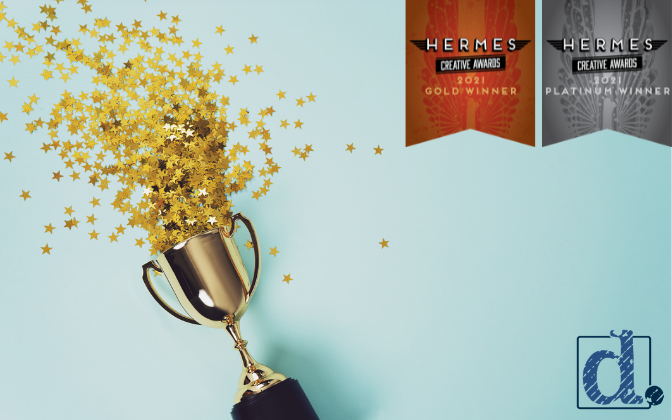 Denim Marketing is excited to announce it received five awards in the 15th Annual Hermes Creative Awards including one Platinum, two Gold and two honorable mentions. One of the largest international competitions in the world for creative professionals, the Hermes Creative Awards evaluate the creative industry's best publications, branding collateral, websites, videos and advertising, marketing and communications programs.
"We are beyond thrilled to be recognized for our work in media relations and social media," Denim Marketing President and Founder Carol Morgan said. "Our team works incredibly hard for our clients and approaches projects with thoughtfulness and creativity."
In the 2021 Hermes Creative Awards, Denim Marketing received:
Platinum for Crosby Design Group Penthouse Renovation Article
An exciting win for the boutique-style firm, this is the first Platinum Award that Denim Marketing has won in this competition. This award is for a media relations score on behalf of client Crosby Design Group in Kitchen and Bath Business (KBB) Online, the official publication of National Kitchen & Bath Association (NKBA) and Kitchen & Bath Industry Show (KBIS). The placement features the interior design firm's renovation of the penthouse at the Loews Atlanta Hotel, complete with all the challenges in designing within a high-rise building. See the full story at www.KBBOnline.com/projects/multi-room-design/sky-high-design/.
Gold for the 2020 Online Homebuyer Mystery Shop Report
In partnership with Melinda Brody & Company and Blue Gypsy Inc., Denim Marketing compiled results comparing the follow-up efforts of 50 home builders across the country into a creative and colorful infographic and report. Participating builders were chosen randomly, with nearly 30 coming from the Builder Top 200 List. The survey reveals a variety of statistics and interesting findings regarding follow-up methods used during the homebuying process.
Gold for the J. Wright Building Company Indian Lake Plan Viral Pinterest Pin
Based in Birmingham, Alabama, J. Wright Building Company is a member of the Southern Living Custom Builder Program specializing in custom homes, many of which feature modern farmhouse design elements. Denim Marketing manages Facebook, Twitter, Instagram, LinkedIn and Pinterest, utilizing engaging copy and hashtags to further expand reach, impressions and results on posts.
In May of 2019, an image of a custom exterior home on Indian Lake in Pelham went viral on Pinterest, and the results continue to climb two years later with 1,270,457 impressions, 47,780 Pin clicks, 9,465 saves and 4,774 outbound clicks.
Honorable Mention for the Advocates for Children: Magical Moments Holiday Appeal
Based in Bartow County, Advocates helps families across Northwest Georgia through programs that include Hope in Your Home, RISE Youth Independent Housing Program, Flowering Branch Children's Shelter and Safe Place. In partnership with Creative Thunder Design, Denim Marketing created a year-end mailer campaign to raise funds for the nonprofit.
Honorable Mention for the Parkland Residential Single-Family Rental Article
The Denim Marketing team worked with Multi-Housing News on an article featuring client Jim Jacobi's Parkland Springs community of built-for-rent townhomes in Lawrenceville, Georgia. Read the full article at www.multihousingnews.com/post/homebuilders-chase-sfr-market/.
Visit www.DenimMarketing.com to sign up for the Denim newsletter, view the full portfolio and more. Call 770-383-3360 for information on packages and finding the perfect fit with Denim Marketing.