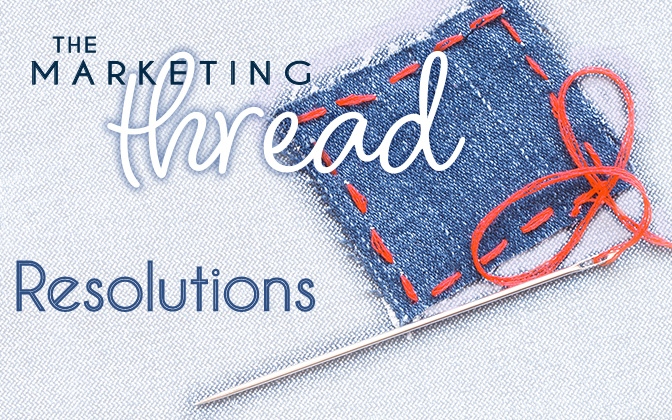 Planning for a new year is exciting and setting objectives for your business can be incredibly rewarding financially. Business leaders need to focus on the big picture and then drill down to specific measurable solutions. We've made a list of some 2022 resolutions you might want to consider for your business.
Hosted by Digital Content Producer Todd Schnick and various Denim Marketing team members, The Marketing Thread is a series of short digestible videos released monthly discussing current marketing trends. From social media best practices, generation-based marketing, media relations, blogging and many other helpful tips designed to promote successful marketing strategies.
In this feature, Todd is joined by Denim Marketing Founder and President Carol Morgan to discuss creating business resolutions for the new year.
It is no easy task running a company! Here are 10 business resolutions to provide inspiration for the coming year.
1. Prioritize
Everything doesn't need to be an urgent priority to ensure success. Have a plan, back into due dates and use time blocking to get it all done. When everything is a priority, nothing truly is. Use goals and plans to decide what to focus on and what should move further down the list of priorities (or be removed altogether). Not only will this make your life easier, but you'll actually be able to focus on what's important and start seeing results.
2. Update your marketing plan
What do you have scheduled already that you need to plug into the plan? Things like webinars, trade shows, sponsorships, conferences, promotions, open houses or new products all make good topics to create content. After incorporating those in, look at what worked well last year and what didn't. What was the most effective use of your marketing budget? What tactics worked best for you? Make sure to cover the basics – website updates, new videos, virtual tours, social media, search engine optimization (SEO), email marketing, public relations and pay per click. Are there any new strategies you want to test? Maybe you want to experiment with a text marketing campaign? Put all of this in writing to determine where to spend your marketing budget in 2022 to get the biggest return on your investment.
3. Start a Blog (and Update it Regularly)
Is your blog nonexistent or stale?  A blog is an easy, cost-effective way to add fresh content to your website. This is huge for SEO purposes because it keeps the search engines coming back and the site captures more traffic. Blogs also highlight your company's expertise and provide potential customers with a reason to keep coming back to read new information. A blog provides ongoing material for social media and serves as a powerful syndication machine. FAQs, events, new products or services, etc. all make fantastic blog topics.
4. Use Social Media
Pretty straightforward, huh? Social media is invaluable to businesses. Make a resolution to use social media more effectively. Post engaging content and interact with customers, potential customers and raving fans. And make sure to always answer their questions! Create a social media calendar for the month and then schedule it. Of course, if you need help and expertise in this area, Denim Marketing is here to help! Prioritize where to be on social media to meet buyer expectations – companies don't need to use all of the sites. Most consumer-facing businesses need to use Facebook and/or Instagram. For businesses selling business to business (B2B), LinkedIn might be a better choice. Once the basic sites are up and running, you can add more if you have time. Social media advertising is a powerful tool to drive more traffic to your website. Budgets as small as $250 can be highly effective on Facebook. Make sure to include money for this as well.
5. Attend Networking Events
This one can be time-consuming and it can be a long game. Plan to attend one networking event each month to meet other business owners. Networking can help you find new opportunities, meet potential clients, discover new partners and even make new friends. Consider joining your local Chamber or attending a Home Builders Association event. Make efforts to form new connections on an ongoing basis, whether that is monthly or weekly. You can follow up the in-person meeting by asking your new contact to connect on LinkedIn. The more you network, the more results you'll see. Schedule networking on your calendar to ensure it becomes a priority and not an afterthought.
6. Listen to Your Customers
Customer service matters and it is severely lacking in many industries at the moment. When it comes to customer service, people remember and share the bad experiences more often than the good ones. Identify the holes in your customer service and outline how to avoid them in the future. At the same time, highlight what went well and how you can build on those experiences in 2022.
7. Learn to Delegate
If your to-do list looks like mine, it is never-ending. As a business owner, you don't have to do all the work yourself – delegate tasks among your team! I know this can be harder than it sounds. Sometimes it is just easier to do it yourself. Well, this is the year to take time to train someone else to do part of the work. Invest in training the right people and in the long run you'll have less on your plate. One thing that you can do to gain immediate extra time is to outsource some of the tasks that consume your time. For instance, you can hire an agency to handle your digital marketing, social media, blogging and public relations – Denim Marketing would be happy to help! Maybe you need to hire someone to clean your office, break down that stack of cardboard, etc. Create a giant list of the projects that need to be done and then start delegating! You might even find improved work/life balance during the process.
8. Clean House
Out with the old and in with the new. Get rid of the things in your business that aren't working. Whether this is a process that doesn't work or a toxic employee, it is time to kick it to the curb. Find solutions that do work for your company. You may need to evaluate your clients and partners/vendors. If they aren't a fit for your corporate culture, cut bait. Maybe it is time to clean out the office or storage room. Again, make a list and work through it. This greatly helps get your priorities in line.
9. Prioritize Company Culture
Get everyone on the same page! Having a clearly defined set of shared values, goals, attitudes and practices makes people feel more confident about their work. Employees that feel engaged and inspired at work are way more productive. Give employees responsibility and empower them to do their job. Having a strong company culture that makes employees feel appreciated, respected and as if their career development matters is a great way to boost employee engagement and loyalty. When employees are happy and empowered, your clients will be too!
10. Inbox ZERO
Does your inbox stress you out? Prioritize staying on top of it. Try to touch each message only once and respond, delete or file it. Don't confuse your inbox with your "to do" list. Emails should not consume your workday. Inbox Zero is a concept developed by productivity expert Merlin Mann. He says when an inbox is confused with a "to do" list, productivity suffers. The zero references the amount of time a person's brain is in his/her inbox.
Here are some of Mann's tips for effective email management:
Don't leave the email client open.
Schedule a few times throughout the day to check email.
First, delete or archive as many new messages as possible.
Then, forward what can be best answered by someone else.
Immediately respond to any new messages that can be answered in two minutes or less.
Move new messages that require more than two minutes to answer – and messages that can be answered later – to a separate "requires response" folder.
Set aside time each day to respond to email in the "requires response" folder or chip away at mail in this folder throughout the day.
The Marketing Thread
The Marketing Thread is a series of short snackable videos released monthly discussing current marketing trends. The goal is to provide ideas that can easily be added into marketing plans to increase effectiveness. This collection of easily digestible marketing videos addresses subjects such as social media best practices, generation-based marketing, media relations and blogging, among other helpful marketing tips designed to promote successful marketing strategies.
Denim Marketing team members offer expertise during The Marketing Thread based on the invaluable hands-on knowledge they've gained while delivering client-focused solutions tailored to customer needs.
View all videos from The Marketing Thread on the Denim YouTube channel.
For more information on how to work with Denim Marketing, call 770-383-3360 x20 or contact us.