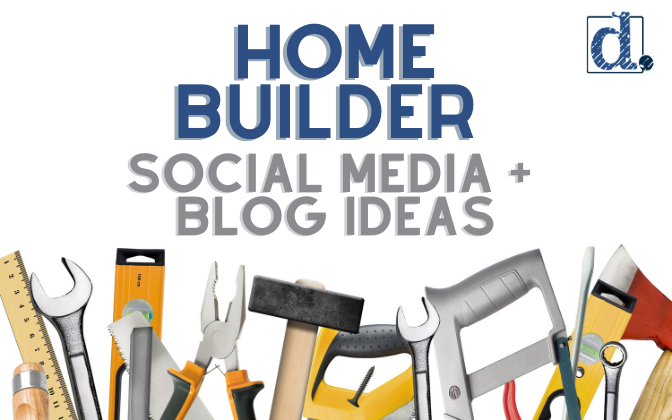 Looking for content ideas for home builder social media and blogs? We understand needing that next great idea, and we also know that writer's block is real!  Blogs and social media play an important role in expanding builder reach and increasing engagement with potential leads. That's why home builder content should always be relevant and interesting for the best chances of attracting and retaining buyer attention.
The Denim Marketing team created this list to provide home builders with social media and blog ideas.
Social Media
Engagement
#ReplyPost – ask followers a question about their preferences
Create a poll
Photo contest
Answer FAQ's
Caption contests
Contests or giveaways
This or That posts
Share user-generated content
Celebrate employee birthdays
Share company anniversaries
Your Homes/Projects
Before and after: new home builds
Floorplan feature
Behind-the-Scenes
Progress updates on current projects
Project sneak peeks
A day on the job
Video tours
Create post series on what makes your homes unique
Special features in your homes
Popular blog posts from your website
Promote VIP lists for new communities
Feature upgrade options
Customizable features in your homes
Door options
Promote decorated model homes open for touring
Sustainable home features
Videos – testimonials, staff, projects, new models, etc.
Promote virtual home tours
Brand Identity
Meet the team
Hashtag series
Home builder story – share your history and values
Employment opportunities
Team members with family
Happy homeowner testimonials
Company status updates – open for all, by appointment, or other?
Sales success
Community Involvement/Activities
Posts about causes you support
Promote organizations the company supports requesting donations
Community involvement/CSR
Events attended by the business
Share success/awards
Design Trends
Construction trends and predictions
Trending energy-efficient features
Kitchen design trends
Outdoor living area trends
Design trends (paint, style, décor)
Trending home layouts
Trending interior design styles
Design trends: owner's suite bathroom
Design trends: owner's suite bedroom
Trending countertop styles
Benefits of custom shelving and closets
Popular mudroom features
Community/Local Area
Local community event highlights
Local area attraction features
Best seasonal events
Post series about local famers markets
Summer activities near your communities
Holiday events near your communities
Informative/Tips
Share home building process tips
Seasonal tips (spring cleaning, prepping for the Christmas season, etc.)
Tips on saving money (on moving expenses, décor, etc)
Did you know? – informative posts
Industry news
Pantry organization tips
Refrigerator organization tips
Pros of buying a new home
Fun Posts
Unique holidays (ex: National Bubble Bath Day, National Iced Tea Day)
Celebrate national holidays
Fun company facts
Holiday promotions
Blogging
Company Background
Employee features
Interviews with key staff
Homebuyer stories
Why you should build with us
Future projects coming soon
Our design process for new homes
Philanthropic efforts
A day in the life of. . (interior designer, builder, etc.)
Your Homes/Surrounding Community
Feature floorplans
Feature finished homes
New communities coming soon
Final opportunities in your communities
Communities now selling
Join Our VIP List
Community amenities perfect for the summer
Roofing material roundup
Community overviews
Best seasonal events around your communities
Best farmers markets around your communities
Community/neighborhood spotlight
Local area feature/things to do near your communities
Available upgrade options in our new homes
Tour our model home
Insider's guide to XXX city
Design Trends
Design trends (paint, style, décor)
Incorporating smart devices into your new home
2021 trends for creating an energy efficient home
Keys to building a sustainable home
Trending home layouts
Best floor plans for families
Trending kitchen styles for your home
Design trends to incorporate in your owner's suite bathroom
Design trends to incorporate in your outdoor living space
Design trends to incorporate in your owner's suite bedroom
Trending countertop styles for your new home
Organizing your home with custom shelving and closets
Must-have mudroom features for ultimate organization
Hardware trends to consider for your new home
Popular doors for new homebuyers
Home Design Tips/How-To
How to create the best owner's bath
Customizing spaces in your home
Best layouts for a functional kitchen
Best layouts for the perfect family room
Flexible spaces – creating the perfect home office
Home maintenance – dos and don'ts
Choosing your home aesthetic
Creating a pet-friendly home
Creating a child-friendly home
Steps to building a new family home
Guide to designing your dream kitchen
Guide to designing your dream owner's suite
Benefits of open-concept floorplans
Landscaping tips
Home maintenance tips
Home décor tips – creating your dream home
Spring cleaning tips
Must-have outdoor living space features
Tips for building an outdoor kitchen for your new home
Guide for creating the best curb appeal
Benefits of creating entertaining spaces in your home
Storage solutions to consider when remodeling
Tips for using flexible spaces for online learning
How to decorate on a budget
Best tips for kitchen organization
Creating the perfect coffee station
Creating the perfect bar
Creating spaces in your home for the perfect staycation
Tips for growing a fabulous home garden
Home Building Process
Questions to ask before building a new home
The essentials for getting ready to build a new home
Why to buy new home vs. an existing home
Common mistakes to avoid when building a new home
Questions to ask before hiring a home builder
How to choose a home builder
Tips for building a new home in [the area where you build]
Benefits of buying a presale home
Energy efficiency – keeping prices down when the weather heats up
Benefits of building a custom home
How to save money on moving expenses, décor and more
Renting versus owning pro and cons
Housing market predictions
Behind the wall – plumbing, insulation, wiring, etc.
Holidays
Must-have home features for the holidays
New year's resolutions for your new home
Sprucing up your home for the holidays
Best holiday decorations for your home
New homes for the new year
Festive fall décor for your new home
Holiday recipes to make in your custom kitchen
Need more creative content ideas for your home building company? Denim Marketing is ready to help you develop a full marketing strategy to keep your content flowing with relevant and popular topics that are topical and on brand for your audience. Contact us today to learn more about our s