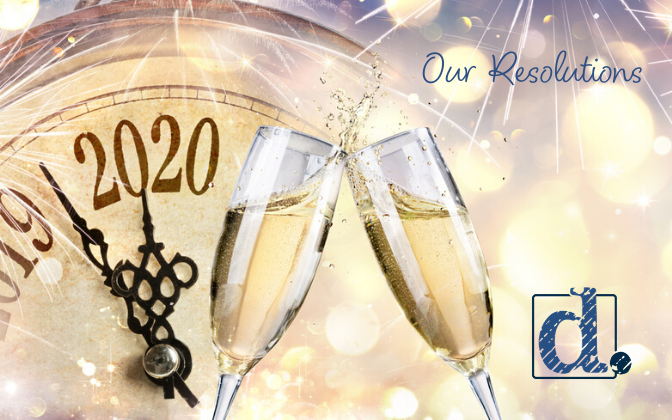 Have you ever wondered what the origin of a New Year's resolution is? Well, according to the internet, the ancient Babylonians were the first people to celebrate the New Year, and they are said to be the first to make resolutions 4,000 years ago. Of course, their new year related to the planting of the new crop and was most likely in the spring.
The five most popular resolutions probably are no surprise: to exercise to get in shape, diet to lose weight, save money, eat healthier and self-care. Sadly, according to U.S. News and World Report, 80% of resolutions are broken!
We plan to have a better track record than this at Denim Marketing.  Here are our 2020 resolutions!
Courtney Rogers – My personal resolution for 2020 is to work on being present and live in the moment. I don't think I'm terrible at doing this now, but I know there's room to improve. I think the hardest part for me, besides putting my phone away, will be not worrying about anything else outside of what I'm doing at that moment. For example, when I'm having dinner with my fiancé, I shouldn't be focusing on my phone or my to-do list for the next day, and I certainly shouldn't bring my computer to the dinner table (yes, I'm guilty of this!). Instead, I should appreciate our time together, engage in meaningful conversation, and not focus on anything else but us enjoying dinner together at that moment. If I can apply that to all areas of my life – even work – I think I will be happier, more content and probably a lot more productive!
Lexie Delmonico – My 2020 resolution is to see more of the world. Whether it's traveling to a new city or just checking out a coffee shop I've never been to, I want to experience more. In 2020, I won't say no to any adventure or opportunity that comes my way.
Mandy Holm – We recently moved to Dawsonville, so in 2020 I resolve to get out and explore our new town and all it has to offer (lots of mountain trails and wineries)!
Brooke Huber – In 2020, I plan to spend less of my free time on my phone and technology and be more present and involved in my own life. I want to spend more quality time with friends and family, find a fun hobby, get involved in a volunteer opportunity, take advantage of more in-person experiences and simply just enjoy the little things around me.
Carol Morgan – I achieved my 2019 resolution of my second level dressage scores toward my U.S. Dressage Federation bronze medal. So, this year I'm focused on my third level dressage scores. Based on where we are this month in our training, I'd say this is absolutely achievable if my mare Johanna will quiet down and listen to what I'm asking versus assuming she knows what I'm going to ask for and doing what she thinks is best! (This sounds like some people I know!