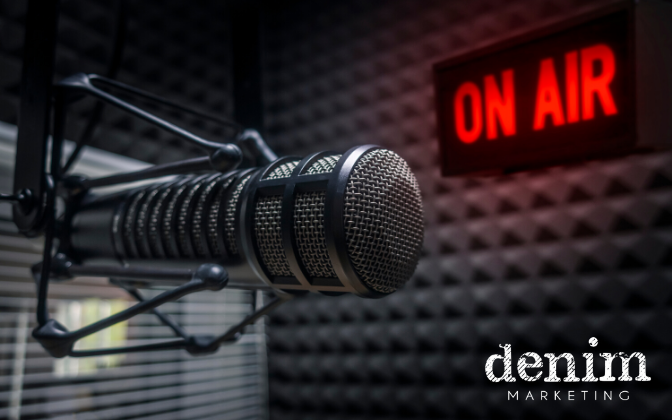 First introduced in 2004 by Adam Curry, podcasting has been around for more than a decade-and-a-half but has recently seen a resurgence with over 800,000 active podcasts and more than 30 million podcast episodes today. Ranging from comedy and gaming to education and news, these popular digital audio files meet the needs and entertainment desires of even the most eclectic listeners.
Podcasting Demographics
In today's ever-changing world of marketing, it is important to be aware of not only what social media platforms are out there, but also how to use them and how to use them well. Podcasting has taken the digital world by storm, appealing to the fast-paced, always on-the-go Millennials and Generation Z, and also to the thoughtful and attentive Baby Boomers and Generation X. According to CITE SOURCE, podcast listeners are fairly evenly spread across all age groups, with the biggest demographic being the 25-34-year-olds. The percentage of podcast listeners is divided as follows:
Ages 18 – 24: 18%
Ages 25 – 34: 28%
Ages 35 – 44: 21%
Ages 45 – 54: 16%
Ages 55 – 64: 11%
Ages 65+: 6%
To read more about how different generations use social media, read one of our past blogs here.
The easy-to-use and accessible platform provides a way for people to stay informed, engaged and entertained, and for businesses to speak to target audiences in a unique way. If your business has a podcast that is brand-new or one that has been established over the years, we have a few tips and tricks to help take the following to the next level!
Getting Started 
As with any social media or public broadcasting platform, a following is important. More followers mean a wider audience of people hearing your message and eventually transitioning into clients. The key in the beginning is being realistic with goals and starting small. To start, advertise to anyone already in your circle. This could be friends, family, existing clients, vendors, partners and more. Send out an email explaining what the show is, what the topics are, how to listen and how to get involved!
Spreading the word to people you are connected with is a free and easy way to gain a base following. This group can to subscribe to the podcast and share to their own groups, expanding your audience.
Social Media
Another simple and cost-free way to acquire more listeners is by sharing on various social media platforms. Podcast listeners are much more active on social media than non-podcast listeners. According to SORCE, 94 percent of podcast listeners are active on at least one social media platform, as opposed to the entire population which falls at only 81 percent. Podcast listeners are also more likely to follow companies and brands on social media. Because of this, it is important to go to where the listeners are.
Be sure to share episodes across all social media platforms and include relevant and important hashtags when applicable. By using hashtags, a single tweet can increase engagement by as much as 21 percent. Pick a few relevant topics associated with the podcast or podcast episode and attract interested users!
Blogging
Take advantage of more free advertisement with blogging. After every episode, create a short blog post highlighting what the episode is about. This is another great way to reach people across a variety of different platforms with the use of various tools. Incorporate good search engine optimization (SEO) techniques into blogging, so that people can find the show through Google search. Blogging with properly executed SEO strategies is a simple and cost-effective way to expand a podcast audience to a group of people who wouldn't have found it otherwise.
Networking
Podcasting might be a digital platform with prerecorded audio and editing, but it is not without face-to-face interaction. At any industry meet-up or event, make sure to advertise the podcast along with the business. Take advantage of the access to an already interested group of people, and show them an additional platform for educational, entertaining and relevant content.
In addition to interacting in person, networking with other podcasts is crucial. Find podcasts with similar audience profiles or industry circles and reach out to be a guest on their show. Not only could the experience be educational and informative for your own podcast, but it can also introduce you to an entirely new audience willing to listen to a podcast within a related topic. Create a network of people within the podcasting world and watch your audience grow faster and faster.
With over 144 million people listening to podcasts in the United States according to Podcast Insights, being absent from this platform is no longer an option. The digital impact of podcasting is not only immense, but also growing. With the extreme popularity in both younger and older generations, podcasting is an efficient and cost conscientious way to advertise to a wide demographic while also gaining clientele.
Denim Marketing started podcasting in 2011. We publish the Atlanta Real Estate Forum Radio podcast which is Atlanta's favorite source for real estate and home building news. Please follow us on your favorite podcast app, and make sure to thank our sponsor, New American Funding.
To find out how our team at Denim Marketing can help kickstart your podcasting, social media and blogging needs, visit www.DenimMarketing.com or call 770-383-3360. Also make sure to stay up-to-date with the latest in social media and the digital world at our blog here.