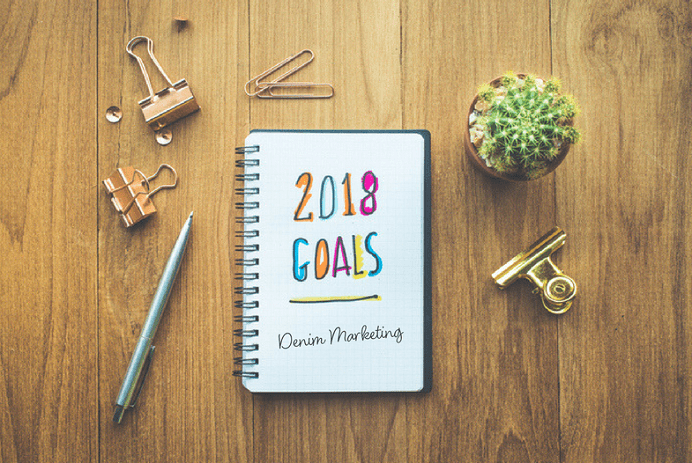 The end of 2017 is upon us! Denim Marketing has had quite a fun year and has succeeded thanks to the expertise of its team members. Each member has had a wonderful year filled with important milestones that contribute to the success of the team. As we move into the New Year, we strive to be even better as individuals and the best Denim Marketing team. So, in this post, we are sharing a few of our personal resolutions, as well as advice for business marketing.
Denim President and Founder Carol Morgan's personal resolution is to improve her work-life integration. "I'd like to get back in the show ring with my Trakehner mare, Johanna, and spend a little more time cooking and gardening," she said. Businesses, she suggests, should resolve to conduct marketing audits at least once a year. "There is no time like the present. Setting marketing and sales goals is tremendously important, but in order to achieve them make sure you have all the basics in place – your website, content and brand. Audit the basics and look at your complete online footprint, as well as collateral."
Senior Account Manager Courtney Rogers would like to focus on things, people and experiences that make her happy. "I also need to learn to say 'no' to the things that don't make me happy." Businesses should set goals to try new things in 2018, she advises. "Marketing is changing so incredibly fast, and something new and exciting is always on the horizon. Whether it's trying something new with digital advertising, jumping on the next social media bandwagon, or trying a new focus for a blog, you shouldn't be afraid to be a trendsetter."
Account Manager Mandy Holm is going to spend more time with her family and get involved in more activity with her dog. "My cocker spaniel, Brody, is a hyperactive pup and I need to make  time to take him to run off his energy." Mandy says that businesses should understand the value of public relations in 2018. "Public relations should not be considered expendable, but necessary. It should not be an afterthought as crisis or reputation management, but an included feature in a business' marketing plan. A successful public relations team knows its brand and finds opportunities for the company to contribute to local news stories. Building these relationships with both the news media and the public helps present the company as a reputable, expert source within the field and also creates connections when it comes to distributing its own news releases and announcements."
Account Coordinator Amanda Meade's personal resolution is to think through things before taking action. "I want to be able to talk a situation out before it becomes a conflict. I also want to think about what is best for me and my family before I make a decision based on someone else's opinions." Amanda is highly in favor of using social media campaigns in 2018. "As a team, we generate creative and unique ideas for marketing campaigns that typically have a strong social media component. Clients seem to be scared to reach outside their comfort zone to participate. We have had huge success with campaigns in the past and I would love to launch more of them in 2018!"
Finally, Account Coordinator Bailey Thompson resolved to continue learning in 2018. "After graduating from college, I realized how odd working felt when I wasn't continuously studying. I need to make more time for reading, attending speaking programs or taking courses." Her advice for clients in 2018 is to take advantage of the increasingly visual age we are in. "Businesses should never be afraid to use eye-catching graphics, visuals or videos when presenting themselves to potential consumers! Buyers are more and more drawn in by what they see. Visual marketing materials are a great way to get attention on your brand and services and to let your creative juices flow at work."
Denim Marketing's team is made up of diverse, unique members with equally diverse resolutions and goals. This is one of the things that makes our team able to create plans that fit our unique clients' needs.
What are some of your resolutions for 2018? Comment below!