Interactive floor plans (IFP) draw homebuyers in and encourage them to customize their homes. Outhouse creates interactive floor plans that inspire emotional engagement and help buyers to envision themselves living in that home. They also create an interactive experience that keeps buyers on home builder websites longer. Homebuyers create and save customized floor plans and receive a link to them. Real-time notifications keep the home builder updated on what the buyer likes and what they have interacted with before they call or walk into the sales center.
Homebuyer Engagement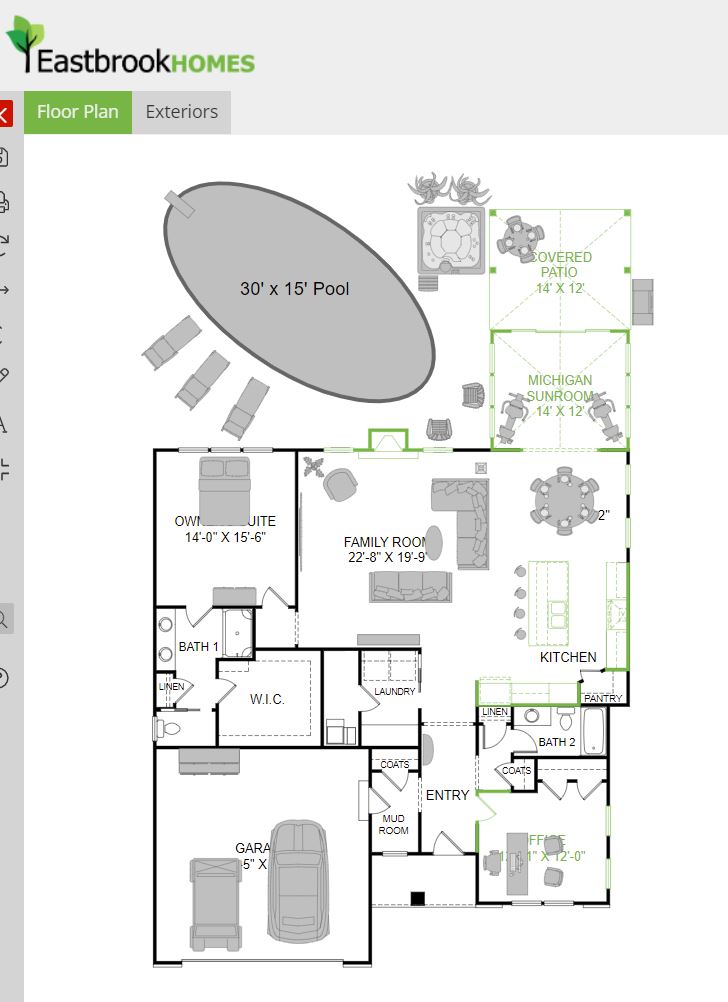 So, why interactive floor plans? They garner more engagement and help the potential buyer start to feel like a  homeowner while they customize their home with pre-determined (and more importantly pre-engineered and developed) options. Homebuyers envision themselves in the home and when they are done "working on their dream home," they simply save the plan, sending a well-invested lead to the builder's sales team, community manager, OSC or even directly into the builder's CRM.
Increased Closing Ratio
Outhouse tracks data from hundreds of builders across the country, equating to tens of thousands of IFPs. This data quantifies a close ratio from 30 to 55% for buyers that engage with IFPs – talk about compelling! To restate, a potential buyer simply uses an IFP and the close ratio is 30 to 55%!  Moreover, all of this is done right from the home builder's website on the buyer's computer, tablet or smartphone – wherever they want to do it.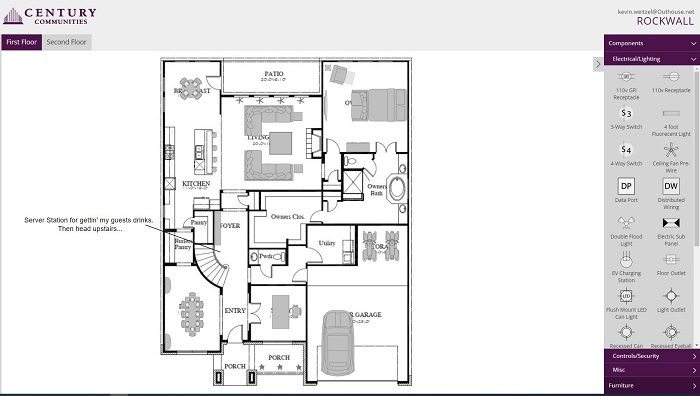 A Building Block of Buy Online
The beauty of the IFP is both its simplicity and ability to interconnect. They are inexpensive to implement and once implemented can be seamlessly API connected to your ERP, CRM, reservation system, contracting system, site plans and more. The sky is the limit. They are the centerpiece in the building blocks of Buy Online. Now, there is a lot more that needs to be in place to create a Buy Online scenario but rest assured, the IFP is a major player. Read more about Buy Online in our article, Does Your Website Have a Buy Now Online Button?
History of Interactive Floor Plans
Outhouse invented interactive floor plans in 2001 as a furniture planner to serve as a handy tool for a luxury condo company's use with potential buyers. Residents used the tool to space plan prior to moving in. Later that year, Outhouse added structural options so builders could ditch the transparencies and show home options digitally.
Outhouse has continued over the years to make improvements by adding features that allow for even greater engagement of potential buyers to their plan of choice; Elevation Selector, Exterior Visualizer, Kitchen Visualizer, Real-Time Square Footage, Dynamic Pricing, Mortgage Calculators, Gallery View Hot-Spots, Virtual Tour Hot-Spots, Matterport Hot-Spots, Integrations with ERPs like Mark Systems, E1 and more… Integrations with CRMs like Top Builder Solutions, Lasso, Sales Simplicity and more… the lists go on.
So, are you still using transparencies or static floor plans? That was acceptable in 1990, but this is 2022! For more information on Outhouse, contact Kevin Weitzel, VP of Business Development & Sales at 602-371-4394 or visit outhouse.net.