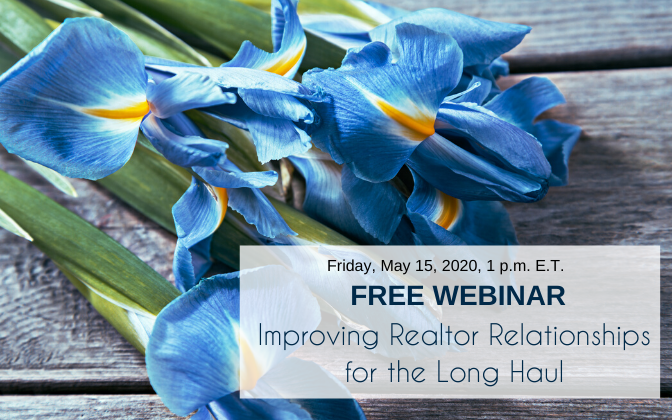 Our eighth webinar in a series is designed to help sales and marketing teams in the new home industry improve their co-op Realtor relationships during this uncharted crisis.
If you missed Improving Realtor Relationships for the Long Haul on Friday, May 15, 2020, then watch the video here:
As part of our webinar series, "Selling in a Time of Uncertainty," we are diving into the relationship between outside agents and home builders. We will discuss some of the good the bad and the ugly, and how we can improve these relationships. Whether you call these co-broker sales, co-op sales, or Realtor sales, all across the country builders do business every day with customers who'd like to build a home, and already are working with agents. How can we make these relationships stronger, more consistent, and ongoing through good times and bad?
We will Discuss:
Attracting and engaging outside real estate agents on social media
Email marketing to co-op agents
Working with the general real estate agent
How OSCs are a key component to building Realtor relations
Registration cards, how we love thee
Education and CE classes
Plus, as an added bonus, Ben Marks from Melinda Brody & Company will present special information on the value of secret shopping to keep your site agents, online sales agents and even your websites on track with your customers' expectations.
Join us for this action-packed webinar brimming with information. As always bring your questions and your experiences to add to the value we've provided over the past 10 weeks.
Panelists:
Carol Morgan, Founder and President of Denim Marketing
Leah Kaiz Fellows, Founder and Online Sales Counselor Trainer of Blue Gypsy, Inc.
Kimberly Mackey, Founder and Sales & Marketing Management Consultant of New Homes Solutions Consulting
MODERATOR: Kelly Ann Zuccarelli, SVP, National Builder, Renovation & Condo Program Manager with Wells Fargo Home Mortgage
Special Guest: Ben Marks, President of Melinda Brody & Company
For more information on marketing during COVID-19, see our popular blog on Content Ideas for Social Media and Blogs During COVID-19.