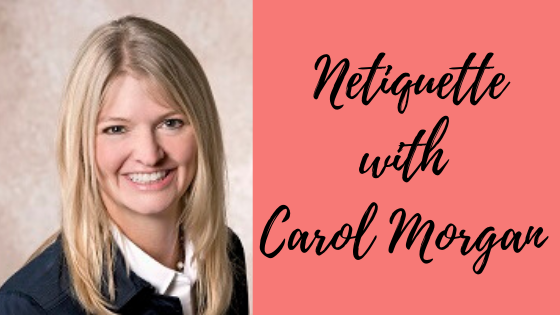 Carol Morgan, founder and president of Denim Marketing recently spoke to Anya Chrisanthon about Netiquette on Anya's New Construction Marketing Podcast. In the podcast, Carol goes into detail about the importance of internet etiquette in business communication and strategies to use to find the best communication channel based on the person you are communicating with, or the target audience. 
Morgan's career is built listening to clients and personalizing plans to fit their business needs whether it be public relations, advertising, marketing, social media, content or reputation management. Having so much experience communicating with clients and business partners, she has a deep understanding of internet etiquette and business communications, and how it has evolved into what it is today. Her Netiquette 3.0 seminar is aimed to help others learn the best way to communicate with in a professional yet effective way using today's technology.
Netiquette Between Generations
One of the biggest factors when it comes to netiquette is generational differences. According to Morgan, each generation has its own unique communication preferences and styles that they gravitate towards for different reasons.  
"It's become a really hot topic because all the generations communicate a little bit differently and you can't really say that each generation does exactly one thing because it's different within each generation".
Millennials

Millennials have shaped the direction of communication more than any other generation.
They hate talking on the phone and prefer to communicate via text or instant messaging apps.
They see email as a longer form of communication and only use it if they plan to send a lengthy message. To them, email less urgent than texts and are they less likely to respond right away.
As a generation who hasn't done much face-to-face communication, they to think out their responses more than others.
Gen X

Gen X has grown up and adapted to emerging technologies over the years.
They are technology savvy but may still prefer more traditional media and communication.
They can be reached through a variety of communication channels.
They are often considered the most adaptable generation when it comes to technology.
Boomers

Boomer like to keep things old school and prefer one-on-one communication or the phone or in-person.
They will use email depending on their level of technology savviness.
They are the most impatient generation as they always expect a response.
Follow the Clients Lead
While it's a good idea to consider age and preferences when choosing how to communicate with others, according to Morgan, the best approach is always to follow the of the lead of the client (person you are communicating with). Everyone has their own comfort level when it comes to communication that should be respected.
"It's all about responding to that buyer the way they approached you. If they text you, you should probably text back. If they emailed you, you should them email back."
The way a client reaches out is an indicator of how they would like to communicate. No matter how a client reaches out, be sure to respond back using that channel. Of course, there are times where communication may not be effectively handled through the clients preferred method. For example, if you are not comfortable with that channel or if they request information that may not be appropriate for that channel such as lengthy details or information. In this case, reach back out politely using the channel they used and suggest communicating with them through a more efficient one instead.
Texting on the Rise
While many still consider texting a personal form of communication, Carol believes its becoming less and less that way. As more people have become used to text communication over the years, it has become common practice in the business setting as well. Here are a few statistics showing its effectiveness and why it is so rapidly becoming an acceptable form of business communication.
Text is the most widely used and frequent used smartphone app with 97% of Americans using it daily.
Over 6 billion text messages are sent in the U.S. each day
Text messages have 98% open rate as opposed to email which has a 20% open rate.
90% of all text messages re read in under three minutes
It takes 90 minutes to respond an email but only 90 seconds to respond to a text.
Considering these stats, it's a good idea to begin introducing text into your business communication strategy if you haven't already. While email and phones are still effective, text messages are becoming the preferred way to get messages across that need immediate attention. Feel free to use texting in combination with email as a follow up measure but avoid texting in the beginning of a client relationship to maintain professionalism. 
Want to know more about Netiquette? Listen in to the podcast here to learn more about what Carol and Anya have to say about these topics along with others such as email etiquette and other professional communication tips. If you would like to book Carol's Netiquette class for your group – virtually or in person, click here. To learn more about Denim Marketing and its strategic marketing services, contact us today!