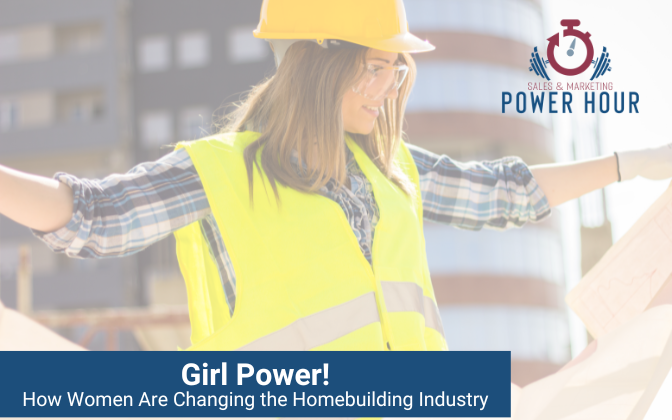 The homebuilding industry is changing faster than ever, and women play a big part in its direction. Finding women in various industry positions is becoming more common, from swinging a hammer and land acquisition to purchasing and running a homebuilding or remodeling company.
In our February Sales & Marketing Power Hour, we discussed the impact on the industry, the customer and everything in between. Carol Morgan with Denim Marketing and Kimberly Mackey with New Homes Solutions Consulting were joined by Alaina Money-Garman, CEO of Garman Homes and Mollie Elkman, Owner and President of Group Two and author of The House that She Built. This conversation is for everyone in the homebuilding industry – not just women!
Why Women in Construction Matter
According to The National Association of Women in Construction, female construction workers comprised 10.9% of the United States workforce in 2022 and earned 82.9% of what men make.
Not only are women impacting the homebuilding industry from the inside, but women are also changing the narrative for purchasing habits and statistics. According to the National Association of Realtors, more single women are household heads, with 19% of buyers in 2020 being single female buyers.
This isn't pie.
Kimberly started the webinar with an analogy. Adding women to the workforce doesn't mean men get less of the pie. Adding to the pie means having new ideas and opinions and makes companies more reflective of the world around them. Adding women and diversity to the workforce enhances and adds to the workforce; it doesn't take away.
Why is embracing women (and all other under-represented demographics) essential in the home building industry?
Adding women to the workforce is part of the labor shortage solution.
It's a better reflection of the customers served by the industry. Women make the majority of the decisions related to home ownership and home builders and developers are better at reaching and resonating with this target audience when the perspective of the buyer is taken into account. Who better to help build and sell a home than a woman?
Diverse ideas and ways of doing things. Every time you add someone different than yourself to your organization, you add a unique perspective that adds to the company.
What else do we see around the country?
There are 10,000 open construction positions in Georgia alone, and it has been this way for years. There aren't enough people trained for these positions. So, how do we fix it? One solution is to add women.
What stops women from entering the construction field?
Often, they don't feel safe. We need to work on welcoming, inclusive environments. This includes having safety equipment that fits smaller humans – gloves, hats, vests, etc.
How do women enter the construction industry?
Many women have been brought into the industry by a dad or brother. We see more and more young women choosing to pursue a career in their family's homebuilding or remodeling company. So, breaking down the barriers is essential for the success of these women and those that follow.
This lively conversation included discussions asking if gender really matters anymore when considering someone for any role in construction and looking at the most significant barriers to entry for women and minorities.
In conclusion, this power-packed panel agreed, "Otherness is the thing that connects people!"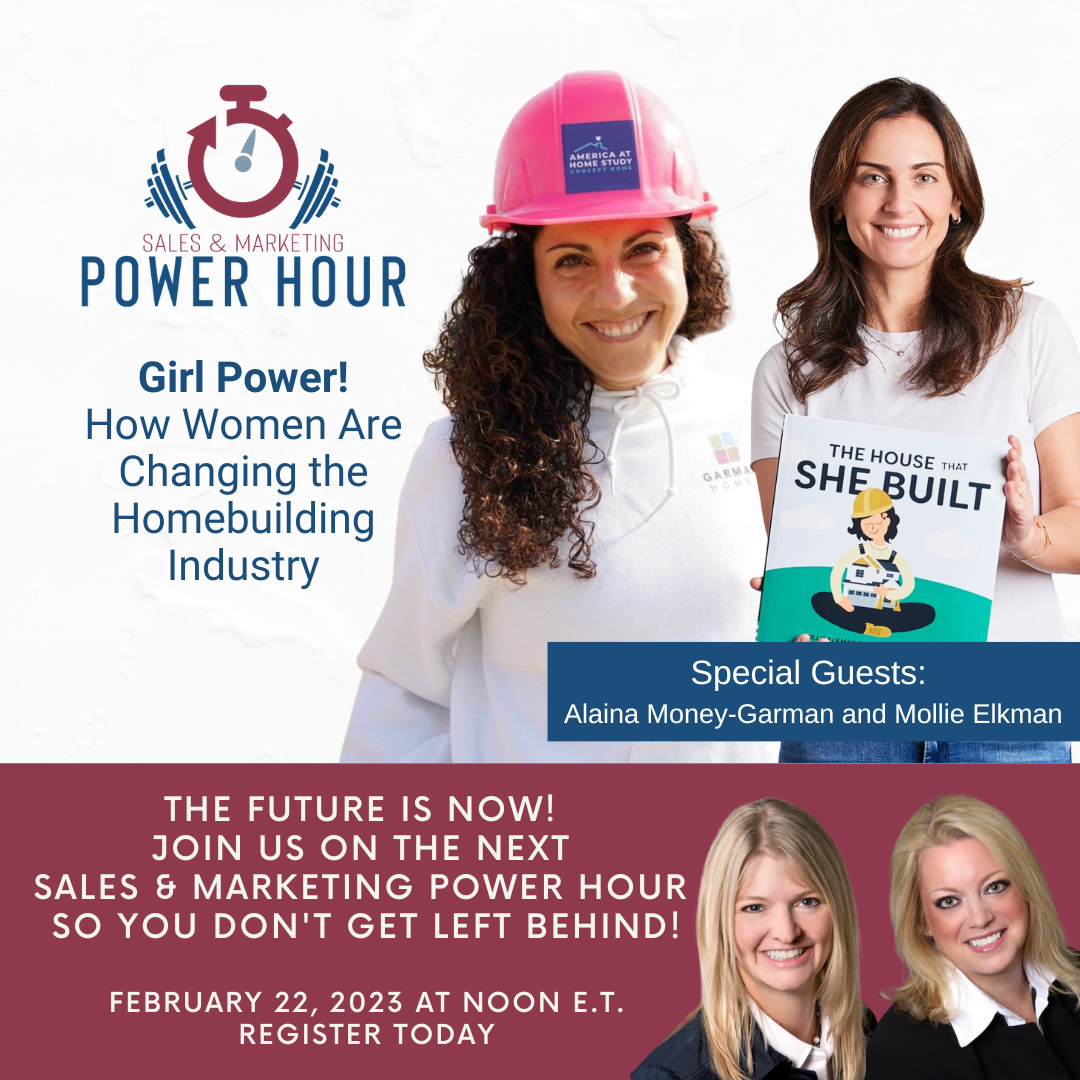 More About Sales & Marketing Power Hour
Sales & Marketing Power Hour is an award-winning webinar series hosted by the dynamic duo Carol Morgan of Denim Marketing and Kimberly Mackey of New Homes Solutions Consulting. Created for new home sales and marketing professionals, Sales & Marketing Power Hour was named Silver Award Winner for Best Professional Development Series at The Nationals.
With the mission to provide ideas, tips and solutions to marketing and sales teams in the new home industry, Sales & Marketing Power Hour offers efficient practices and helpful advice on what is working in today's real estate market. This program is ideal for sales and marketing leadership, company visionaries, on-site sales professionals and anyone who wants to remain relevant as our industry grows its technological presence.
Upcoming Webinars:
April 19 – How Artificial Intelligence is Revolutionizing New Home Sales & Marketing
June 14
August 23
October 18
December 6
Topics for this year's webinars will include artificial intelligence and the use of ChatGPT in home building as well as the new 55+ buyer – Gen X.  Mark your calendars and we look forward to seeing you on Zoom!