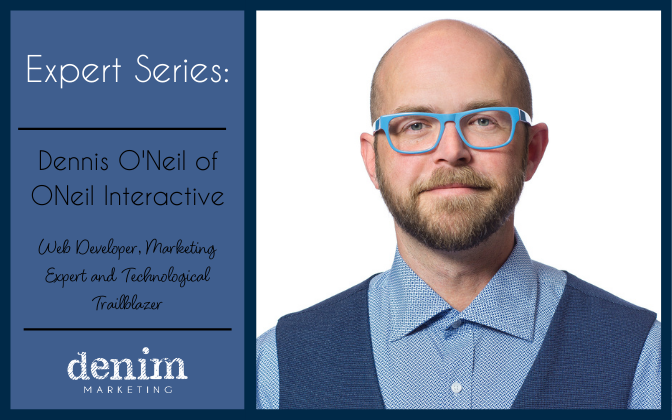 Dennis O'Neil, President of ONeil Interactive, founded his company in 2008. Focused on increasing homebuilder sales through technology. His firm is insanely curious about consumer experience and how technology shapes this experience. In his role as president, his responsibilities primarily consist of leading the 16-person team of smart professionals, Dennis is a daily contributor to the company's marketing and web development work for its clients.
When asked why ONeil Interactive exclusively serves the home building industry, O'Neil says, "I really love our work and our team. I'm genuinely excited to participate in projects and work closely with our builders to help them solve the big problems. I feel strongly about the role ONeil Interactive plays in the industry, and we hold ourselves to a standard of high-performance and low ego."
More specifically, ONeil Interactive has defined its mission as:
"To lead the building industry leaders. To be their oracle, their source for digital marketing genius, and their partner for business-building innovations in marketing, technology, and software."
ONeil Interactive is a full-service web development and marketing company for home builders around the United States. Specializing in joining technology with marketing, this application development company combines innovative thinking, expertise in the marketing field and knowledge of the home building industry to help create beautiful and functional websites for clients.
Dennis has spent over 20 years using the internet to sell and market new homes, joining the industry in 2000 as a new home salesperson. He has even written a book, "Sales Actualization: Outselling the Internet" on technology's impact on the sales process. He is a respected speaker on advanced internet marketing and the online sales process, and a frequent speaker at the International Builder's Show.
O'Neil has experienced numerous changes in the web development process. In the past few years, he has seen desktop-only versions of websites become obsolete and rapidly change to a more responsive design. Now mobile-first design leads the way for websites as the first priority for design and application.
"We've been monitoring the rise of traffic coming from mobile devices since 2010, when it accounted for just about 6% of the average builder's traffic. Today, the average is well above 60%, as a mobile-first approach has taken hold," said O'Neil. "Although, the most current aspect to focus on is user experience. No matter the device, if you're focused on the individual who's viewing your website and their ease of use, satisfaction and overall experience – you win."
In addition to rapidly changing digital environments and trends to be aware of, ONeil Interactive has also realized there are several special considerations dealt with now that were not issues in the past. Technology is always advancing so new considerations happen with certainty every year. A big change that his team is focused on is the Website Content Accessibility Guidelines. Navigating the Internet is especially difficult for those who are vision or hearing impaired, and just a few small tweaks can vastly improve the experience for those who really need it. The WCAG rules and guidelines are published to ensure web accessibility for all. The top four principles that provide the foundation for website accessibility are: perceivable, operable, understandable, and robust. Keeping up with these rules ensures a better user experience for everyone who comes across a website. Staying on top of the everchanging web development industry is one-way ONeil Interactive sets itself apart and creates the best user experience possible.
One specific change in the web development industry that directly affects home builders is Google Maps pay-as-you-go pricing. In 2018, after more than a decade of being free, Google began to charge companies a fee for using their service on a website. Once a website exceeds a limited amount of website traffic, Google enacts a fee. While there are other free map services available, Google's data is far superior and the most widely respected. Fortunately, many small builders and custom builders don't have to worry about these changes just yet due to smaller demands of map loads from website traffic.
Another way O'Neil Interactive stays ahead of the curve and sets itself apart from other developers is the wide variety of products and programs available through the company. With a deep desire to support the industry and help builders of all sizes, ONeil Interactive offers a completely free WordPress plugin for home builders to utilize to help improve their content management process and receive several valuable add-ons. The program is designed to help edit, plan and specialize a wide variety of details with ease. The plugin is also SEO friendly and offers a built-in XML feed generation.
"This plugin is everything a home builder needs for a stable WordPress site with powerful results. It's the only WordPress solution that allows you to install it today and have your listings on Zillow tomorrow," said O'Neil.
In addition to the plugin, ONeil Interactive also offers a free ILS called NewHomes.net. This site run's on Google's Accelerated Mobile Pages (AMP) technology for blazing-fast mobile experience. The site design is intentionally simple. As for the project's origin, O'Neil says that "…during a team lunch, we found ourselves wondering what the Craigslist of new homes would look like. So, we built it, but a not ugly version." NewHomes.net group provides listings that are easy to navigate and listings are organized in simple geographic categories. The groupings are designed with a focus on high user experience, speed and lead generation. NewHomes.net is also offered completely free to all builders.
O'Neil interactive specializes in web design for home builders because it understands the need in the industry while also identifying key factors to help generate sales and recognition. With a focus on front-end design and backend development, the experts at O'Neil Interactive create functional and aesthetically pleasing sites for home builders. Because these sites need to be specific to the building industry, their creation comes with a unique set of challenges.
"Building a website is like building a home," said O'Neil. "There are some websites that are template-based while others are more custom. High-performance websites take industry-specific expertise, collaborative teams and attention to every little detail. Regardless of the intricacies, we work to make the process as frictionless as possible."
Finally, the experts at ONeil Interactive rely heavily on superb customer service. Always putting the needs of the client first makes this web development company unique.
"We enjoy meaningful conversations," said O'Neil. "We're always up for discussing problems, celebrating successes or anything in-between."
To learn more about ONeil Interactive, visit oneilinteractive.com. You can also stay up-to-date with the latest in the home building industry through our Expert Series blog collection at www.denimmarketing.com/blog.