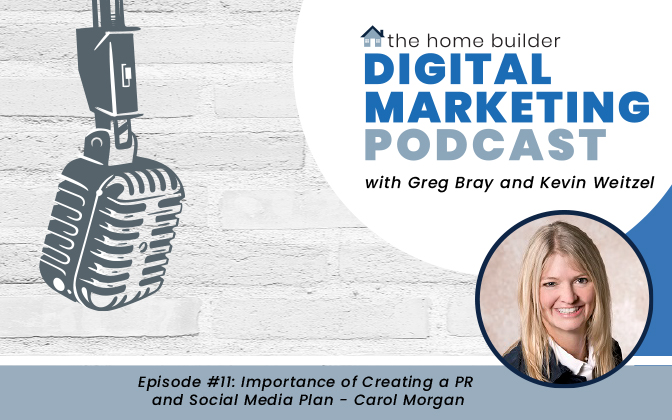 Carol Morgan, founder and president of Denim Marketing recently joined Kevin Weitzel and Greg Bay on The Homebuilders Digital Marketing Podcast to discuss the importance of having a strategic public relations (PR) and social media plan in place. In the podcast, Morgan dives deep into the difference between PR and social media and some of the common mistakes businesses make when it comes to their strategic marketing plan.
Morgan's career is built around listening to clients and personalizing plans to fit each client's needs. A well-known speaker and author of four social media books, she is highly experienced in creating big picture marketing strategies by utilizing public relations, social media, advertising, content creation and more to rive traffic to clients sites and acquire measurable results. 
Here are some of the highlights of Carol's interview on The Homebuilders Digital Marketing Podcast.
Why Public Relations?
"You just really have to understand your audience and understand how to pitch them so that it works for them".
When it comes to public relations, strategy is key. Many businesses tend to confuse public relations with advertising and expect the media to feature their stories just because they email it to them. This often leads to businesses bombarding the media with questions and emails to the point that the media becomes annoyed. Unfortunately, emailing a reporter a press release isn't always going to guarantee a story. Instead, businesses want to broaden their connections and define each one.
According to Morgan, businesses really need to have a good understanding of the reporters they are communicating with and the type of material they cover. While there are many reporters that will happily accept a fluffy press release, there are others that may not find it newsworthy enough to write about. When businesses are sending out a press release, they are pitching it to both the reporter and their end audience. Reporters aren't going to care about a story unless they can figure out a way to relate it to their audience, so it's important to try and work your story in a way works for them.
Why Social Media?
"It's important that those messages communicate your brand and communicate everything you are and everything you want them to know about you".
Social media is another marketing component that many businesses don't always do to their advantage with many randomly posting content and no real plan. Social media has become many customers first handshake with a company. If a business wants to give a good first impression, they need develop a strategic plan that connects to their current campaigns, main marketing messages and events within the company. Make sure that the content is specific to your brand and couldn't just be posted on any other business's account. 
Additionally, Morgan also suggests that businesses have a call to action in every post. This could include a link to the company's website, a phone number or even question asking the audience to share their opinion. As a business, you want your audience to engage and interact with your posts. If your posts aren't engaging your audience and encouraging them to learn more about your business, they aren't reaching their full potential.
Along with creating social media posts, businesses should also have a plan for measuring their social media's success. Some good ways to measure include looking at website click through rates to see where traffic is coming from and why, as well as checking all native sites to determine the top posts that receive the most engagement. Look at the analytics on each platform month over month and year over year. This will help businesses to determine what is working for them and allow them to shift their focus and money to what is most effective.
Communication is important, so be sure your business is marketing with intent. Think about your brand's message and promise, and make sure it resonates with the audience you are trying to reach. To learn more tips and trick for implementing a successful strategic marketing plan, listen to the The Homebuilders Digital Marketing Podcast here.
Do you need some help developing a strategic PR and social media plan for your business? Carol and her team at Denim Marketing are happy to help you get on track for success. To learn more about Denim Marketing and its strategic marketing services, contact us today!