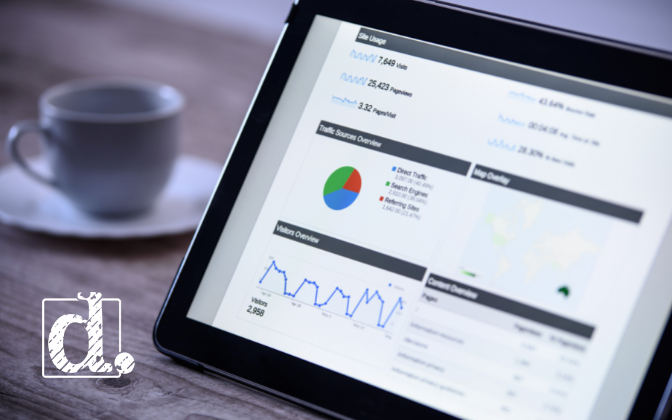 Google Analytics is an incredibly valuable asset for businesses seeking insight on traffic performance on their website — which marketing dollars are effective, what ad campaigns worked best and much more. It is important to understand how to use this resource effectively in order to get the most out of this tracking tool.
Some of the information that Google Analytics collects includes:
The number of website visitors.
Top website landing pages.
Sources of website traffic – direct, organic, referral, paid, email, etc.
How visitors navigate through the website.
How visitors interact with elements on each page – what they look at, what they click.
Time on site – how long visitors spend on various pages.
When and where (what page) do visitors leave the site.
When set up correctly, Google Analytics retrieves meaningful information that provides an idea of the overall performance of a business' website and marketing strategy. This information is crucial as a reference for implementing tactical improvements and updates to a marketing strategies.
To get started, here are three tips for using Google Analytics more efficiently:
Analyze the Source of the Website Traffic
Although it's beneficial to learn how much traffic the website receives each month, it's even more crucial to look into the platforms that are driving that traffic. Are most users reaching the site after an organic Google search or from social media referrals? Do Facebook ads or Google pay per click ads drive more traffic to the website?
By looking at the Acquisition section in Google Analytics and diving further into the Source/Medium, users receive an in-depth view of the platforms that send the most traffic to the site. They can also learn how traffic from different sources behaves. This is especially helpful for making informed decisions when determining which platforms or tactics are valuable to invest more (or less) time and money into when updating a marketing plan.
Make sure that traffic is looked at year over year, as well as month over month. Traffic for most industries is seasonal or cyclical. Learning the ups and downs of traffic and understanding the baseline for a company can take a year to figure out.
Set Up Goals to Measure Conversions
When using Google Analytics, it's important to understand the overall marketing goals. What does the business hope to accomplish with the site? What actions do visitors take upon reaching the website? This encompasses a wide range of activities from filling out a contact form to requesting more information or signing up to receive an email newsletter.
Any action that indicates a visitor's interest in the business can be an important goal to define and track. With these objectives in mind, it's crucial to set up and define goals on Google Analytics to strategically measure user interactions and be aware of how well the website is achieving its intended purpose.
Consistently Monitor Bounce Rate
Bounce rate is an important figure to watch when analyzing website data. Each bounce reflects a user who has clicked away from the website after reaching the landing page. In this case, lower is better, because this indicates that users are taking interest in the content and looking around the website because it provides something they're looking for.
If the bounce rate is higher than expected, this means it may be time to see where changes can be made. This provides an opportunity to examine the initial user experience on the website and the overall quality of the landing page including its visual appeal and the information it delivers. Try swapping out images or adding graphics or a video. Maybe the copy needs to cover the topic more thoroughly. A high bounce rate can also indicate a need to improve the website's SEO.
Does your business need help navigating Google Analytics and finding useful results from your website data? Let the Denim Marketing team know! We offer strategic marketing services based on monthly analysis of your website and social media performance. Reach out to us at Denim Marketing if you need help. Call us at 770-383-3360 or contact us.