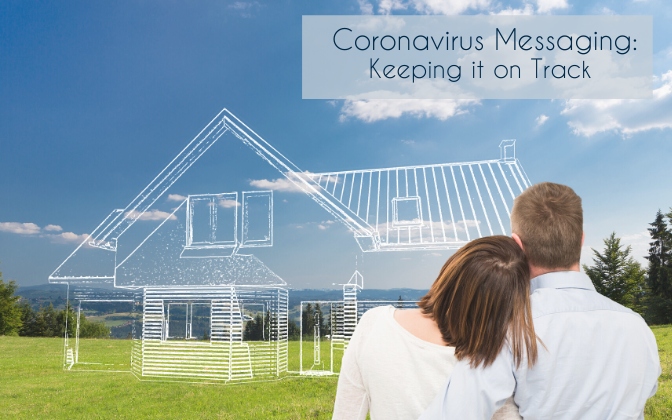 We have all made a shift in where we work and how we work. As an industry, this crisis has us innovating and learning to embrace and take advantage of technology such as virtual tours, video, chatbots and more. Technology will help us make sales now, and we will be sharper and more targeted as we come out of this crisis. During of our Free Webinar series, we discussed our new normal, including coronavirus messaging and more.
If you missed the webinar, here it is!
Q. How can you keep branding and messaging on point while encouraging interaction via social media?
A. Review, review, review. Don't go down a rabbit hole with coronavirus messaging. Keep focused on your Branding and your messaging.  Focus on your unique selling proposition and keep sharing those messages. Whether that is affordable, attainable, green, technology focused, home automation, quality or family-owned, make sure to focus!
Remember that brand goes way beyond what shoppers see on your website and social media. Brand incorporates how customers are greeted over the phone, how suppliers are treated, and even how your crew looks and acts on the job site.
Beyond your brand, talk about interest rates, virtual tours, share photos of home plans, share new communities, consider a series on your team — everyone loves human interest stories.
Use this time to review your company's social media sites. Are they fully set up? Do they all include a header image? Are all of the tabs on the left side of the Facebook page relevant? Is the website URL easy to find? Is content posted on the corporate LinkedIn page? Take some time and click through all of the social media pages to make sure they are fully set up. Things do change from time to time!
And, you are sending all of your social media traffic to your website, right? Take time to review your website to make sure it looks the best it can, and that visitors will 'stick' when they get to the site!
Q. What are you seeing that you want to share?
A. Our client, McKinley Homes, the developer of Seven88 West Midtown and multiple residential communities throughout metro Atlanta, donated 10,000 surgical face masks and 500 N95 face masks to hospitals in need. Northside Hospital Gwinnett received 5,000 surgical masks and Emory University Hospital received 5,000 surgical and 500 N95 masks to assist their battles against the spread of COVID-19 (coronavirus). And, five Atlanta TV stations and multiple newspapers covered the donation. View WXIA TV's donation coverage.
Send public relations messages out. Corporate Social Responsibility is important to your buyers. All of them want to work with a company that is doing good and making charitable donations. This is the perfect time to use media relations to promote and share what you are doing. We have a developer client in Michigan who is using her entrepreneurial skills and manufacturing background to gear up production of medical masks to help with the lack of personal protection equipment at hospitals in the North and Midwest. The media wants to hear these stories.
Q. How should we communicate with Realtors and customers?
A. Keep Realtors informed. Send them emails with links to video tours, or let them know if you have creative financing. Find out how they want to communicate and text, write or call them.
Realtors are interested in most of the same messages that you are communicating to existing customers. Make sure to keep your hot leads and presale clients in the loop. Tell them you are still building, talk about low interest rates and let them know about rate locks.
Here are the key points in a recent email communication from our client, Peachtree Residential, to their customers:
New home supply is historically low, and the choices are even fewer for available homes in the best school districts. We have inventory and presale opportunities in quality neighborhoods located in the best areas of town.
Interest rates are historically low, meaning affordability is at an all-time high! You can afford more home for your money.
Ask us about rate lock assistance. Our preferred lenders are ready to serve you with unique programs to cater to your needs. Construction to permanent loans are available and of interest to many of our presale buyers.
If you prefer to tour inventory homes by yourself, many of our homes have NterNow access locks that allow you to view the homes on your own schedule.
Homebuilding is considered an essential business activity, and we are working as hard as ever to build both inventory and presold homes in our neighborhoods. It is spring selling season, so there is lots of building activity and new homeowners are moving in!
Our Model Homes and Sales Centers are open by appointment only for you to experience our great designs and to meet with our Sales Managers. Visit PeachtreeResidential.com for contact information and to set up an appointment.
Our website has an abundance of information on our neighborhoods, our gallery of homes and features, and specifics about our locations (schools, shopping, etc.)
We are taking preventative measures to keep you healthy. High-touch surfaces in our models and sales centers are wiped down between visitors with Lysol, and we are spacing appointments out in order to meet social distancing requirements.
Q. How can we better focus on the customer experience?
A. Map the hand offs and plan them. What email messaging are they getting? How often are they getting messages? Where are they being retargeted? Are they being retargeted? Focus on consistent messaging to them and think about using the Google Pixel and Facebook Pixel to help you retarget those who have been to your website.
Follow others on social media and be social. If the corporate Instagram page has 400 followers and the page follows no one, how is that social? Be courteous, follow the people who follow the corporate page back, especially on Instagram and Twitter. Respond to people who comment, thank people who share, and don't ignore people on your social media sites. Instead, work to build raving fans by engaging them with your brand.
As we navigate these uncharted waters, remember that we are all in this together. Please feel free to comment on what you'd like us to cover in our next webinar. Also, share your success stories in the comments, I'd love to hear them and share them with others.
Finally, if I can help your business or organization with crisis marketing or coronavirus messaging, give me a call at 770-383-3360, ext. 20 or contact me through this website.