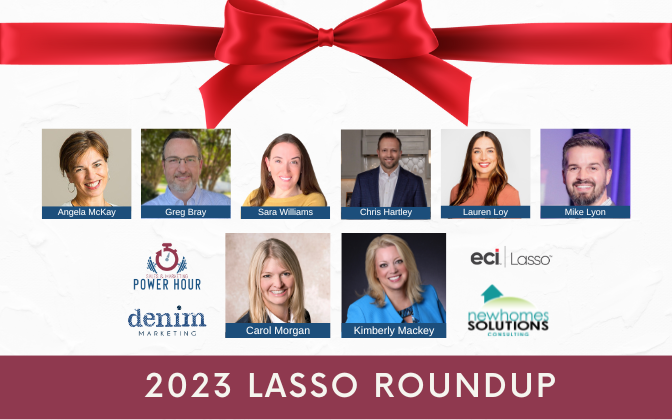 Sales & Marketing Power Hour recently hosted its annual Lasso-style Roundup webinar. This gathering of industry thought leaders got started with an animated discussion on the merits of fruit cake and other Christmas traditions.
A lively discussion followed on the new year and planning for sales and marketing during these changing times. So, what should a home builder's 2023 sales and marketing plan include? Here's what our all-star panel thinks.
Lauren Loy, Regional Sales Executive with ECI Solutions kicked the conversation off with a reflective conversation about mindfulness, eliminating stress and creating work/life balance. Her suggestion for the new year is to pause, check in with yourself and practice compassion. Be mindful, be present and practice empathetic listening. Listen to understand versus just respond.
Angela McKay, Director of Homefiniti Experience with ONeil Interactive spoke about email marketing metrics and what we should be tracking. Focus on a strong call to action and click-through rate. What are your recipients doing with the email? What are they clicking on? Email is not dead; it is still very effective.
Greg Bray, President of Blue Tangerine reminds home builders that now is not the time to cut marketing budgets. Builders lose long-term when they stop marketing in a down market. Be smarter with your dollars – trim if needed but be careful. For those ready to be aggressive, there will be a void in the market. Advertising inventory will be available. Those who want to cut are missing an opportunity so consider cutting something somewhere else but keep your marketing.
Carol Morgan, Founder and President of Denim Marketing reminds everyone that not all content is created equal. Google's new Helpful Content update is an algorithm that penalizes low-quality or unhelpful information. This is of utmost importance for home builders, developers, and others who blog or post news updates. Make sure your content is original, quality content that is written for humans to read (not search engines).
Sara Williams, Director of Sales with Anewgo encourages marketers to help consumers visualize new homes. Help them say yes to new construction. Consumers are used to shopping for any item in their life at all hours, and customizing, pricing, imagining, and seeing all the colors the products come in while they are online before they say yes to a purchase. Why is it still uncommon to see tools like this on a builder's website? Add everything you can to your website — photos, video, 3D, etc. Make it easy for them to say yes.
Mike Lyon, President of Do You Convert encourages home builders to look internally at their team. A softer market provides an opportunity to top-grade their team. Underperformers create drag on the entire team, and the results trickle down and amplify toward the bottom of the funnel. Coach these employees up or coach them out. A down market is a perfect time to build a super team of highly trained sales pros!
Christopher Hartley, Vice-President of Sales with K. Hovnanian Homes DFW shared tips for how to tell if you have a Helpless/Hopeful/Hungry Sales Consultant on your team. With the market shift, frustration levels are at an all-time high. Remove the helpless ones from the roster ASAP.  Spend some time coaching your hopeful consultants, but don't get uber-focused on them. The hungry sales consultant knows that sales happen in all markets, and they continue to take on more than their fair share. Seek them out and ensure the ones you have don't look for employment elsewhere! The quickest way to lose a Hungry Sales Consultant is to tolerate the Helpless and Hopeful Sales Consultants for too long.
Kimberly Mackey, Chief Customer Experience Engineer with New Homes Solutions shared leadership tips with an analogy of leading her 1,100-pound horse. Trying to force a horse to do something often becomes a battle of wills, but when walking beside him, he is more than happy to go along with you. We can also learn a lot about leadership from this approach with our teams. When you walk with your team, and they feel supported and know that you are there beside them, you get better results.
Watch the full recap of the webinar here:

Read all the Top Tips from these experts and others on the Lasso Roundups:
Top New Home Sales Tips for 2023
Top New Home Marketing Tips for 2023
We hope you'll take away a few tips from this Sales & Marketing Power Hour webinar that you can implement within the next few weeks. Join industry experts and head coaches Kimberly Mackey, New Homes Solutions Consulting founder and sales and marketing management consultant, and Carol Morgan, founder and president of Denim Marketing, for this free webinar series. Look for Sales & Marketing Power Hour to continue on Wednesdays at noon in the new year!
REGISTER HERE FOR THE NEXT WEBINAR
Sales & Marketing Power Hour is a webinar series hosted by the dynamic duo Carol Morgan of Denim Marketing and Kimberly Mackey of New Homes Solutions Consulting. Created for new home sales and marketing professionals, Sales & Marketing Power Hour was named Silver Award Winner for Best Professional Development Series at The Nationals.
With the mission to provide ideas, tips and solutions to both marketing and sales teams in the new home industry, Sales & Marketing Power Hour offers efficient practices and helpful advice on what is working in today's real estate market. This program is ideal for sales and marketing leadership, company visionaries, on-site sales professionals and anyone who wants to remain relevant as our industry grows its technological presence.
We invite you to join the Sales & Marketing Power Hour Facebook group by clicking here. Look for updates on guest speakers and topics. This group is dedicated to sharing real-world wisdom and expertise on hot topics for growing your business in today's market.
Whether you are a sales or marketing professional or a homebuilding President or CEO, this webinar series is for you. Register for the Sales & Marketing Power Hour webinar series by clicking here.