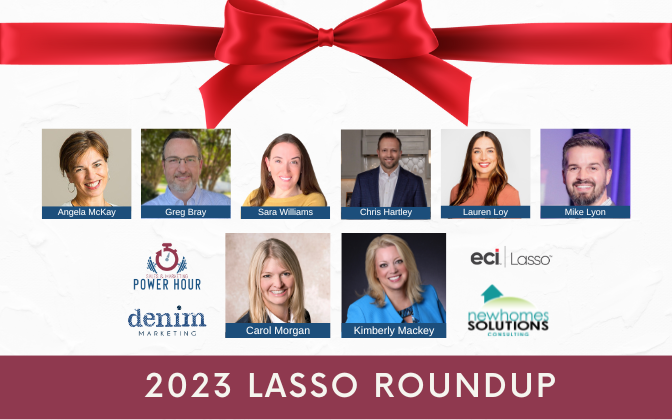 Sales & Marketing Power Hour hosts its annual Lasso-style Roundup webinar on December 14 at noon ET. Join a host of industry thought leaders for this lively event to discuss the new year and planning for sales and marketing during these changing times.
What should a home builder's 2023 sales and marketing plan include? This dynamic group offers a peak into 2023 with their sales and marketing forecasts, as well as tactics and strategies to incorporate into your business plan for the new year. Have burning questions about something your sales or marketing team is currently experiencing? If it's not discussed during the session, you'll have a chance to ask this all-star panel before the webinar ends!
Carol Morgan of Denim Marketing and Kimberly Mackey with New Homes Solutions Consulting will be joined by Lasso's top sales professionals, including Mike Lyon with Do You Convert, Chris Hartley with K. Hovnanian, Sara Williams of Anewgo and Lauren Loy with ECI Solutions. Lasso's top marketing experts include Greg Bray with Blue Tangerine and Angela McKay of ONeil Interactive.
Be sure to join our Lasso-style roundup LIVE so you can participate in the conversation and ask questions.
Plan to take notes! We hope you'll take away a few tips from this Sales & Marketing Power Hour webinar that you can implement within the next few weeks. Join industry experts and head coaches Kimberly Mackey, New Homes Solutions Consulting founder and sales and marketing management consultant, and Carol Morgan, founder and president of Denim Marketing, for this free webinar series. Look for Sales & Marketing Power Hour to continue on Wednesdays at noon in the new year!
REGISTER HERE FOR THE NEXT WEBINAR
Sales & Marketing Power Hour is a webinar series hosted by the dynamic duo Carol Morgan of Denim Marketing and Kimberly Mackey of New Homes Solutions Consulting. Created for new home sales and marketing professionals, Sales & Marketing Power Hour was named Silver Award Winner for Best Professional Development Series at The Nationals.
With the mission to provide ideas, tips and solutions to both marketing and sales teams in the new home industry, Sales & Marketing Power Hour offers efficient practices and helpful advice on what is working in today's real estate market. This program is ideal for sales and marketing leadership, company visionaries, on-site sales professionals and anyone who wants to remain relevant as our industry grows its technological presence.
We invite you to join the Sales & Marketing Power Hour Facebook group by clicking here. Look for updates on guest speakers and topics. This group is dedicated to sharing real-world wisdom and expertise on hot topics for growing your business in today's market.
Whether you are a sales or marketing professional or a homebuilding President or CEO, this webinar series is for you. Register for the Sales & Marketing Power Hour webinar series by clicking here.