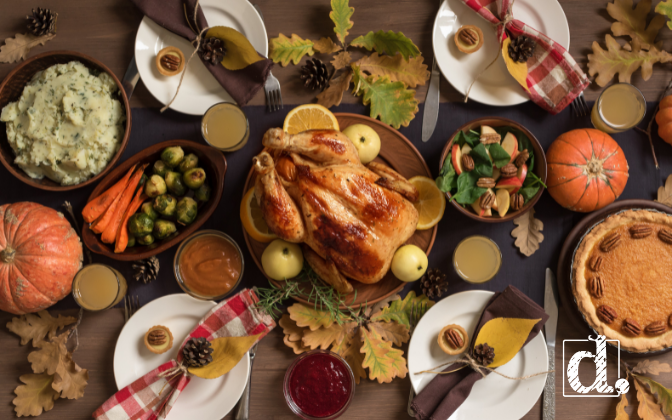 At Denim Marketing, we have much to be thankful for this year! Between winning eight OBIE Awards, acquiring new business and continuing to provide quality services to our clients, there is no better time to celebrate!
While Thanksgiving is a time to be grateful for family, friends and good health, it is also the holiday to treat yourself and dig into yummy food! If you don't end the day unbuttoning your jeans, then you are doing it wrong! In honor of Thanksgiving, here are the mouthwatering recipes that the Denim Marketing team is thankful for:
Carol – "Thanksgiving is always fun at Thistledown as the entire family gathers at the farm. In addition to eating way too much, we enjoy playing board games and cards and putting puzzles together. If the weather is warm enough, trail rides on horses are popular with the littlest visitors. Everyone pitches in to cook, so no one is stuck in the kitchen the entire day. My favorite side dish is green bean casserole because it reminds me of my father. He always made it in a crock pot to free up space in the oven, but in recent years, the turkey has been fried, so oven space isn't an issue."
Green Bean Casserole
Ingredients:
2 cans of drained French-style green beans
1 can of mushroom soup
French-fried onions
1 small can of water chestnuts
Directions:
Preheat oven to 350 degrees.
Mix green beans, mushroom soup and water chestnuts together!
Sprinkle French-fried onions on top.
Bake at 350 degrees until bubbly.
Courtney – "I've always loved corn in any form – creamed corn, corn on the cob, corn casserole, you name it! And corn pudding is one of my favorite foods to enjoy during the holidays (mainly because it's one of the few times each year that it actually gets made!). Now, if you're not from the south, corn pudding may not sound appetizing, but just trust me! It's very similar to a corn casserole, but creamier! Here's my favorite version."
Corn Pudding
Ingredients:
5 eggs
1/3 cup butter, melted
1/4 cup sugar
1/2 cup milk
4 tablespoons cornstarch
1 (15.25 oz) can whole kernel corn, drained
2 (14.75 oz) cans cream-style corn
Directions:
Preheat oven to 400 degrees Fahrenheit. Grease a 2-quart casserole dish (I always prefer baking in stoneware over glassware!)
In a large bowl, lightly beat eggs.
Add the sugar, milk and melted butter to eggs. Then, add cornstarch and whisk until fully incorporated.
Add corn and creamed corn to liquid mixture. Mix well.
Pour mixture into the prepared casserole dish.
Bake in the oven for 1 hour.
Melissa – "My favorite Thanksgiving recipe may not be the star of the show, but it sure is a crowd favorite – scalloped potatoes! It might be an uncontroversial opinion, but I've always loved the side dishes during the holiday season more than the ham or turkey! The potatoes outshine the turkey in our household thanks to this delicious recipe. With garlic, cheese and butter, it's hard not to love this side dish. Even better, it is super customizable – add your favorite greens, seasonings, cheese and more to wow your guests. Add a new tradition to your Thanksgiving holiday by following the recipe below!"
Scalloped Potatoes
Ingredients:
1/4 cup of butter
1 large onion
2 cloves of garlic (or as much as your heart desires)
1/4 cup flour
2 cups of milk
1 cup chicken broth
1/2 tsp salt
1/4 tsp pepper
3 lbs. potatoes
1 cup of cheese
Directions:
Add butter, onion and garlic to a pan over medium-low heat and cook until the onions are soft.
Then reduce to low heat and combine the milk and chicken broth. Make sure to incorporate slowly!
Stir in flour until it is evenly combined.
Bring the mixture to a boil over medium heat. Remove the sauce from the stove and stir in 1/2 cup of your chosen cheese.
Slice your potatoes thinly (ideally 1/4 to 1/8 inch thick) and make three layers in a baking dish. Using a mandolin is a handy trick!
Add your cream mixture on top.
Sprinkle the remaining cheese over the top.
Bake at 375 degrees for 45-55 minutes.
After baking, transfer the pan to a cooler rack and sprinkle your chosen seasonings on top.
Serve warm.
Charlie – "Thanksgiving brings me right back to Grandma Diane's kitchen, where her dressing was the star of the show. It wasn't just the tasty herbs or that perfect crispy top – it was about the fun and stories we shared while munching on it. This dish is all about the cozy family vibes for me. Even though I don't have her exact recipe, any classic dressing recipe kind of captures that same spirit. It's like reliving those awesome family moments with every bite."
Ingredients:
16 cups of dry bread cubes
1/2 cup butter
2 cups onions, diced
2 cups celery, diced
3 tsp poultry seasoning
1/2 tsp. thyme
1/2 tsp. sage
1 tsp. salt
1/2 tsp. ground black pepper
2 large eggs
1 1/2 – 3 cups chicken broth (amount depends on how dense or moist the bread is)
1 tbsp. parsley
Directions:
Preheat oven to 350 degrees.
In a large pot over medium heat, add butter and melt. Add onion and celery and cook, stirring frequently until vegetables are tender and translucent.
Add the poultry seasoning, thyme, sage, salt and 1 1/2 cups of the chick broth. Add eggs and whisk until combined.
Put the dry cubed bread into a large bowl and pour the chicken broth and celery mixture over the top.
Gently fold the ingredients together.
Spread the stuffing evenly onto a 9×13 non-stick pan.
Bake at 350 degrees for 45-60 minutes, stirring gently every 15-20 minutes.
Once top is golden brown, remove from oven and top with parsley before serving immediately.
Annslie – "Coming from a large family, gathering with everyone on Thanksgiving is one of my favorite times of the year! From watching the Macy's Thanksgiving Day Parade to listening to my grandfather tell childhood stories, Thanksgiving always brings up feelings of nostalgia, togetherness and warmth. I'm not a huge fan of turkey, so my go-to dish on Thanksgiving is my mom's baked macaroni and cheese!"
Ingredients:
1 whole egg
1/2 stick salted butter
1/4 cup all-purpose flour
2 1/2 cup whole milk
2 tsp. (heaping) dry mustard, more if desired
1 lb. cheese (such as cheddar, jack and/or fontina), grated
1/2 tsp. kosher salt, more to taste
1/2 tsp. seasoned salt, more to taste
1/2 tsp. ground pepper
Cayenne pepper, paprika and/or thyme (optional)
Directions:
Preheat oven to 350 degrees.
Cook the macaroni until very firm. Drain.
Beat the egg in a small bowl.
Melt the butter in a large pot and sprinkle in the flour. Whisk together over medium-low heat. Cook the mixture for 5 minutes, whisking constantly. Don't let it burn.
Pour in the milk, add the mustard and whisk the mixture until very thick. Reduce the heat to low.
Take 1 /4 cup of the sauce and slowly pour it into the beaten egg, whisking constantly to avoid cooking the egg. Whisk together till smooth.
Pour the egg mixture into the sauce, whisking constantly. Stir until smooth. Add in the cheese and stir to melt. Add the salt, seasoned salt and pepper. Taste the sauce, adding more salt and seasoned salt as needed.
Pour sauce in the drained, cook macaroni and stir to combine.
Pour the combined sauce and macaroni into a buttered baking dish and top with extra cheese.
Bake at 350 degrees for 20-25 minutes.
'Tis the season for gratitude and gathering with the ones you love most. Happy Thanksgiving from Denim Marketing!