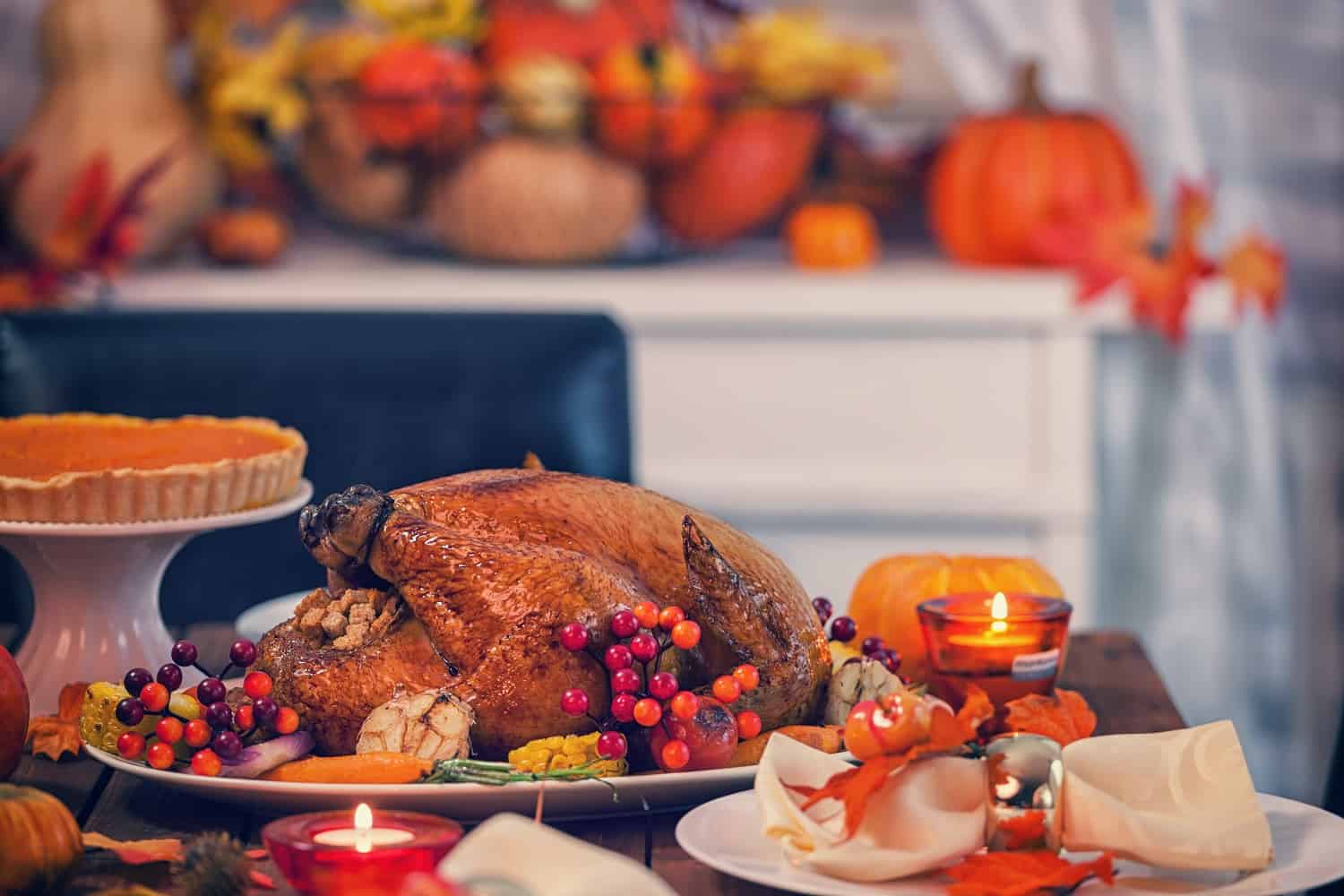 At Denim Marketing, we've had a lot to be thankful for this year, between rebranding and launching denimmarketing.com, acquiring new business and continuing to provide excellent service to our clients – it is definitely time to celebrate!
Of course, we're grateful for our families, friends and good health. Every day we appreciate the little things in life. Let's be honest, Thanksgiving is also a holiday that we all look forward to because of the food!
If you don't end the day having to unbutton your jeans then you're doing it wrong. In honor of Thanksgiving, here are the mouthwatering recipes that the Denim Marketing team is thankful for:
Carol – "I love everything about Thanksgiving, especially the food — all the food. It is really hard to decide what my favorite food is. It is either my sister-outlaw's collard greens souffle, Heather's mincemeat pies, the turkey or the dressing. I don't have the exact greens recipe, but here is one for creamy collard green gratin that is VERY close."
Courtney – "My favorite Thanksgiving food is my mom's sweet potato biscuits! She has a hand-written recipe for the biscuits that she received from an elderly gentleman in our church before he passed away. He brought his biscuits to every church function for as long as I can remember, and they were everyone's favorites. My mom begged and begged for him to share the recipe with her, and one day, he finally did! She swears she can't make them anywhere near as good as he could, but to me, they're just as good! Now my mom won't share the recipe, but here's a close replica to follow:
Sweet Potato Biscuits from The Free Range Life:
Ingredients:
2 cups flour
½ tsp salt
3 tsp baking powder
4 Tbsp butter
1.5 cups cooked, mashed sweet potato
Milk (if the dough is still too dry to come together)
Instructions:
Preheat oven to 425 degrees.
Mix dry ingredients in a food processor.
Pulse in butter.
Add sweet potato and pulse until the mixture becomes a ball.
Add in milk, if needed.
Pat out to ½ inch thickness and cut with a glass or biscuit cutter.
Bake for 10 min at 425 degrees.
Amanda – "There hasn't been a Thanksgiving pass that my mom hasn't baked a deliciously moist Rum Cake. Growing up, all the kids in the family would snicker as we ate it because it has alcohol in the recipe (it is called RUM cake). As I got older, I learned to bake it on my own, but it never turned out quite as great as my moms. Luckily, she is still around to make this melt-in-your-mouth dessert that she only serves on Thanksgiving."
Mandy – "Green Bean Casserole is the only thing I have confidence in making for Thanksgiving on my own. It's so easy and always a crowd favorite! I always add extra onion to mine. I brought it to a Friendsgiving and it was labeled the infamous Green Bean Casserole."
French's Green Bean Casserole:
Ingredients:
1 can (10.5 oz) Campbell's condensed cream of mushroom soup
¾ cup milk
1/8 tsp. black pepper
4 cups cooked green bean or 2 cans any style Del Monte green beans, drains
1 1/3 cups French's crispy fried onions
Instructions:
Mix soup, milk and pepper in a 1 ½ qt. baking dish. Stir in beans and 2/3 cup crispy onions.
Bake at 350 for 30 minutes. Stir.
Top with remaining onions. Bake for 5 minutes until onions are golden.
Bailey– "My favorite Thanksgiving recipe is creamed corn! It's special to me and my family because my grandmother, who passed away last Thanksgiving, used to make it until several years ago, and then my aunt made it every year. One year she needed help making it, so she called on me to help her. I practically took over the job myself and have been making it every year since! She appreciates it since it's usually hard work. It's so worth it when it's finished because the whole family has several servings and we never have leftovers of it!"
Creamed Corn from Genius Kitchen:
Ingredients:
1 (10-16 oz package frozen corn, cooked)
Water
3 Tbsp butter
3 Tbsp flour
2 cups milk
2-3 Tbsp sugar
Salt and pepper (optional)
Instructions:
Cook corn according to package.
Melt butter in saucepan, stir in flour and blend well.
Add milk, about ½ cup at a time, and blend with whisk.
Cooke over medium heat until thickened.
Stir in sugar, salt and pepper
Add cooked, drained corn.
'Tis the season for gratitude and Thanksgiving is truly the time of the year to treat yourself and your loved ones. Happy Thanksgiving!