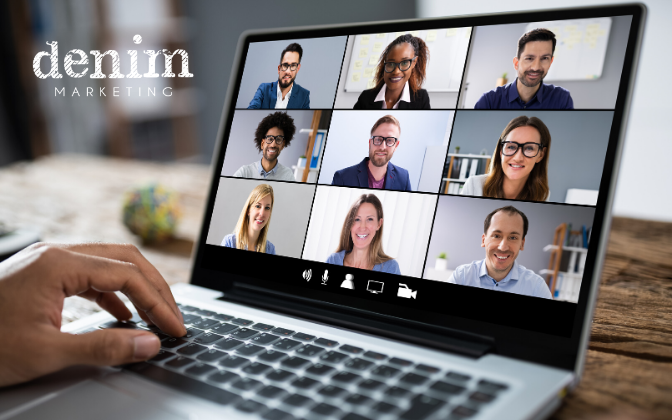 Whether you call them virtual meetings or video conferences, this technology is bridging the distance by allowing businesses to communicate internally and externally when in-person meetings are not an option. With social distancing being enforced across the country, more and more businesses are turning to these virtual means of communication. Virtual video meetings allow face to face interaction and the popularity of this technology is booming. There's no shortage of video conferencing tools available offering a variety of features that allow businesses to meet, communicate and collaborate with co-workers, team members, clients and even prospects. Here's a look at a few of the most popular ones on the market being used right now.
Zoom
Costs: Free to $19.99/month depending on the plan. More for Zoom Webinar.
If you work from home, you've probably heard of Zoom and have likely already used it. This cloud-based video conferencing service is by far the most popular video conferencing tool for businesses. It is also popular for virtual birthdays, cocktail hours and fundraising events. This is due to its simplicity, flexibility and effectiveness. Zoom allows users to communicate by video, audio-only or both while also having the opportunity to participating in live chat throughout the duration of the meeting. Zoom can also be live streamed to Facebook, contributing to the reason that it is the number one used conferencing solution.
Zoom makes navigating technology simple with its easy-to-use system that can be accessed through a desktop computer or a mobile device. A single code provided by the host is shared with others to provide access to the video meeting. Simply visit www.Zoom.us or download the Zoom app, click "Join a Meeting" and enter the code to attend a meeting. An account is required to host a meeting, but not required for others attend.
Zoom offers a variety of plans for users with varied prices and features. The free Basic Plan is ideal for unlimited, 40 minute one-on-one meetings of up to 100 participants. Three other tiered plans offer additional features designed specifically for business organizations ranging from small to large teams. These paid plans offer additional features including increased time limits, increased participants, increased hosts, increased admin controls and much more. To learn more about plan pricing and what it includes, click here.
Facebook Video Chat
Costs: Free
Facebook has always been focused on connecting people with one another. With virtual meetings becoming more prevalent in today's business world, Facebook has decided to join the real-time video scene with its new Messenger Rooms feature.
Using either Facebook or Messenger, users can invite others to join their video chat room. Rooms can hold up to 50 people (including those without Facebook accounts) with no time limits. When creating a room, users can select who can see the group and who can join it. They can also lock the room and make it private if they don't want anyone else to enter. To keep up with the fun and forward features, Messenger Rooms also provide a variety of AR effects for those who join through the Messenger app.
One users like about Facebook Messenger is its shareability within the site. Once a Messenger Room has been created, users can share the room publicly through their News Feed, as well as their Groups and Events pages. This makes it easier to spread the word and allow others to drop by and join in on the conversation. 
Google Hangout/Google Meet
Costs: Google Hangouts- Free; Google Meet- Free until September 30
For businesses that already use Google accounts and rely on features like Gmail and Google Calendar, Google Hangouts is a seamless way to integrate video chat into the communication mix. This Google technology is available to all consumer accounts, which includes anyone with an @gmail.com or @googlemail.com email address. Through Google Hangouts, users can create a group of up to 25 people and communicate via video chat for an unlimited amount of time. Previous groups and chats are automatically saved making it easy to pick the conversation back up for the next meeting. Hangouts can be found in the Gmail sidebar or at hangouts.google.com.
In addition to Hangouts, Google also has a video conferencing platform of its own through G Suite. Google Meet, formerly known as Google Hangouts Meet, serves as Google's premium video conferencing software designed with businesses in mind. This meetings tool can accommodate of up to 100 participants and offers live streaming supported for up to 100,000 viewers within a domain. Video calls can also be recorded and saved to Google Drive for future reference. To help businesses navigate this new virtual world, Google is offering Google Meet for free until September 30, 2020. After the free trial, users will need to set up a G Suite plan which ranges from $6 to $25 per month.
Go To Meeting
Costs: Free to $16/month depending on the plan.
Go To Meeting is another large video conferencing tool used by many businesses big and small. Like many other web based services, Go To Meeting offers tiered plans with various features that cater towards small businesses and enterprises alike. The costs per plan are slightly less than Zoom and allow for more participants and unlimited meeting times. The platform also has their own "freemium" plan that provides free video calls with a 40-minute meeting limit, but only two additional people can be added to the call. 
With GoToMeeting, users can schedule, host and record online meetings and webinars via video call. Meetings can be facilitated on desktop through the account's Hub webpage or through the Go To Meeting App. There, users are able to select a meeting date and time and invite attendees to join by scheduling through Outlook, Google or iOS Calendar. Attendees are sent link to join the chat. When it's time for the meeting, open the event on the calendar and click the link to be transported to your video call.
Now that so many businesses have learned that employees can effectively work from home, we predict that more of these types of services will be created. Is your team working remotely? The Denim Marketing team is! What video conferencing technology does your business use? Let us know! And we look forward to interacting with you on a video conference soon!