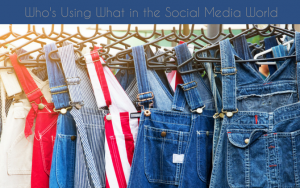 Who is your target audience? This is one of the first questions the Denim team asks clients. Targeted marketing is comprised of three main types of segmentation – demographic, geographic and psychographic.
Demographic information includes geographic area, age, income, race, gender and education level. It can also include shopping habits, marital status, number of children and other characteristics. According to  Pew Research Center, in the U.S market, gender, income, and education level have little impact on whether an individual has adopted social networking as an activity. Age, however, does remain a factor!
When crafting a marketing strategy, data is your best friend. We dig deep to uncover the demographics of each social media outlet to create relevant marketing plans for our clients. After all, it pays to have your message reach the right people at the right time.
Understanding which social media channels makes the most sense for your target market is important, so let's take a deep dive into the demographics of who is on which site by age and gender.
A new Pew Research Center survey (March 1, 2018) finds that Facebook and YouTube dominate the social media world. However, Facebook isn't the most widely-used platform, it's YouTube! The study also finds that "at the same time, younger Americans (ages 18-24) stand out for embracing a variety of platforms and using them frequently." The research shows that 78 percent of 18- to 24-year-olds use Snapchat, while 71 percent of Americans in this age group use Instagram and 45 percent are Twitter users.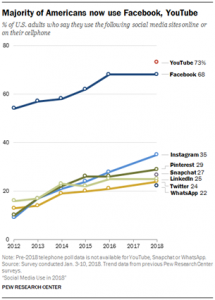 YouTube – Gen Z and Gen Y
Research shows that YouTube is broadly popular with both men (75 percent) and women (72 percent). Although YouTube use is highest in the youngest age bracket (94 percent of those ages 18-24), the drop-off in use among older groups isn't terrible in comparison to other platforms. Fully two-thirds of adults age 50-64 report using YouTube, as do 4 in 10 adults age 65 and older.
Facebook – Gen X, Gen Y, Boomers and some Gen Z
With an average of 2 billion active users, your brand undoubtedly has a presence on Facebook. While Facebook might not have the same new/young feeling as Instagram or Snapchat, 79 percent of internet users still log into Facebook, and the age demographic skews older. In fact, Business Insider found that U.S Facebook users age 45 to 54 are spending more time on Facebook and represent 21 percent of the total time spent on the platform, more than any other age group.
Instagram – Women & Gen Z & Gen Y
The newest Instagram statistics show there are over 800 million monthly active users on Instagram. Of those users, 64 percent of adults are between the ages of 18 and 29, 32 percent are women and 23 percent are men. Older users have certainly started to gravitate to the app, but 18- to 29-year-olds are still the primary user group.
Twitter – Men
In 2018, Twitter has 330 million monthly active users, which accounts for a 4 percent increase from last year. The majority of these users are men! Users age 18 to 29 are more active than any other age group with 36 percent, followed by 22 percent of adults ages 30 to 49, boomers (ages 50 to 64) comprise 18 percent, and just 6 percent of those ages 65 and up use Twitter.
LinkedIn – College Grads
With over 250 million active LinkedIn users, 40 million of them are students and recent college graduates, making up for almost a quarter of LinkedIn users. To target the highly-desired, business-savvy under-30 age bracket, LinkedIn is a great destination. Another key age bracket represented on LinkedIn (61 percent) is those aged 30 to 64 years old. If you're looking to target a more mature audience, 21 percent of LinkedIn users are over the age of 60.
Pinterest – Women
Popular among individuals and businesses alike, Pinterest boasts of more than 150 million users. Pinterest is the one social media application that is popular across multiple generational brackets – millennials, Gen X and Boomers alike. It's millennials who favor Pinterest the most, with 36 percent of users being between 18 and 29. Close behind with 34 percent are Gen Xers and following with 18 percent are Boomers.
Snapchat – Youth
There are over 187 million daily active users on Snapchat with the majority of users being between 18 and 34 years old. Research shows that 78 percent of 18- to 24-year-olds use Snapchat, and 71 percent of these users visit the platform multiple times a day. Snapchat usage is only 54 percent for 25- to 29-year-olds.
Paying attention to the changing demographics in the U.S. and targeting growing demographic groups can help ensure your business has staying power and lots of room to grow. By now, you should have a good idea about which demographic groups tend to use which social media networks, why and how they use them, and the platform best suited for your brand. However, as a successful business, it's smart to choose more than one outlet to address all your business needs!
Each demographic leans toward a different sit on social media. If your business needs help getting to know your audience inside and out before you decide on your next social marketing campaign, contact us at denimmarketing.com.