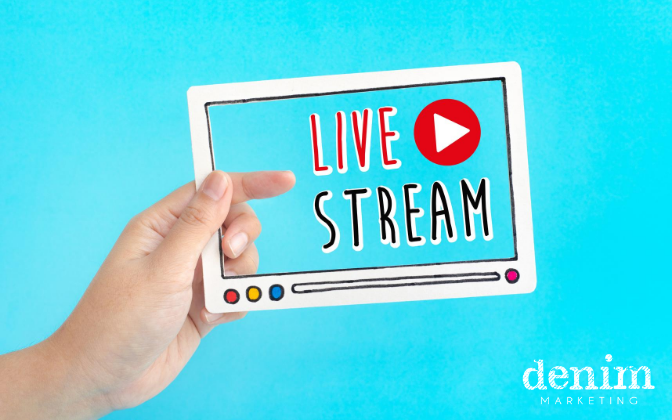 Not to be the bearer of bad news, but if you are running a Facebook or Instagram business page and not utilizing the live stream function, you are doing it wrong. As a marketing firm, the Denim Marketing team often recommends the use of Facebook Live and Instagram Live to its clients.
Livestreaming is a double whammy: going Live instantly notifies all of a Page's followers that the Page is Live (if they have push notifications on), and both Facebook and Instagram Live provide a real-time way to get video on a Page, not to mention, statistics prove that followers LOVE video.
According to Social Media Today, video generates more engagement than any other content type on Instagram and Facebook, and 72% of customers prefer learning about a product or service through video. Going Live is great for showing the first glimpse of a product before the release, behind-the-scenes tours, quick interviews or Q&A sessions.
If you have not been taking advantage of this social media super tool, it is never too late to start! We are going to detail our best tips for things to avoid when going Live on social media to ensure your first time on-air is seamless, beneficial and stress-free.
Here is what to know before the countdown timer begins:
Avoid being unprepared
Make sure to review and understand the steps to go Live, as well as prepare your content ahead of time. Planning beforehand, knowing the content that is going to be shared and prepping what to say and do during the video, are all important components to a successful video that helps the talent feel relaxed in front of the camera.
Avoid weak internet connection and low battery
A weak internet connection and a low smartphone battery may end your Livestream venture before it is off the ground. It is crucial to make sure that your phone is well charged and has a strong Wi-Fi connection or good cell service before attempting a Live video.
Avoid a boring status and video
The caption or status entered in the description field when setting up a Live video cannot be overlooked. Create a status that draws people into the video when they receive the "Going Live" notification or see the published video in their newsfeed if they missed the live stream. Think about what makes them want to click. That being said, even more important than having an enticing status, is having an appealing video. Before going Live, ask these questions: Is this something that people want to watch? Does it provide value or information? If the answer is no, either figure out how to make your content more exciting and valuable or do not go Live with it at all.
Avoid horizontal video
You may think that turning your phone horizontal can capture more in your shot, but it makes the video show up sideways to anyone watching! It is important to keep the phone vertical and stable for the entirety of the Live broadcast. For ensured balance and stability, consider purchasing a tripod stand.
Avoid muffled or quiet sound
Make sure when someone is speaking in your Live video, they are doing so loudly and clearly. We also suggest they remain close to the camera so viewers can hear them. They may end up feeling like the person recording them is too close, but that is where they need to be for optimal sound! It is especially important to be close to the camera if you are shooting where there is any type of background noise, such as wind, water or construction.
Avoid spotlighting surprised guests
Interviewing bystanders at an event may seem like a great idea for Livestream content, but we caution against catching someone off guard with a camera. Ensure that the guests you choose are comfortable being put on the spot and prepared before going Live. You never know how people will respond if you surprise them on video and you are already streaming, and it may not produce the desired result.
Avoid making the Live too short
You may feel like you are droning on and on, but Facebook suggests broadcasting longer to reach more people, and Facebook prioritizes longer videos (3 minutes or more). The longer the Live broadcast, the more people discover it and invite their friends to join.
Avoid one-way communication
One-way communication is never encouraged on social media platforms and the same goes for Livestreaming. It is important to interact with your audience by engaging with them in the comments of your Live in real-time. This is a great way to increase engagement and create conversation, a key component in Facebook's new algorithm.
Now you know the biggest things to avoid when going Live on Facebook and Instagram! The next step is to put what you have learned into practice and begin reaping the benefits of Live video. A great tool for generating unique content, reaching a broad audience and creating engagement and conversation, going Live should be an important part of your marketing strategy – you can even make a real-time event out of it and promote your plan to go Live!
Does your business need help implementing the latest marketing trends, like Live video content? Let us help! Contact Denim Marketing today at 770-383-3360 or click here. Facebook also has a number of Tips for Going Live on its website.
See more marketing and social media tips and trends from Denim Marketing here.